When I was at my friends Labor Day BBQ last week, I was served the best wings I had ever had. Yes, the best EVER. Now, I am pregnant and I do have food dreams, but the other people at the party seemed very impressed too, so I'm sticking with telling you they are the best EVER! ;)
Here are some pictures I took of them being grilled at the party: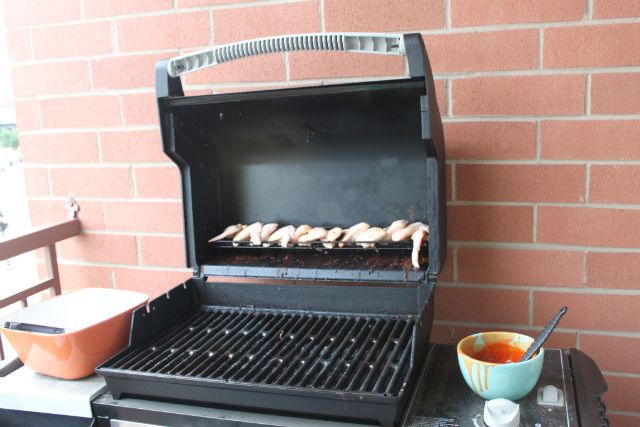 I quickly asked for the recipe and an email with directions was sent to me the next day. Here is how these wings were made:
Place wings in a large bowl, coat evenly with olive oil and sprinkle a little salt on it. Place on the top rack of the grill (indirect heat) over medium-low heat. Now begins the saucing/flipping process. You will be flipping every 20 minutes, saucing a couple minutes before. All in all, you will sauce each side 3 times and cook for a grand total of 2 ½ hours. So, after you put them on, wait 15 minutes, sauce, wait 5 minutes, flip. Repeat. Wait 15 minutes, sauce, wait 5 minutes, flip. Do this 6 total times (2 hours of the total cook time), 3 sauce applications on each side. Cook for an additional 30 minutes (2.5 hours total). Remove from heat, turn off grill, serve with ranch, blue cheese or whatever sauce you prefer and enjoy! J
I hope this makes sense. It's super easy, just long. Good luck!
Okay, so it's a long process, but it is so worth it!!! Plus my hubby loves wings and he missed the party so I felt like he had to have some! I was online ordering pea pod (yes I usually use pea pod to carry my heavy stuff like bottled water, soda, milk, cat litter, etc.) and I came across some chicken on sale. Perfect! The packs of wings (8 per pack) were only $2.67. Woo hoo! But then I decided that my favorite part when we go for wings are the mini drumsticks. They had a package of drumsticks (16 per pack) for $4! So I got that too. Now I do realize that this is a lot of food for 2 people, but I'm a big fan of cooking big and then freezing the leftovers for the following week on the days I don't feel like cooking.
When the order arrived I realized DUH, the drumsticks were full size! Okay, now this is really a lot of chicken. To make matters worse I soon realized that our grill doesn't have an upper rack. Awww nuts! Now what? Well, I'll improvise. I tweaked the recipe a bit and the result was just as delicious but not as crispy. I can tell you that my hubby made lots of mmmmmm noises during dinner and it made me feel good. Mission accomplished! ;)
Here are some pictures of my journey: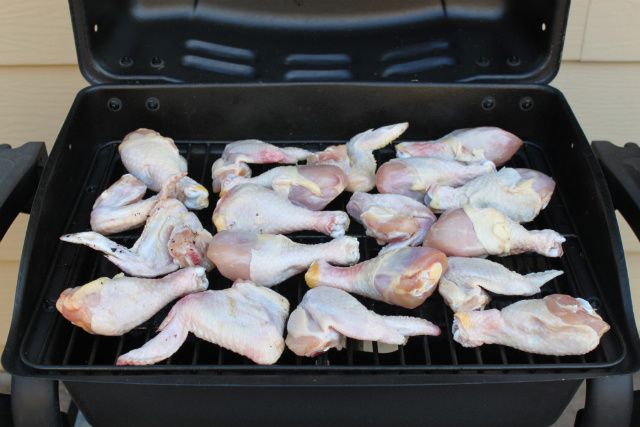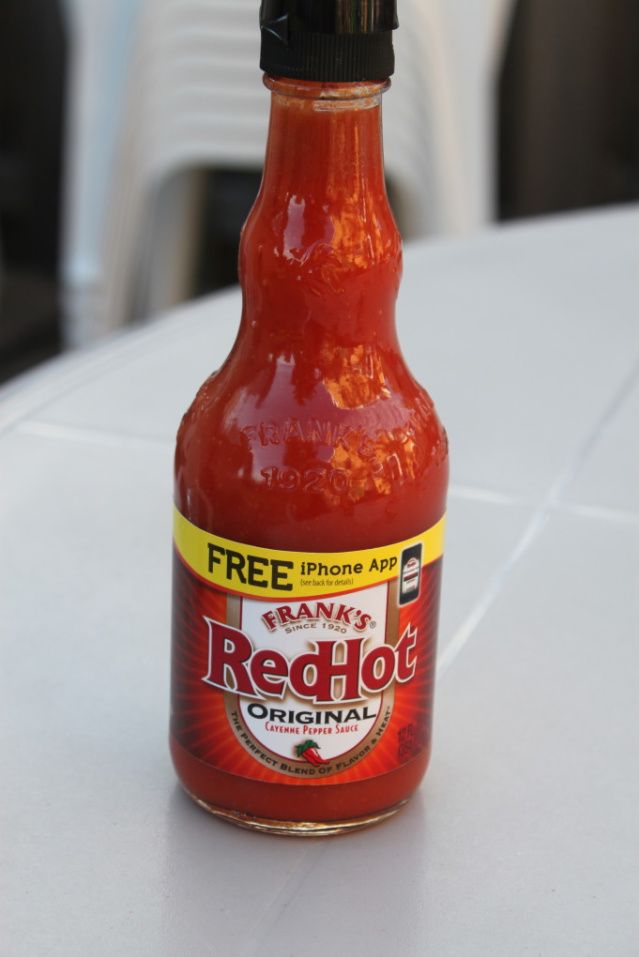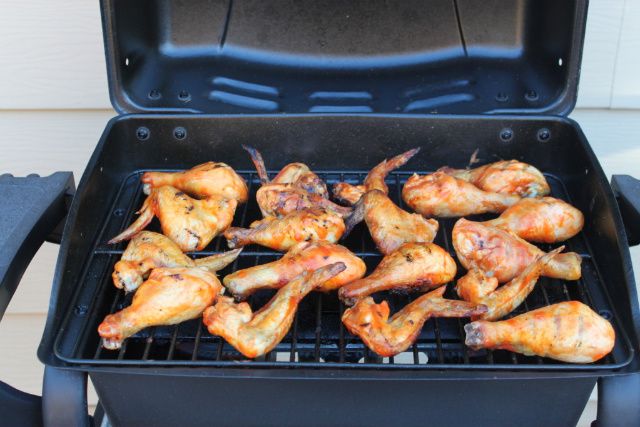 Here is how I made these wings/legs:
I followed the same recipe as the above wings recipe, but I changed the cooking times. After I placed the wings on the grill (low heat), I closed the lid and let it grill for 15 minutes, sauced them, and flipped them over. I then closed the lid again and let them grill for 15 minutes, sauced them, and flipped them over. Now every 5 minutes I would sauce and flip for the remaining 20 minutes. Total grill time was 1 hour.
They were so good!!! I had to leave a few of them on for an additional rotation to get as crispy as others. I'm sure all grills are different, but like me you can improvise!
Hope lots of you try these. They are divine!