Hi! Kenzi here from
The Cardigan Queen
. I'm helping out over here while Lisa's recovering from her surgery. (Get well soon, Lisa!) I'm actually a little nervous about this! Because this is my very first guest post ever!! It's kind of a big deal to me! Okay, deeeep breaths!
Another first for me is these outfit photos. (You see, my blog is still a baby blog. It's only been up and running for a few months now.) So far, my outfit posts have been right in the vicinity of my lil ol' apartment when I take them myself. This time I actually ventured outside of my comfort zone and went scoping out some places. I think they turned out alright. It was getting kind of windy and dark as I was taking them. It's getting ready to storm. The wind kept blowing my hair & those fluttery sleeves in my face! But I got a few good pictures in any way! I think I was creepin' out the kids riding their bikes around so I decided it was time to pack up & head home.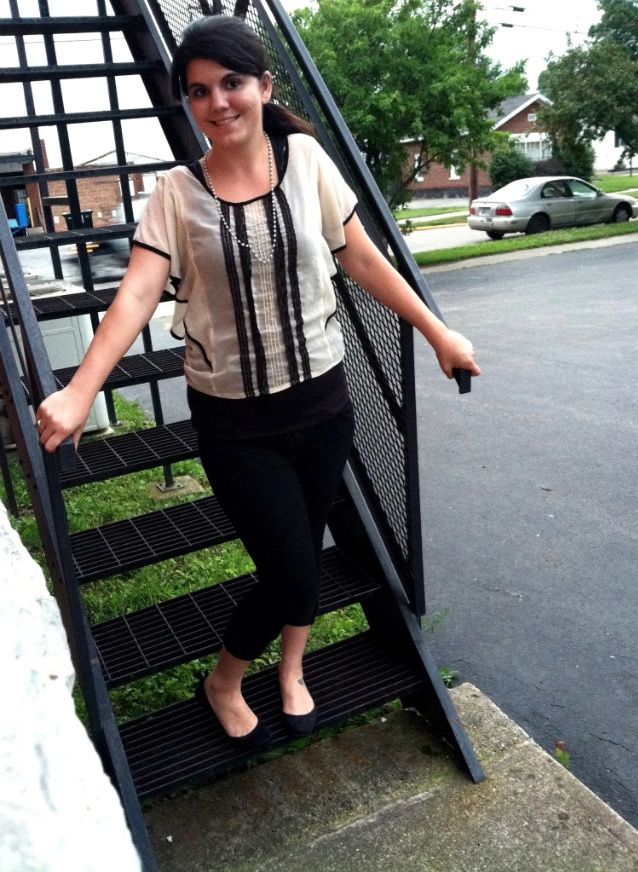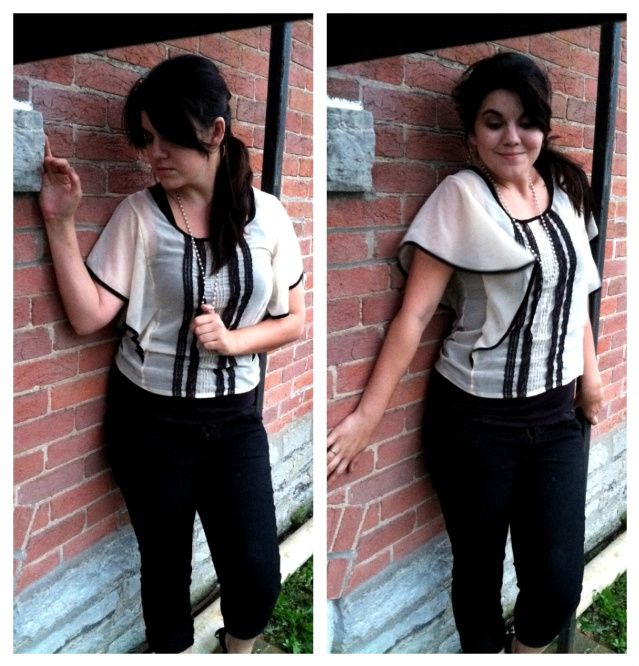 Don't you hate it when you have a great outfit in mind and you're so excited to try wear it, and then when you go to try it on its just…. Ehhh. That happened to me today. Since I'm posting on Lisa's blog I was going to wear this adorable teal knit tank dress from Express that I snagged right out of her closet. I even had a few different ideas in mind how to style it. I had a green & blue tye-dye tank to go over it. Nope. I had a scarf I was going to use as a head band or belt. Nope & Nope. (the scarf was at my mom's) Leggings underneath. Nope.
Nothing was working for me. Nothing against the dress, because it's simple & classic & I love it. The styling Gods were just not on my side today. So plan "B". I wore this outfit a couple weeks ago to the bf's family dinner. His grandparents were in town visiting from Belgium. They don't speak English, so I at least had to look nice right? Actually, his grandfather speaks some but his accent is so thick I can barely understand him. Well, we went to a nice Italian restaurant. It was a nice evening out. I bought these denim leggings specifically for the occasion. And I never thought you'd see the day where my booty was in some "jeggings" (I hate that word) . But I actually am in love with them! Super comfy!
Well, I'm glad Lisa let me help out!! Leave her lots of love while she's gone!!
Now that you've all "listened" to my mindless chatter, I'm heading back over to the home station. Stop by & say hello if you'd like.
Top-ModCloth; Tank-Target; Pants: Old Navy; Shoes: Express; Necklace: ??