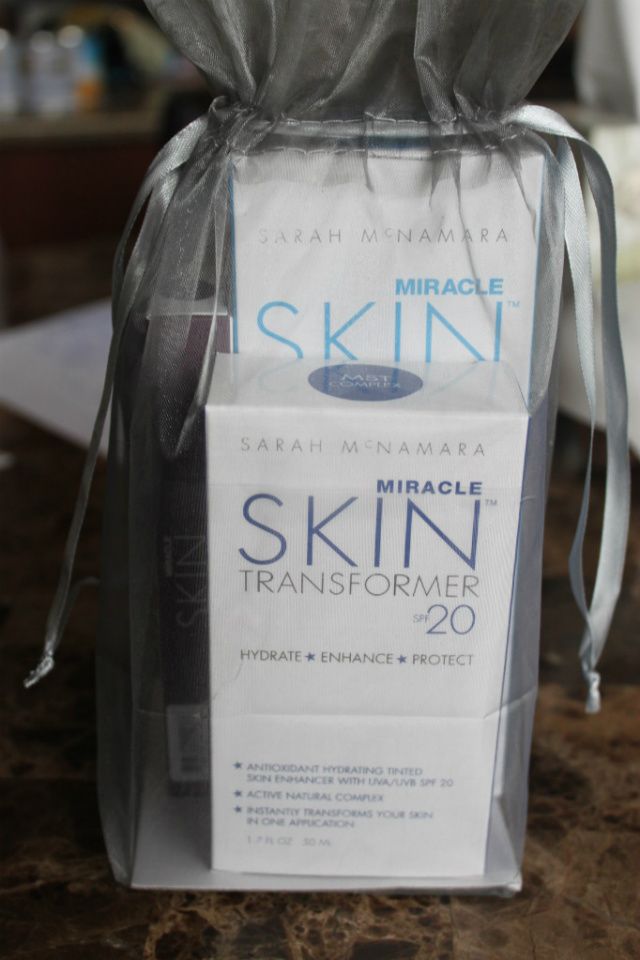 As a member of
IFabbo
I am able to work with different brand members to do product reviews. I was beyond excited when I received my Miracle Skin Transformer SPF 20, MST treat and conceal in light, and Miracle Skin Transformer body SPF 20 in Glow enhancer. Even though it was a risky move to start using these products over the holiday (what if they didn't work, all my holiday photos would be bad! Oh the horror! lol) I went for it and starting using them last Wednesday. I can say without a shadow of a doubt these products are AMAZING! Here's a little about them:
"
Miracle Skin Transformer SPF 20
- An antioxidant-rich tinted skin enhancer that leaves your skin airbrushed, hydrated and protected in one easy step. Who knew that one product could transform skin instantly? Miracle Skin Transformer SPF20's first-ever naturally derived silicone formulation is designed to improve skin texture, minimize fine lines and pores and reduce pigmentation spots over time.
MST treat and conceal
- Erase imperfections with pigment rich coverage. Miracle Skin Transformer Treat & Conceal illuminates and visibly reduces imperfections. Blends seamlessly, immediately improving the complexion for flawless, fresher looking skin.
Miracle Skin Transformer Body SPF 20
- is a high performance tinted treatment body enhancer with a naturally derived silicone base plus antioxidants and natural actives that zeros in on your body's skincare concerns to give skin a total transformation.
Transform the appearance of arms, legs and décolleté – you'll see a difference instantly: Skin looks smoother, firmer, and totally flawless."
These products do what they promise to do! I used the MST treat and conceal under my eyes and the MST SPF 20 all over my face. I didn't need to use my photo finish because this product does the same thing, smoothes out your skin and makes you look perfect!
My skin looked flawless when I wore them and my husband kept telling me I look like a doll. (Well you don't see too many dolls with uneven skin, so I think that's what he meant.) My skin tone looks even, and in photos, it's down right amazing. I'd even explain it as porcelain esk. Yeah, that great! The MST body was also a pleasant surprise. I used it on my arms and the tinted lotion smoothed away any imperfections and made them look perfect and the glow picked up the right amount of light in photos. I can't wait to use this product on my legs on NYE. You need no hosiery because the MST body makes the skin tone even and smooth.
Now for the really exciting part. One lucky winner will win all 3 MST products I tried!
To enter to win (Miracle Skin Transformer SPF 20, MST treat and conceal, and Miracle Skin Transformer Body SPF 20) worth $118, leave me a comment in the comments section below telling me which Miracle Skin Transformer product you'd most like to try. Visit
miracleskintransformer.com
to see all the fabulous products they have. Make sure you leave me your email below too!
Get additional entries by doing each of the following (
leave one comment below for each you do!
):
- Like
Sarah McNamara Beauty
on Facebook (let me know you did so in your comment)
- Follow
Sarah McNamara Beauty Miracle Skin Transformer on Twitter
(let me know you did so in your comment)
- Tweet the following: @MiracleSkin and @sadbblog are giving away Miracle Skin Transformer products!(let me know you did so in a comment below)
- Follow Sarah McNamara Beauty on
Tumblr
(let me know you did so in a comment below)
- Follow Stilettos and Diaper Bags by email (left side of my home page). (let me know you did so in a comment below)
I must receive all entries by 1-11-12 and the odds of winning are determined by the number of entries received. No purchase necessary to enter. Winner will be announce 1-12-12 at 7:00 am.