Thank you to one of my favorite Blogs, Stilettos and Diaper Bags for asking me to guest post...I always appreciate the chance to share my love of entertaining and cooking. In honor of Lisa being on a warm weather vacation, I went with a recipe that will hopefully help you create a tropical feel in your own kitchen…and when you're done, stop by
Lake House Lyn
for more recipes and entertaining tips!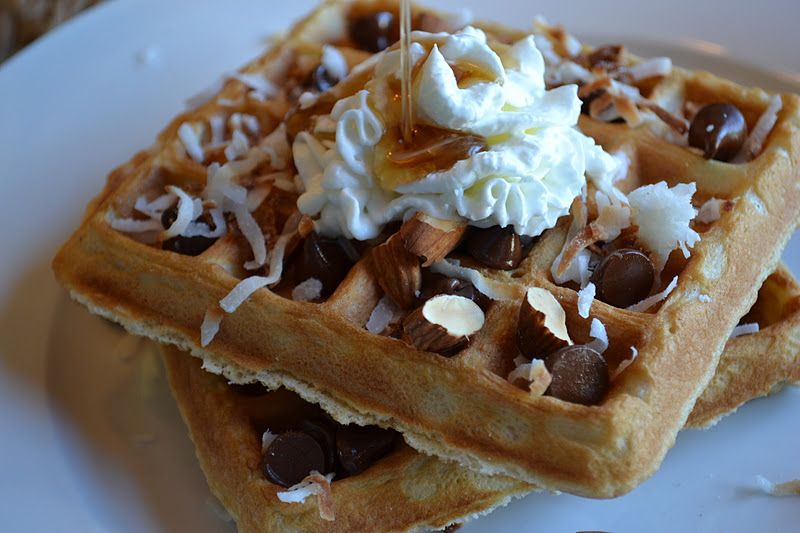 If you are tired of the cold winter already and long for the warm and fuzzy feeling from a beach vacation, brush off your waffle maker, put on some Caribbean music, and try out this great recipe for Coconut Waffles from
Better Homes and Garden
. It makes 8 servings, takes 10 minutes prep time and about 3 minutes for waffles to cook.

Ingredients:
1 3/4 cups all purpose flour
2 tablespoons sugar
1 tablespoon baking powder
1 14 ounce can unsweetened coconut milk
6 tablespoons melted butter
3/4 cups coconut
1/2 cup chocolate flavored ice cream topping (optional but I highly recommend it)
1/2 cup chopped toasted almonds (also optional)
Whipped Cream or Powdered Sugar

Directions:
1. In a medium bowl combine flour, sugar, baking powder, and a dash of salt. Make a well in center of flour mixture and set aside. In another medium bowl, lightly beat eggs, stir in coconut milk and melted butter. Stir in coconut. Add egg mixture all at once to flour mixture. Stir just until moistened (your batter should be slightly lumpy).
2. Pour enough batter onto preheated waffle grids that have been sprayed lightly with cooking spray before heating. Close lid quickly, don't open until done. Bake until green light on waffle maker is on indicating they are done. (About 3 minutes or until golden brown). When done, use a fork to life out of the waffle mare. Repeat with remaining batter. To keep warm until serving, place cooked waffles on an aluminum foil covered bang sheet in a 300 oven for a few minutes. When serving, sprinkle with almond, and top with whipped cream or powdered sugar! ALOHA…