The most recent product I have decided to review from the IFabbo Shop is the Perlier 8 piece travel set. I love me some great shower gels and lotions (plus they are 100% organic) so I was super excited to try!
Here is what the set comes with: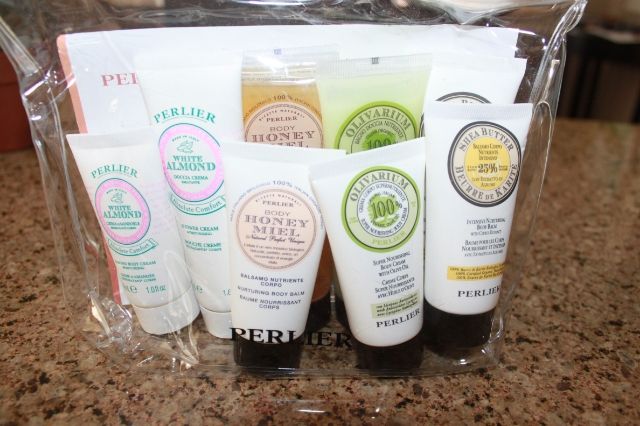 -100% Certified Italian Organic Honey:
Scent-Clean pure and soft. Great for women, men, and children
-100% Organic Italian Olive Oil:
Scent- Herbal-the perfect scent for mind, body, and spirit. Similar to the scent you would expect from an Italian Spa.
-Pure 100% Certified Organic Shea Butter & Citrus
Scent-Soft notes of Citrus. The perfect combination of lemons, limes, and oranges to warm it all up.
-White Almond with Cold Presses & Pure Almond Oil
Scent: Soft Italian almonds from Sicily, considered to be the best almonds in Italy. Almond with a touch of mouthwatering Marzipan
I used these all week, trying a different one with each shower I took. My favorite was hands down the organic shea butter & citrus. The scent awakens all your senses in the shower and wakes you right up. The shea butter of the lotion is thick and creamy but not greasy and would be great for year round chapped skin repair. I loved the scent the best out of all four types and it was gentle on my sensitive skin.
The Organic Honey and Organic Italian Olive Oil are both a close second. It was hard to decide which I liked better. Both were also great with my sensitive skin and I would use any of these three on my kids as well as the hubby I'm sure will be taking them over soon. ;)
I have to say, I'm super excited I own all of these so I can keep switching up my morning scents!
My least favorite surprised me.
I am so obsessed with almonds I thought that one would be my favorite. The white almond smelled like cookies to me in the shower (that's the great part) but the lotion left a lingering perfume smell that gave me a headache. I am super sensitive to smell and a lot of perfumes do tend to give me headaches. The body wash was wonderful but the lotion was just not for me.