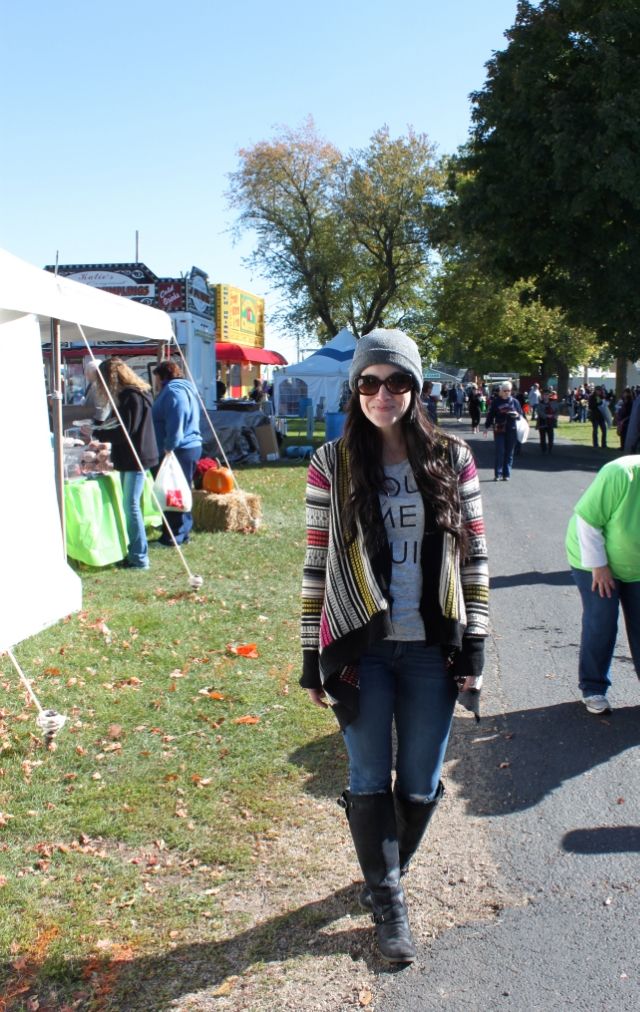 Those of you who know me, know I love the Fall Diddley in Boone County. I try to go every year and stock up on holiday gifts and home decor. The last time I attended was in
2011
so I was super excited I was able to go this year!
Myself and my daughter left he house at 6:00am and drove 2 hours to meet up with my mom, sister, and her kids (it generally only takes me 90 mins but there was a TON of construction).
It was in the 30's when we left but I knew the high temp for the day was going to be around 57 degrees so I decided layers were key.
As per usual the line was very long when we arrived after breakfast, right at opening time. We are pros at this point and start at the furthest tent and work our way back to the front.
I found adorable teacher and bus driver gifts, a few holiday gifts, and some Halloween and Christmas decor for our home as well!
Here is my new Harvest table. Ideally this would go on a porch, but we don't have one in the house we currently live in, so we put it in our entryway. I can't wait to have it outdoors one day...I super love this find (and only $26!). The kids have been adding leaves and pine combs to the glass in the center and we added gourds and a few pumpkins so far. I'm sure with another pumpkin patch trip coming up this weekend, this baby is going to be full soon enough!
Plus since it says "harvest" I can keep it out through Thanksgiving. Love that!
Have you ever attended the Boone County Fall Diddley? What do you think of my new table?