You all know by now how jumpsuit obsessed I am. This wide-leg beauty I found at Nordstrom in early 2014 is hands down one of my favorites. Since the print is so stand-out, I try to mix the styling up a bit each time I wear it.
When I first rocked the jumpsuit in Nashville, I wore my hair braided in the back and curly to the side. I added crop boots, a faux leather jacket, and a long gold necklace. I went braless and loved the backless style! I for sure felt sexy this night and it was the perfect look for a night out including a live taping of my favorite show Nashville at Ryman Auditorium.
To mix it up, I added nude heels and silver jewelry the next time I wore it. To finish that look off, I went with strait hair and as you can see I had lost a few inches. I ended up wearing a classic bandeau bra under so the back looked different. Plus we were out during the day so it felt more appropriate this way for a day date with the hubby.
Fast forward to this year and about seven less inches of hair. I recently styled the jumpsuit with beachy wavey hair, gold boho jewelry, black strappy heels and faux leather jacket. To stay coheasive with the "strappy" theme, I added a strappy back bra.
Here are the three ways I have styled this Nordstrom jumpsuit to date: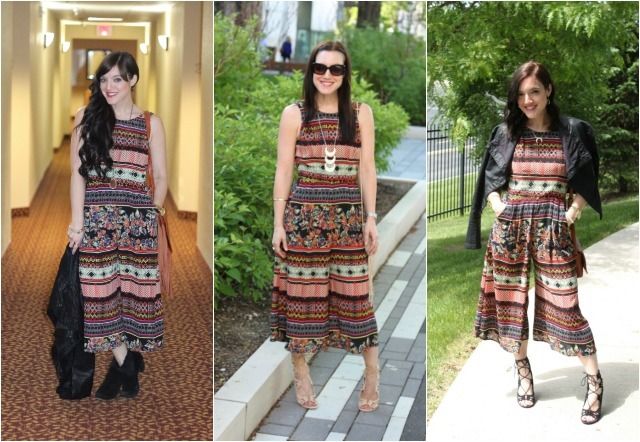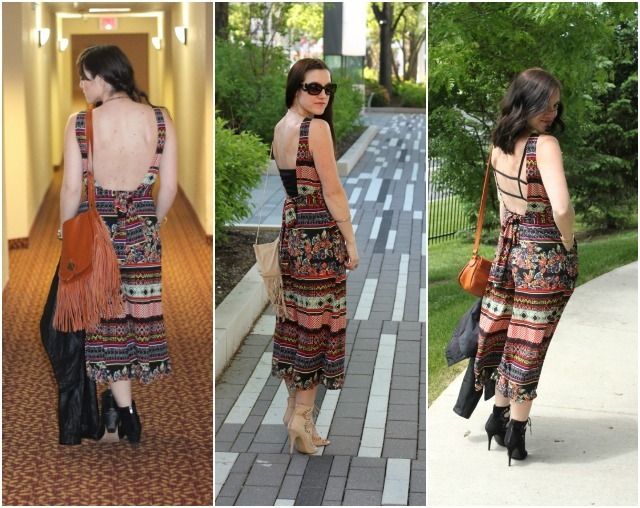 I think next time I will add a top or tee over the jumpsuit to really mix it up! And I really need to pair it with a vest, no?
It IS a statement piece, but it can still be mixed up to not look the same every time.
What do you think of my jumpsuit? Which is you favorite from above?