Even before my daughter was born, I started buying hair pretties for her hair. I'm not sure if I thought she was coming out with a full head of hair or what, but I got everything from barrettes to headbands. Now that she's here, has a super small head with very short hair, I find myself searching for hair pretties that she can wear now.
My friend Gwen told me about a store called
Pink Hippo bows
and they sell bows in different stages for all hair types. Really? Well okay, lets do some online shopping!
I got a few barrettes in stage 1 and one newborn headband.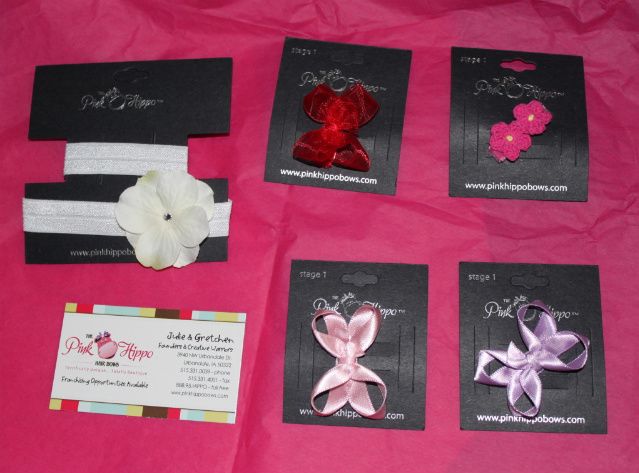 They work!! They actually stay in her hair! At this point it kind of looks like a floating bow, but it stays in her hair and that's all I wanted! The headband is also super cute on her! Score!
They have 2 store locations in Illinois (Naperville and Glen Ellyn) and I can't wait for her hair to grow a bit so we can do some real hair pretty shopping! They also sell lots of other cute items like tutus, leg warmers, hats, and photo shoot wear! If you have a daughter it's a must shop at store!