ONE-PIECE BATHING SUITS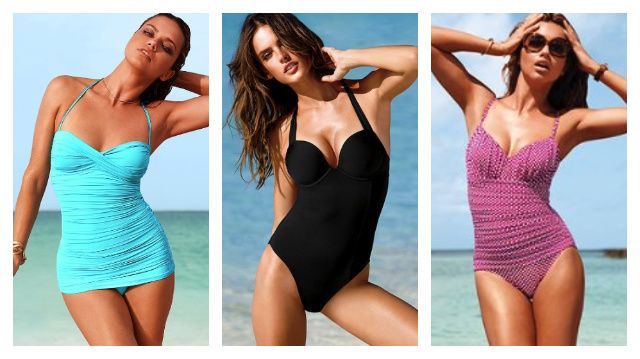 Lisa: LOVE! Especially because my belly is not firm enough yet to wear a bikini. It's flat again, but not firm. And who wants to see my rolls as I'm bending over grabbing the kiddos this summer at the lake house, beach, and pool! I will be wearing a 2 piece in my yard, but that's about it! I think one-pieces are beautiful, stylish, and appropriate for women of all ages and sizes. Plus, how beautiful are these options?! I found all of these online at
Victoria's secret
!
Ryan: LISA! Firstly, you look great and if I can show off my burrito belly & cheesy nautical star tats at the pool, you can show off your slammin' MILF bod. SECONDLY, you're being disingenuous by only showing Victoria's Secret models in one-pieces. C'mon, those girls are so photo shopped you could put them in potato sacks and it would look good (and yes, they are exceptionally good-looking as well). I will say this - one-pieces appear to have come a long way from Aunt Merthel's 1952 vacation photos, but LADIES - guys look forward to summer for one thing & one thing only - we want to see some skin! We love when you lose all the layers and start reminding us of what we've forgotten you had over the dreary, seemingly never-ending winter months (especially us Midwest guys - you west-coasters don't know how good you have it!). Sure, there's hypocritical, asshole dudes out there who have the nerve to slam girls physiques while they have their beer belly hanging out (fuck those tools), but most of us are way less judgemental and love to see you in all your imperfect glory. Lisa - grab the kids - we're going bikini shopping at Target!
Lisa: Oh shit, I already ordered a one-piece from Victoria's Secret (not shown because the style sold out). Ummmm, a girl can never have too many suits right?! I'll take you up on the bathing suit shopping trip babe!
I've got an amazing hubby!