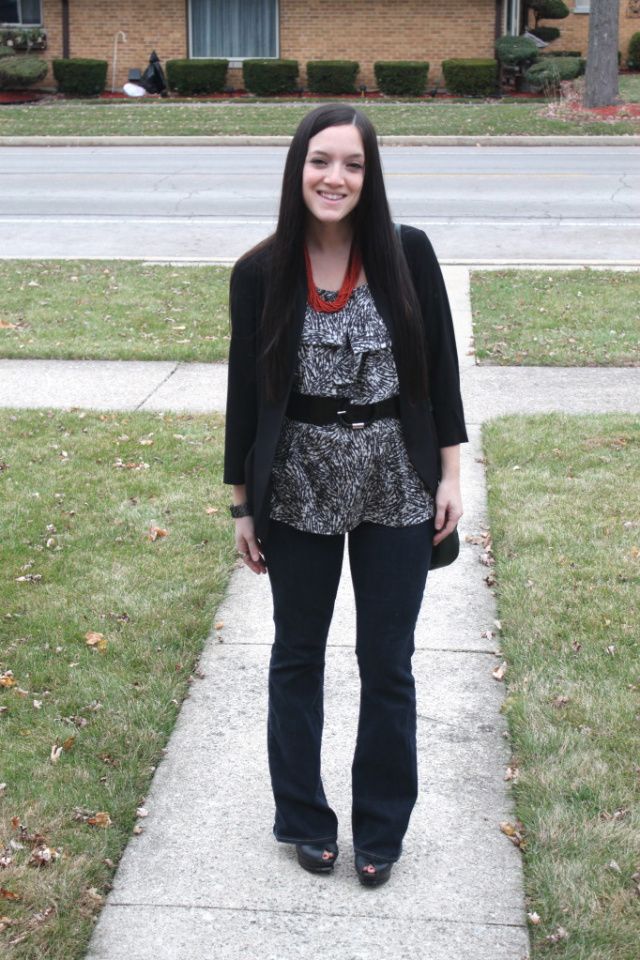 Blazer: Urban Outfitters, Top: Closet swap w/ Kaitlyn, Jeans: Gap, Belt:
MNG
by Mango, Necklace: Shop
Frankies
, Cuff:
Jewelmint
, Ring: Macy's, Chain ring: Tiffany & co, Shoes: Jessica Simpson
I finally got to go see Breaking Dawn part 1 on Monday morning. I loved it! Yes, it was weird. Yes, it dragged a bit, but it did good by the book and that's all I care about. If you know me then you know I have read all 4 books 3 times and I love everything Twilight! GO TEAM EDWARD! LOL okay, now that that's out of my system, lets talk outfit. ;)
I went with a very chic look and added this great red necklace to accessorize. Did I feel overdressed to be at the movies at 10:00am? sure. But did I dress appropriate for my date with Edward? YES! I went out with the girlfriend for sushi after so by noon I blended in just fine.
I'd rather be over dressed then under dressed any day of the week!
Now onto my hair aka stringy mess. I need a hair cut BAD! Thinking I'll do a full overhaul (cut/ color) after the holidays but in the meantime I must lose a few inches STAT!
Coupon codes:
Here are some black Friday codes:
Get $50 off orders of $150 or more at Heels.com for Black Friday! Use Code: YAMS
Offer good black Friday through Sunday.
20% off your entire order at
ASOS
today! Enter code HAPPYBLACKFRIDAY at checkout!
Shop at ChineseLaundry.com this Black Friday for 20% Off any purchase of $100 or more with code SHOPBABY20, 11/25/11 through 11/27/11