When I was little my mom made these cookies every year. She would make trees and wreaths and we each got our initial cookie to boot! ;)
This year I wanted to try to do these traditional cookies but alter them to be gluten free. The day I was making these, my mom was not home to give me the recipe. I searched around online and found
this version on food.com
.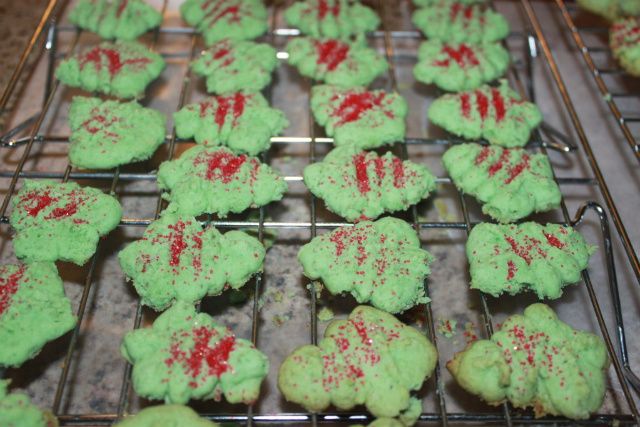 Recipe:
1 cup shortening (I used organic butter)
3/4 cup sugar (I used raw sugar)
1 egg (I used omega-3 eggs)
2 1/4 cups sifted flour (I used gluten free flour)
1/8 teaspoon salt
1/4 teaspoon baking powder
1 teaspoon almond extract
food coloring (I used natural coloring)
Directions:
1
Cream shortening, adding sugar in gradually.
2
Add unbeaten egg, sifted dry ingredients, flavoring and a few drops of food coloring. Mix well.
3
Fill cookie press. Form cookies on ungreased cookie sheets using the tree plate. Decorate with tiny multi-colored sprinkles.
4
Bake at 400°F for 6-8 minutes. Cool just slightly and remove from cookie sheet to cooling rack. (If you wait too long, they will break when you try to move them.).
Sadly these are my least favorite of this years line up. They were brittle and I lost many getting them off the pan. Maybe I should have searched for a gluten free version and not subbed so many items out?. My son likes them so that's all that matters, but I would recommend you not make the same mistake that I did and find a different recipe.
* Check back today at 5:00pm for the next cookie recipe!