I was given a FunSpunge to review and try on my kids at home. The Fun Spunge is a super absorbent bathtime headband.
"When a child fusses because water and soap dribble on their face during bathtime – it's not fun. Put the playtime back in bathtime with the FunSpunge™ Headband! FunSpunge absorbs water, keeping it off your child's face making it easier for you to wash hair without crying."
Here is what the product looks like: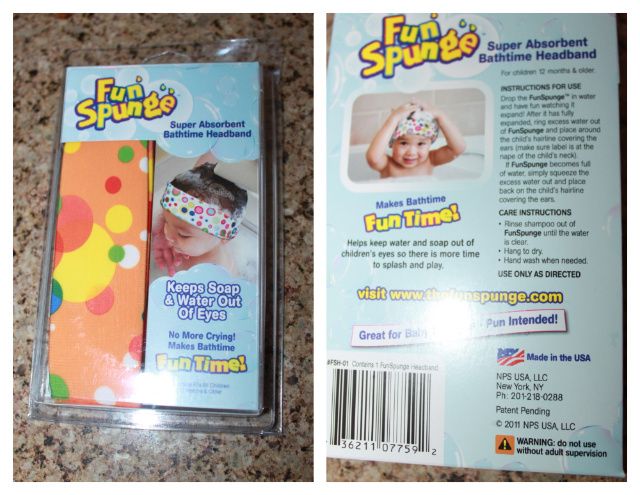 I choose this color so neither my son or daughter thought it was just a girl or just a boy thing. Truth be told, they both hate rinsing out their hair.
When you open the Fun Spunge it felt like cardboard inside a small headband. The directions say to let it soak in the water and then ring it out before use. I was AMAZED how stretchy and spongy this thing got after a good soaking.
It's a bit snug on my 3 year old, but he has a big head. lol (seriously he's in the 85% for head size)
My daughter now has a new best friend. It did take a few baths for her to like the idea of keeping this on her head (she's only 1), but now she LOVES it! It's nice to not fight her to look up to get the shampoo out!! This is one of those million dollar ideas people. I think anyone who has young kids would love this and would get a lot of use out of it! I've had mine for a few weeks now and use it EVERY bath!
1 lucky winner will win their very own Fun Spunge! To enter simply do 1 or all of the following:
-Check out the
FunSpunge website
and tell us your favorite headband style. They also have a super cute video on their homepage that is worth checking out!
Leave a comment below for each that you do along with your email. Winner will be announced 2-18-12 at 7:00am. Good luck!