I decided it was high time for a new look, so for the first time in about a year I went to Mario Ticoci for a cut and color. (I generally get a hair trim every 4 months, but I don't color often). Here are my before shots: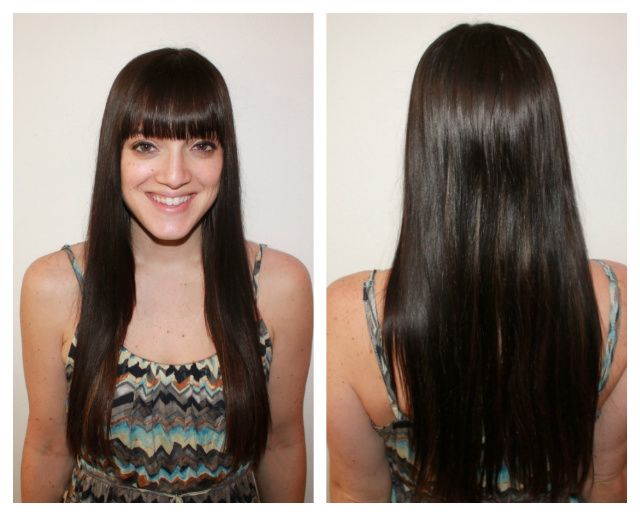 I asked for a modern twist on Ombre. I wanted a few shades, not just dark on top and light on bottom. I actually brought this picture with and said "I know I won't look like this (DUH!) but it's a good form of reference of what look I am going for."
After 4 hours, 2 times having it processed, toned, washed and dried I left crying. This is the first time EVER I have been unhappy with Mario Tricoci. They were beyond amazing about it and not only gave me my color for free (which honestly I would have not paid for) but that also competed my hair cut. This is what I had to deal with from Saturday afternoon until Monday when they could fix it:
So yeah, not happy. Yes, that is green your see. And orange, and brush marks that start 2 inches from my roots. Keep in mind, this is the correction of what was first done so you can only imagine my horror when I first looked in the mirror. I do LOVE the cut though. She took 1 inch off the back and put TONS of layers in to make it lighter for me. (It just gets so heavy for my neck!)
I spent 45 mins curling and pinning it back not to look too silly for Easter Sunday and then RAN back to Mario on Monday. After another 2 and 1/2 hours working on me, their head colorist was able to turn it into this: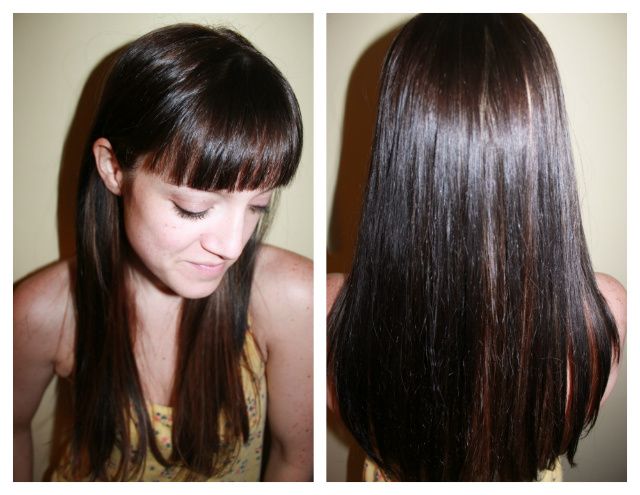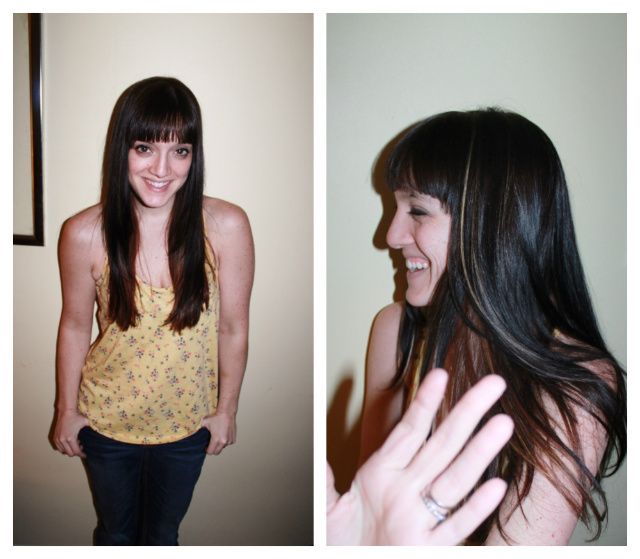 As you can see from the last photo I have a few weird blond streaks that were supposed to be toned down at the root, but again after 2 and 1/2 hours I was needed back home. She did want me to stay and fix it more, but I was over it.
It's definitely better then the first round and I am much happier now. I will be going back in a few weeks to do more corrections as there are a few harsh lines and again the top needs toner on it.
As I was leaving I was charged full price for color. I was kinda shocked. I had to tip all 3 who did my hair the day of mess up, tip all 3 the day of fix and full price for color. I guess I should be happy they competed my cut, but I just think if you mess up, you pay not me.
Having said that I still LOVE Mario Tricoci. I am such a fan of their spa and my hair girl is the best and I would never switch on them. The colorist though, I think I will now go to the top girl to fix the last few streaks when my hair has some time to recuperate and then just stick to my regular hair color.You can mess with a lot of things people, but my hair is not one of them! ;) She did do wonders though. It's come a long way since Saturday!
**UPDATE I was called on Thursday and apologized to for a miss charge. She had not read my blog, just was going over books and realized I was charged. I was given a credit for the full amount and plan to go get a massage in the next couple of weeks! I am one happy camper!!!