I attended the CBN 500 member event on Thursday night.
Can you believe there are already 500 members in the Chicago Blogger Network? So cool to have so many great ladies and men blogging in our city!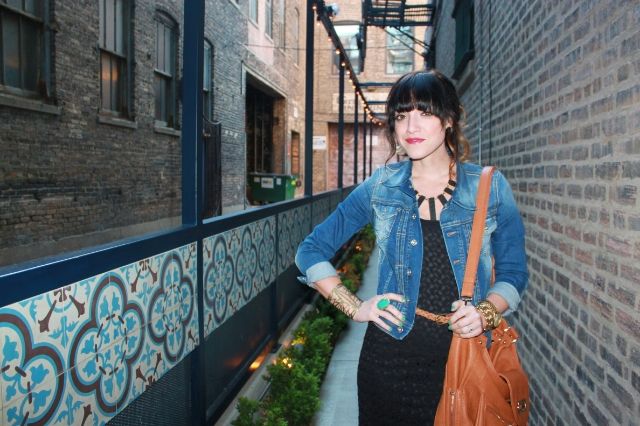 Dress: Mimi Chica via Nordstorm, Coat: Pepe Jeans, Shoe: C/O Just Fab, Bag: Piperlime, Necklace & Bow Ring: T+J Designs, Teal Ring: C/O Lotus Blossom Design, Chain Bracelet: House of Gemmes, Watch: Fossil, Large Cuff: Hive & Honey, Earrings: Just Fab, Lip color: Rose Blossom by Bobbi Brown
RM Champagne Salon is such a cool place. You have to go down an ally to get there and all of a sudden you are in France! The outdoor lounge is beautiful and the inside is so chic. Candles and chandeliers everywhere have a special place in my heart so this place is one of my new favorites, I can't wait to go back when it's warmer out!
Here are some shots from the night:
Lubna is starting a women's and menswear blog with a guy friend of hers so watch out for that, how stunning is she?!
You all know Kristin Hassan by now. She is not only a very talented clothing and jewelry designer, but she has also been my friend for almost 6 years now.
I was super excited to go with her to this event and get a little friend time in along with networking. Business owners night out ya'll! lol
Zahra is a fellow mommy blogger who covers everything from fashion to gardening and I felt like I was seeing a friend I haven't seen in forever. ;) Do you have blog/instagram/twitter friends that you feel like you know even though you've never met? That was the case for me with Zahra. Now I like her even more! She has impeccable style and my goodness is she gorgeous or what?!
Myself and Kristin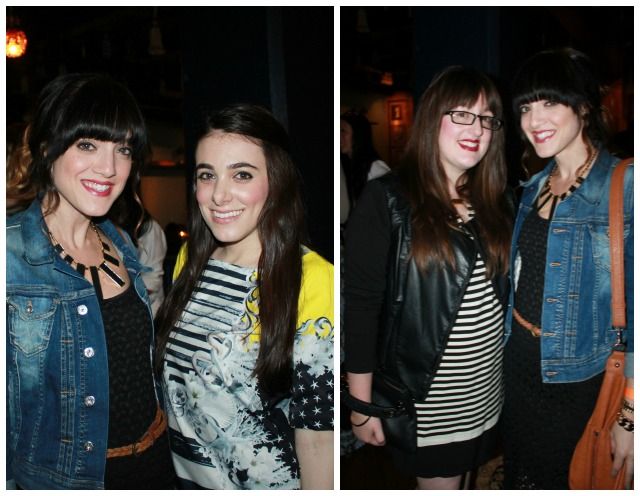 The ladies of the
Jess &Jill
blog with myself.
I love when I get to see these girls! We met at the very first CBN event back in late 2011 and have been blogger friends ever since (I Spy DIY event, Bobbi Brown event).
Make sure you check out their blog, they have great style and are just great girls to know in general. They both always have smiles on their faces and are just fun to be around. Love you girls! xo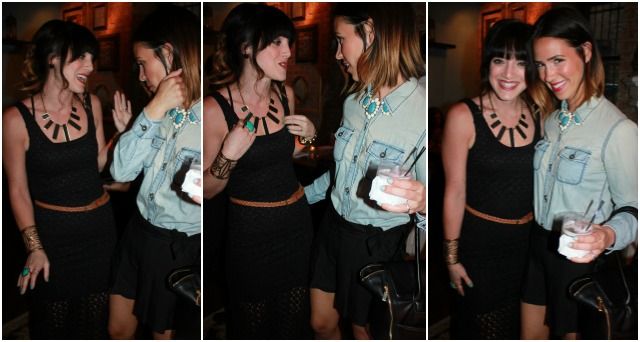 Myself and Mary of
Sportsanista
talking about our outfit choices. (The Italian in me comes out when I talk...lots of hand gestures ;)
This is my second time meeting her, we both attended the Bobbi Brown event back in August of 2012.
I have to say, I have a major blogger crush on Mary. She has the best taste in clothing and I feel like I'd be in hog heaven in her closet for sure. I think I love her so much because she is to sports what I am to moms...the fashionable kind. ;)
I'm not sure if she'll still talk to me if she knew that I watch zero sports...like none. My hubby doesn't watch, I don't watch, we don't care either way (we are the music family), but IF I was a sports fan, I would be rocking my jerseys and sports tee's the way she does for sure! Everyone go check her blog out, this girl is amazing!
I'm so glad I attend this event. It was great too see some old friends and some new ones too!
Sorry I didn't take more photos, I saw so many other great bloggers and was kicking myself when I realized I stop taking pics about half way through the night.
Does your city have meet ups?