Myself, Kaitlyn of Sisters Marie, and Lynda of Lake House Lyn decided to grab a bite to eat and then have a little summer shopping trip.
Here is what I wore for our girls night out: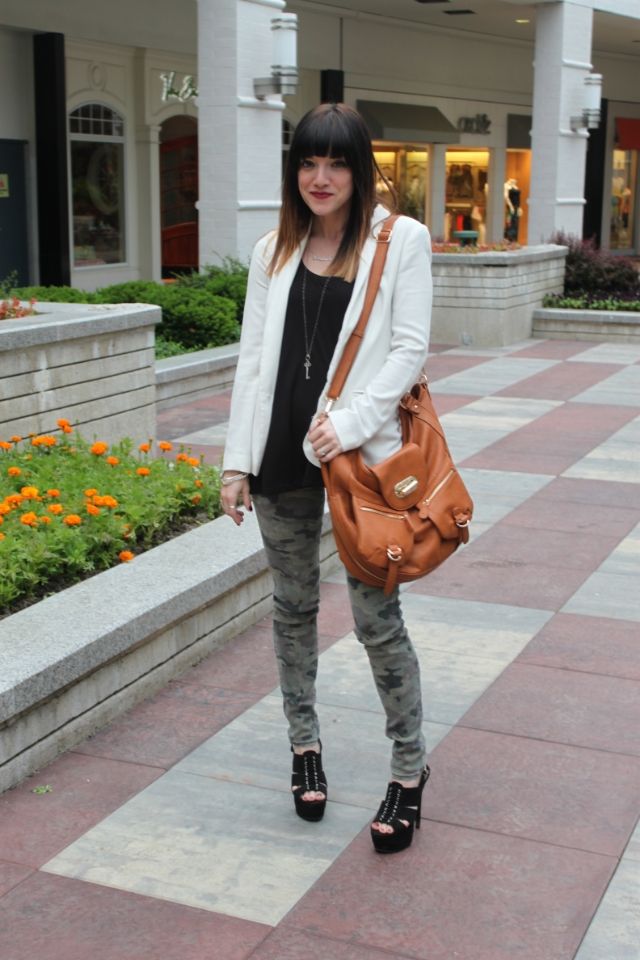 Blazer: Piperlime, Tank: Swap w/ Kaitlyn, Jeans: Hudson via E Street Denim, Bag: Piperlime, Shoes: C/O Just Fab, Bracelet: C/O House of Gemmes, Stackable Rings: Shop Jules, Mother of Pearl Ring: C/O Willow House Jewelry, Twitter Plate Necklace: Baublebar, Key Necklace: Erin Gallagher Jewelry, Lip Color: Rose Blossom by Bobbi Brown
So I chopped my hair again.
I cut it back in December (took 7 inches off) and now 6 months later I decided to get rid of another 3 inches. It just feels lighter and my neck likes lighter. Plus it looks like I had my color done (which I did not) because of all the new layers. For sure the shortest it has been since I left high school. LOVES it!
Now lets talk camo pants. I have been wanting a pair forever, Carly of Thirty Something Fashion makes them look so good I just had to own a pair.
But not all camo pants are cute (to me) so the search went on for quite a few months until I found these bad boys at E Street Denim in Lake Geneva.
What do you think? Do you own camo pants?
If not, do you want to now? ;)