I saw this pin on Pinterest and knew right away I was going to make this but in a gluten free version. I would have also made it dairy free if it was just for me and the kids, but we were heading to a dinner party so I decided to make it GF only. (I'll add the dairy free version below too!)
Here is what you'll need:
4 gala apples

1/2 cup oats

1/3 cup pecans (optional)

3 tbsp brown sugar

1 1/2 tbsp Greek yogurt

1 tbsp butter, melted

1 tsp cinnamon

3 tbs apple juice

Whipped cream (optional)



*For dairy free use

Willow Run Soybean Margarine by Shedd's in place of the butter and Greek yogurt made with almond milk
Preheat oven to 350. Combine oats and pecans with a sprinkle of cinnamon. Spread out on a baking sheet in a thin layer and bake for 4-6 minutes until golden and toasted. Remove and set aside. Reduce oven temp to 325.

Rinse and core the apples, but make sure not to cut through the bottom of the apple. You can use an apple corer or a paring knife. Make sure seeds are removed as well (scoop out with spoon)

In a bowl combine oat-pecan mixture with brown sugar, yogurt , melted butter and cinnamon. Spoon mixture into the cavity of each apple. Place apples in an 8X8 inch baking dish. Pour apple juice in the bottom of dish.

Bake at 325 for 30-40 minutes until tender (not mushy). Top with whipped cream or ice cream and serve.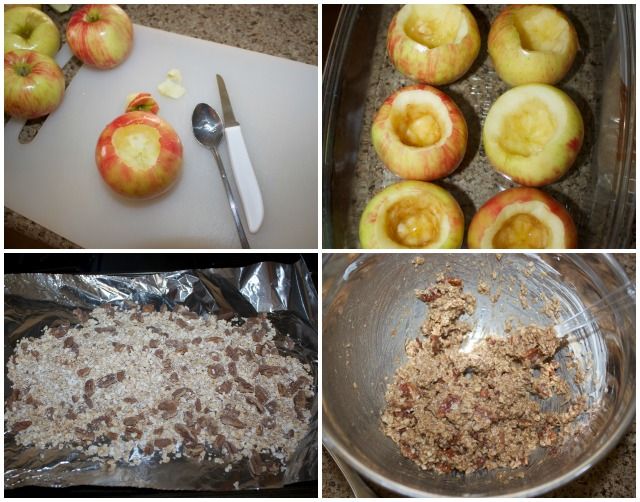 Here is the finished product:
In the end I totally forgot to top them with whip cream (it's still in your freezer Kaitlyn), but they were darn good either way.
I can't wait to make them again for my kids between now and Thanksgiving. They were good, but I can do better. ;)
What do you think? Have you ever tried oat baked apples?