This year, I dressed for my hubby. I generally dress for girls (here are some of my past NYE looks 1 // 2) and my hubby thinks I look pretty, but not hot.
This year I was going for "humala humala boomski" and I think I nailed it as my hubby's jaw dropped when I showed him this dress the night before.
It is a very daring dress so I figured if I didn't wear it on NYE it would end up in my closet until I mustered up the guts to try it next year.
Well, I'm not getting any younger....go for it! ;)
I'm so glad I did as my mantra "no guts, no glory" has never steered me wrong.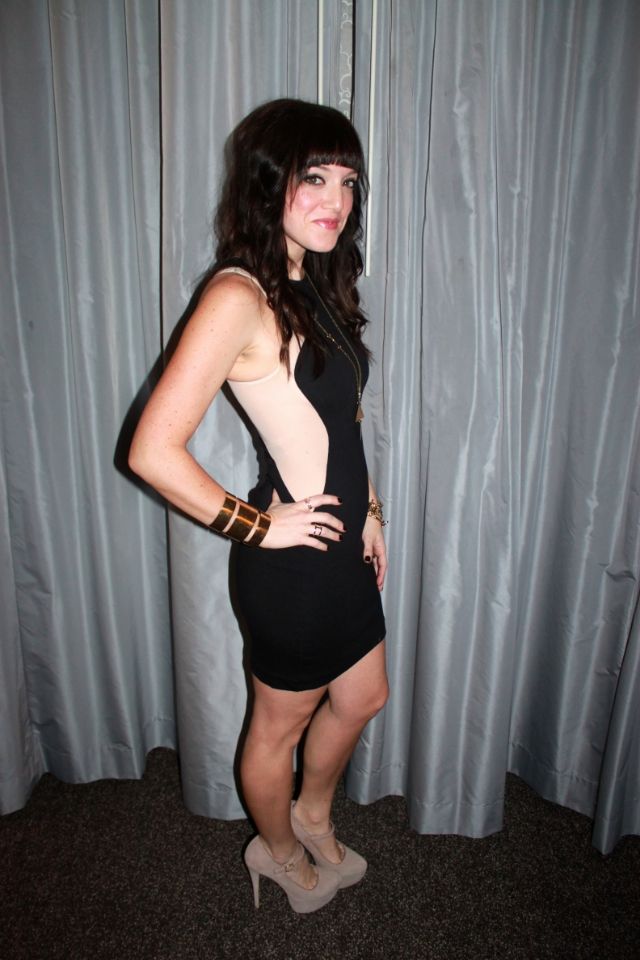 Dress: Express // Shoes: Shoemint // Necklace: Threadsence // Watch: Fossil // Chain Bracelet: Victoria's Secret // Bow Bracelet, Large Cuff, & Rings: T+J Designs // Earrings: House of Gemmes// Ear Plugs: c/o DownBeats
I spent NYE at the House of Blues Chicago this year watching my hubby's band Lucky Boys Confusion.
Swizzle Tree opened for them and we headed upstairs and saw the Smoking Popes too.
Such a fun NYE and loved that everyone came so dressed up!
This year goes down in the books as my favorite kiss at midnight.
As a wife of the drummer it's hard to get our kiss in as the band plays before and after the NYE countdown.
This year the hubby came off stage and just stood with me for a few minutes literally holding up the band. Sorry guys, I haven't had a good midnight kiss in years (he's always racing to get back behind the drums or I'm on stage and get a fast kiss and run off before the music starts). It's tricky and why shouldn't I get to suck face like the rest of you? ;)
I was glad Jason and Bonnie (the bass player and his wife) did the same as us. So they both held up the band and both of their wives thank them!
Here is a shot someone took of us during the countdown. Thank you dude who grabbed my camera!! Again, something I don't usually get, photos of midnight!
What did you do on NYE this year?
It's so fun to go all out but I can't wait for a year we do nothing and stay home with the family too!