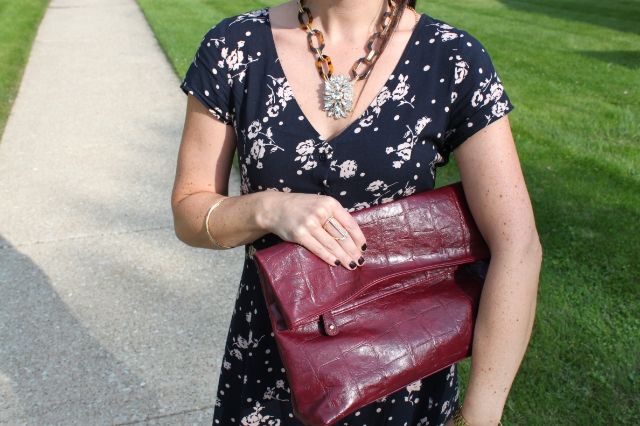 Over the weekend we invited over a couple of my husbands high school friends and their families for dinner at our home.
Cooking for six adults and four kids was going to be fun, but our house was not really ready for it. I'll get back to that in a minute, first lets talk fashion.
I decided to wear this easy button up shirt dress. It has lots of room for eating (which was key with what I cooked), and it can be casual or dressy depending on the styling.
Since the weather was on the cooler side, I added these amazing slouchy boots. I am obsessed with them. Seriously, you are going to get sick of seeing them on the blog, but I digress. ;)
I kept the styling easy by adding a great statement necklace and a few other gold accessories.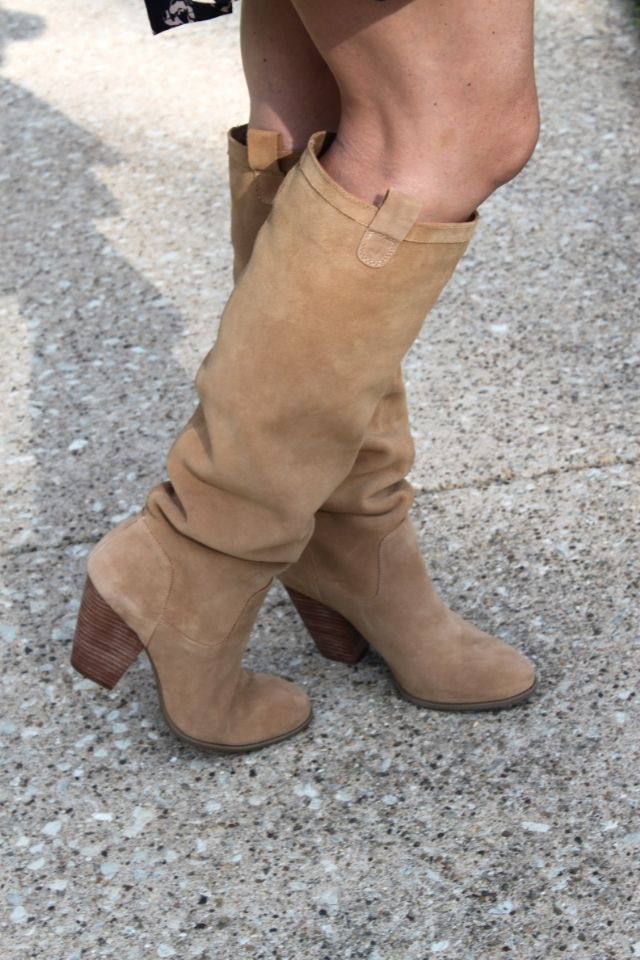 Dress: Kohls // Boots: c/o Sole Society // Necklace: House of Gemmes // Bag & Ring: c/o Just Fab // Sunnies: MNG by Mango // Watch: Fossil // Bangle: c/o It's a Bling Thing
OK, now onto the menu and where to seat 10 people! We have a round, four top table in our kitchen. We are a family of four so that's all we've ever needed. Thankfully we have a 10 foot table we keep in garage for parties and borrowed some folding chairs. We also have a kids four top with chairs so I decided to set that up next to the "adults table".

Now the menu. I have a lot of items that I'm great at cooking. I'll admit it, I can cook. But an item that people always say are great are my ribs.
Ribs for this many people, I have never executed, but with four pots on the stove I got it done!
I created a "build your own salad bar" as the side and also had some fresh fruit too.

Here are a few photos of our set up: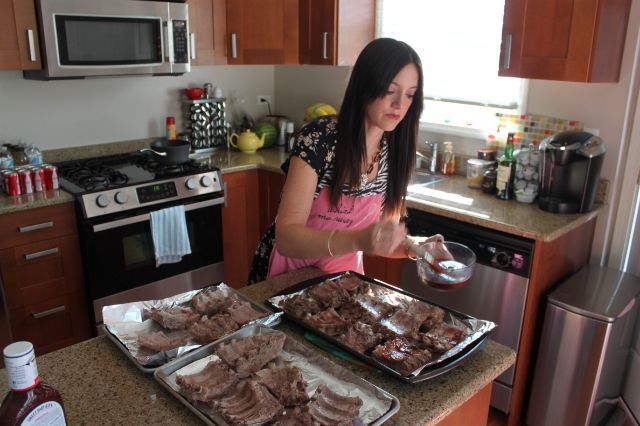 Ever table needs fresh flowers. I decided to put them in coffee mugs so we could all see each other. There is nothing worse then a giant center piece and you can't see your guests!
This isn't even all the ribs I made! This is just what I put out for the first round. ;)
I'm really great with time management so I had everything ready to go by 10 minutes prior to the guests arriving. I just kept the ribs in the oven warming up while we offered everyone wine, scotch, and water. I hate missing out on the party by being in the kitchen so I start prepped veggies and boiling ribs hours prior to the dinner date.
If you like ribs and you want to try this recipe, I've posted it on the blog before, so
check it out here
.
Do you ever have more then one couple over (and their kids) at the same time? What's your go-to meal to make for dinner parties?