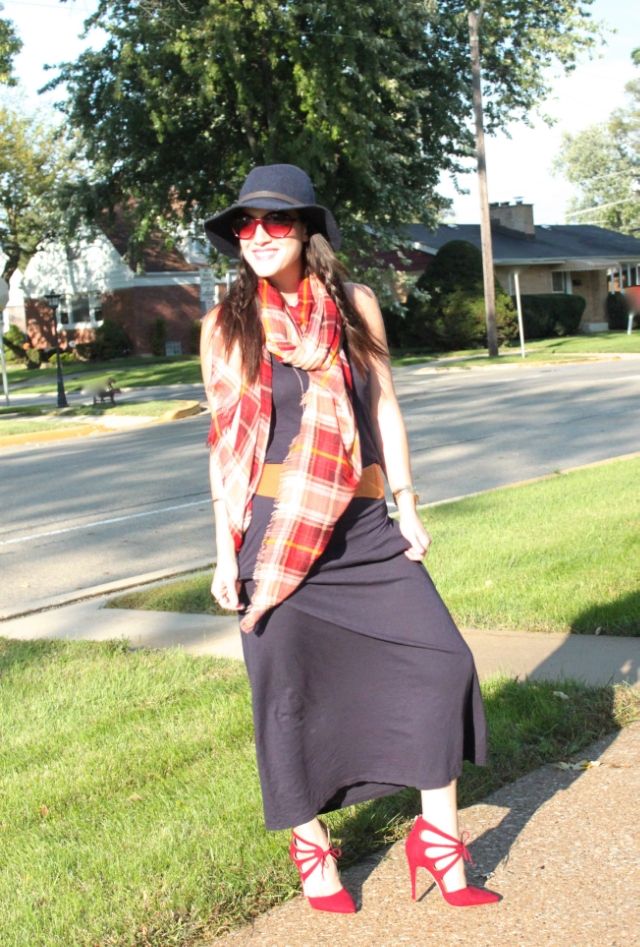 I am loving this weather we are currently having here in the Midwest. It's in the lower 70's during the day then cooler at night, but sun and clear blue skies, I'll take it!
A great way to transition your wardrobe into fall (even on the warmer days) is by adding fall colors to the pallet. I'm sure you can tell my my outfit posts so far this month that I am all about the colors navy and oxblood.
I styled a simple navy maxi dress by adding a brown belt, plaid scarf, great heels, and my favorite wool hat.
Now lets talk hair. This is hands down the easiest hair to execute ever! I showered in the morning and let my hair air dry. I then randomly grabbed 2-5 sections of hair and made loose braids. To secure the braids, I back combed the bottom and secured them with hair spray. Then toss on your favorite hat! It looks way more put together then it actually is. Plus I spent all of 5 minutes on my hair and everyone kept asking me about it.
What do you think of this outfit? Do you ever wear a scarf then take it off and turn it into a pashmina as the sun goes down?