For those of you who follow me on both my blogs (or either of my blog Instagram pages), you know about my love for all things Nashville. This is a newer love. One that has blossomed over the past 2 years now. It all began with the TV show Nashville. LOVE IT!
Then for my mother-in-laws 60th b-day, we headed for an all girls trip there. My first Nashville trip and I was hooked! Here are two blog posts I wrote after going my first time (here and here).
During our time in Nashville we were able to attend a live taping of the "On the Record" 2014 Nashville special. Being moved up to the forth row during the taping and being able to meet most of the cast was beyond what I thought our night would end up like! It was like a dream. I was even on the show when it aired last April!
I have since gone back, almost 1 year to the date but this time I went with my hubby and kids. We had a blast and I got to show my family around. While in Nashville this year, I got a text from back home telling me the girls were all getting tickets to see the cast of Nashville preform live at the Rosemont Theater in May.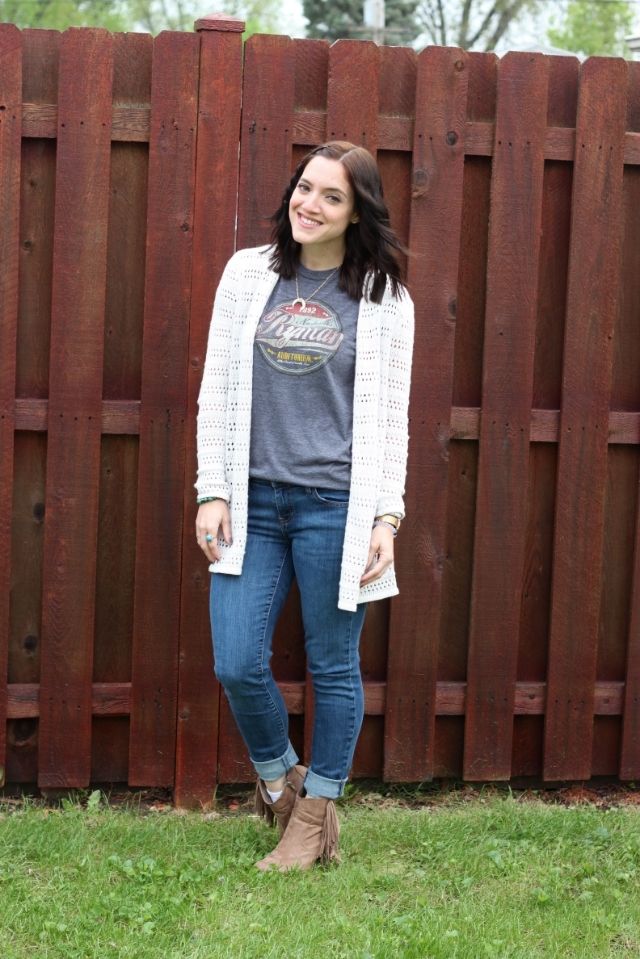 Cardigan: Swap w/ Kaitlyn // Tee: Ryman Auditorium // Jeans: Tommy Hilfiger // Boots: Because I Shop Too Much // Necklace: Lili Claspe // Ring: House of Harlow 1960
On this night I put on my favorite Ryman tee (where "On the Record" was filmed back in 2014) and styled it super casual for my GNO. I love these fringe boots as a cowboy boot alternative. Fun right?
The show was amazing and I loved every minute of seeing them sing live again. "At the end of the day, Lord I pray, I have a life that's good!". Words to live by, no? Check out my Twitter feed for photos from that night.
Do you have a favorite city or show that you just can't get enough of? Are you a fan of Nashville (the show or the city)?