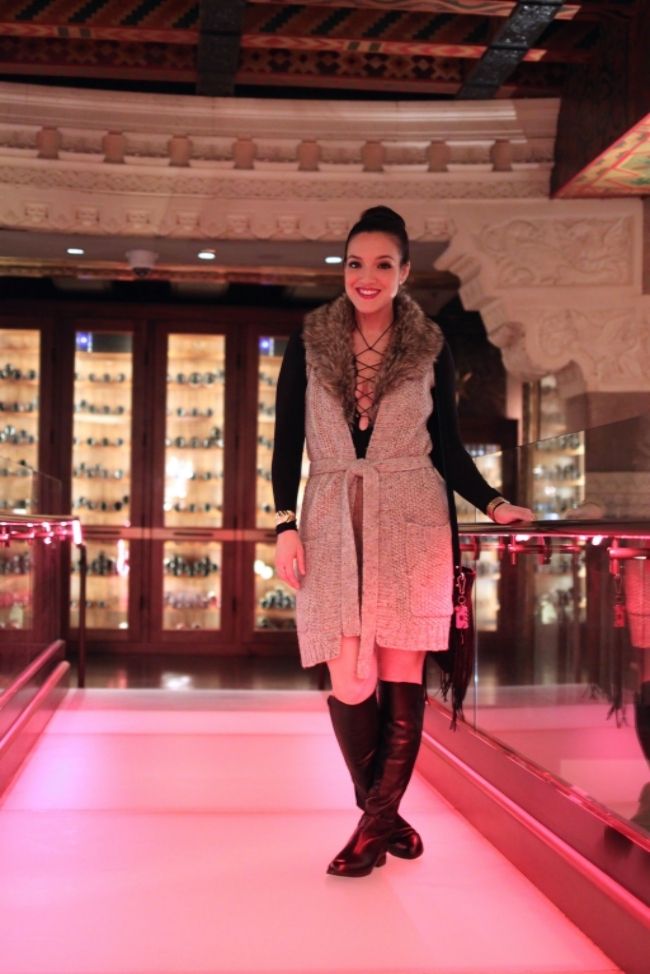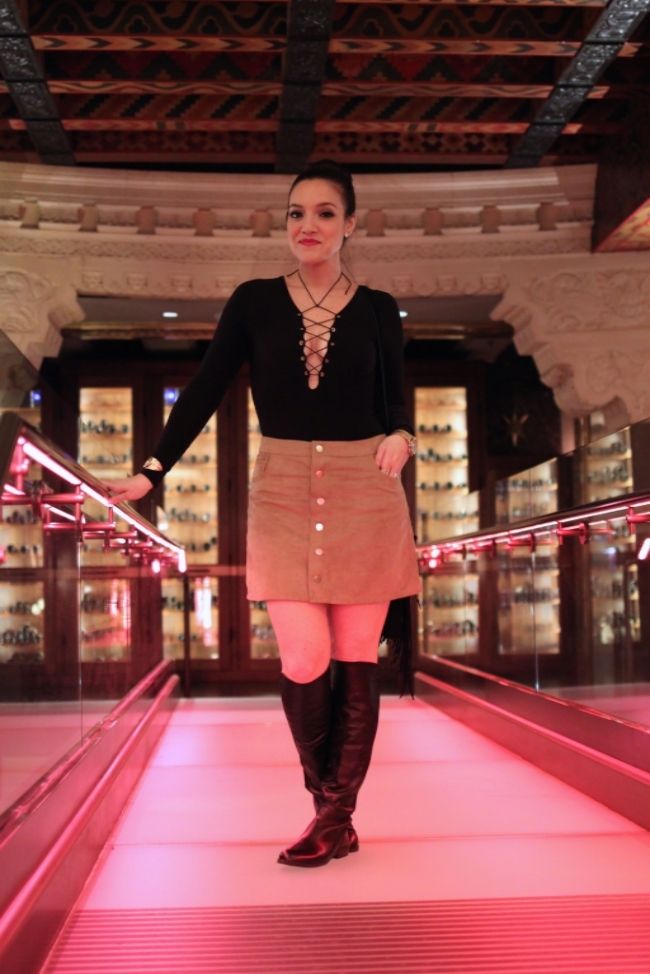 This year we celebrated eight years of marriage and we went with more of a "go big or go home" 24 hours. We checked into the
Intercontinental Chicago
around 5:00 p.m. and promptly popped a bottle of champagne. We had dinner reservations set for 7:30, so there was plenty of time to get ready (and of course take some photos).
I went
a lot
out of my box in a very daring body suit. OK, real talk. I was self-conscious as hell before we left our hotel room. I asked my hubby if he wanted boobs or legs and he went with boobs! So, I literally only packed the outfit I had planned to wear. Meaning I had no back-up outfit other then the sweater and jeans I arrived in. Alright, I can do this! I ended up taking the ties that were supposed to make a bow at my neckline and tied the strings around my neck for a little extra support. I mean, what if it untied while I was dancing or something? I am way past the age of nip-slips! lol
Sweater Vest
//
Bodysuit
//
Skirt
//
Boots
// Cuff: Coach (
similar
) //
Watch
//
Ring
I also added a sweater vest over because I knew we were going out after dinner, but this felt more appropriate for the first part of the night. It was also perfect for the two bars we went to after because boy was it warm on the dance floor!
Here's a shot of my handsome husband Ryan: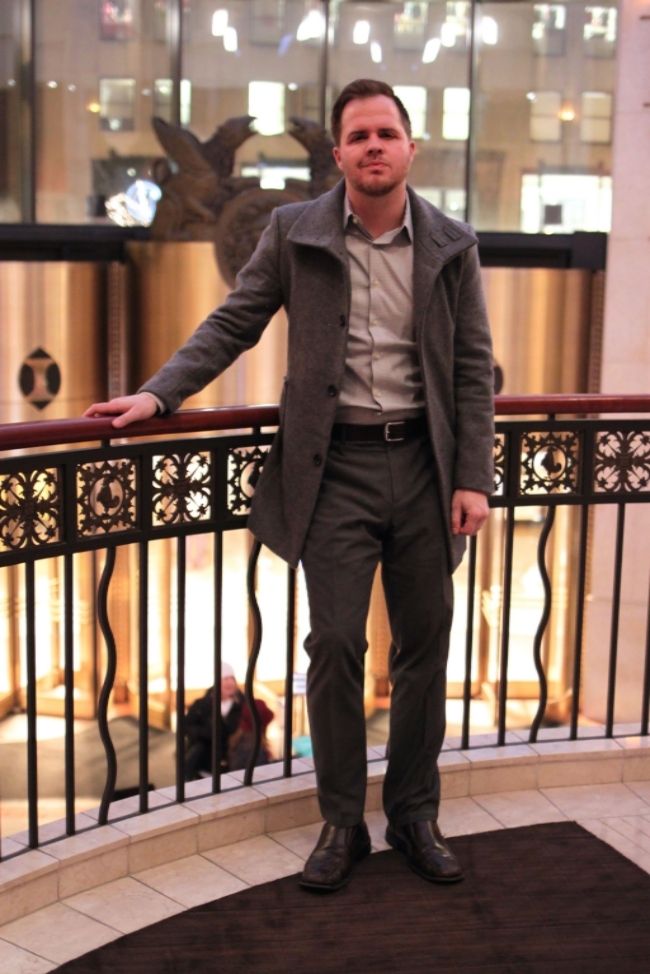 Coat
// Shirt: Express // Pants: Banana Republic

On our way out for the night: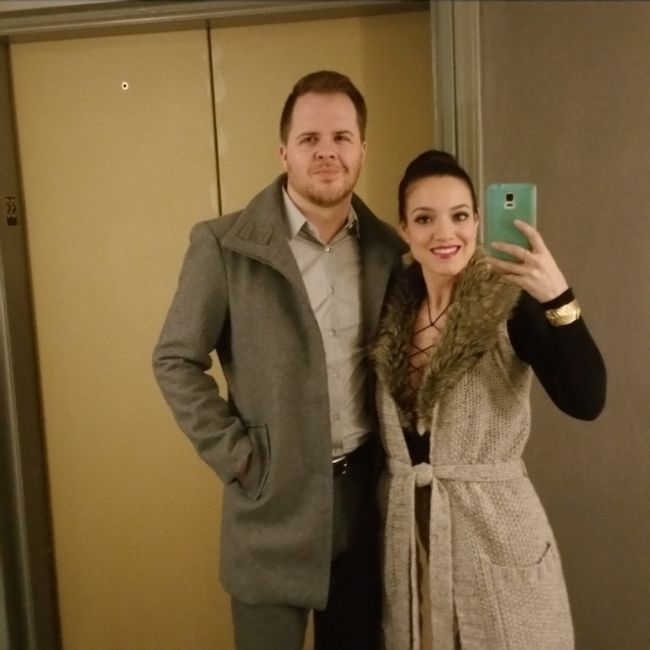 We had the most amazing dinner at
The Kitchen
. We kicked our night off with this gorgeously delicious seafood platter and from there we shared soup and a steak entree. The food here was beyond amazing. We were truly blown away at how good everything tasted down to the seasoning on the potatoes that came with the steak. We can't wait to go there again!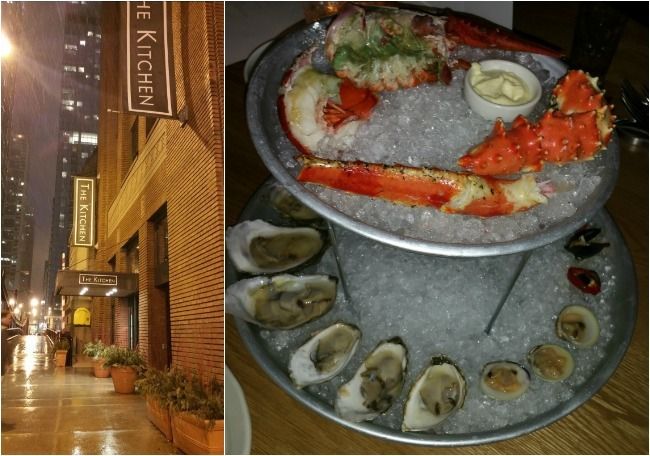 This would have been more then a great anniversary had we ended our night here and headed back to the hotel. However, we had a kid free night and we were already out in the city, so when in Rome!
Up next we headed to
Vertigo Sky Lounge
and had a drink outside. Yes, it was cold, but oh was it a beautiful view up there. Next up, we headed to
Untitled
and sat for a drink before hitting the dance floor. I don't think we have danced that much ever! Ryan is not a big dance guy, but if it's just us and no one we know is around (plus a few drinks in the system), he is a dancing machine. I'm talking fast songs folks. He is my dream man!
We headed back to the hotel around 1:00 a.m. and found ourselves back in our day clothes headed to the hotel bar complete with a piggy back ride. What? That's standard for 1:00 am, no? We wised up soon after and called room service around 2:30 a.m. for this amazing meal below!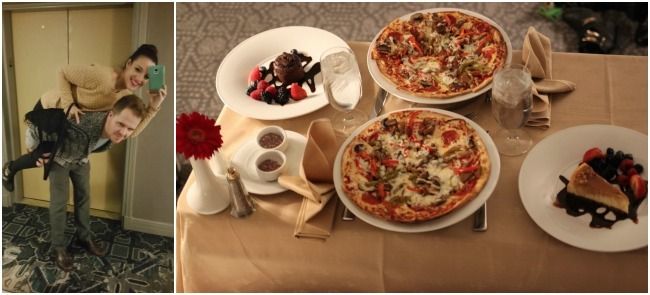 This was hands down one of the most fun nights we have had together. We just had fun and went where the night took us. No plans, no responsibilities, so fun! ;)
How do you celebrate your anniversaries? Check out how we've celebrated in the past
here
.