I was recently invited to check out
Burr Ridge Village Center
and I got to spend some extra time with my family while doing so. That my friends is what you call a win, win. Burr Ridge Village Center
is a suburban shopping and dining destination just outside the city, 15 miles west of Chicago to be exact. The first thing I wanted to see was what types of stores they have, so I headed over to their directory. There are a great mix of stores for men, women, children, and families alike, but what really caught my eye was all of the events they hold!
There is a really beautiful large open space they call Village Green (which I will show you more of below) and they host seasonal activities for your family, yoga every Saturday morning throughout the summer, and there is even a Sip, Shop, & Give event coming up September 21st that looks pretty amazing. I don't know about you, but I am a fan of any place that makes their community a more fun place to be a part of!
If you follow
me over on Instagram
, then odds are you saw my IG stories of our adventure that day. If not, I have added my full experience via video below. This day was so fun! It was filled with five destinations and endless smiling faces and kind encounters (that alone makes my family want to go back). It was also filled with awesome fashion and great back-to-school deals. To make the area even more enticing, I have to point out how clean, beautifully landscaped, and surprisingly not crowded the Village Center was. You get to be close to the city without the crowds, pricy parking, and loud sounds. Let's start at the beginning shall we? Check out my video below and then scroll down as I give you a closer look at
Color Me Mine
,
EVEREVE
,
Stix & Stones
,
Gymboree
,
Barbara's Bookstore
, and their amazing Village Green.


Color Me Mine
Oh how my family loves
Color Me Mine
! I have been to a different location before with my little lady for a mother-daughter day, but my son and husband had never been. First off, this location is gorgeous! It is so spacious and has such an open floor plan. OK, so for those of you who are not familiar, Color Me Mine is pottery painting for all ages. Your first step is to pick out the piece you want to paint using glaze. My son went straight for a football piggybank, while my daughter gravitated to a unicorn figurine. Up next, you choose your colors. Michael, the manager here, was so helpful and patient with both of my children while they asked lots of questions and he showed them the difference in the same color when adding one coat verses two or three coats. He had so many tips and so much helpful information regarding what goes on here, it's for sure a location we want to return to.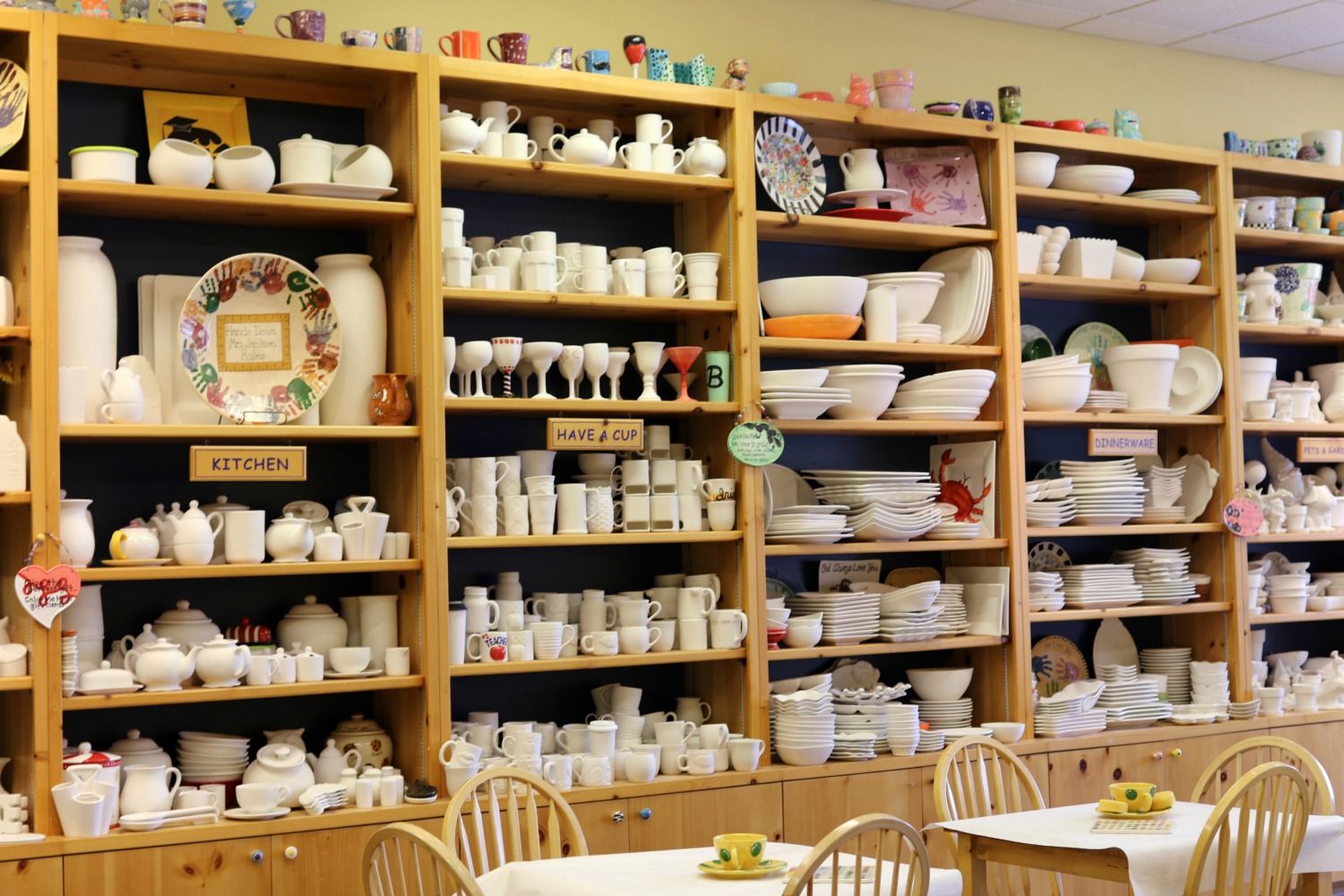 After my kids understood the rules, picked out their items and color choices, and put little aprons on, the fun part began. I have to say, my kids were so into it! They both took their time and completed their pieces in about 60 minutes. Parents, can I get a holler for kids sitting still for that long! ;) OK, the kids are not the only ones who get to have the fun here though.
Michael began telling us about all the different events and parties that are held here. This
would
be the perfect place for a birthday party (it really is such a large space), but I'm talking for any age groups. It also makes a great GNO or date night activity. Plus, they let you bring in wine and host special events (which you can find
on their website
) and even have bridal parties or baby showers there ! How fun would that be? Oh the possibilities would be endless and I love that!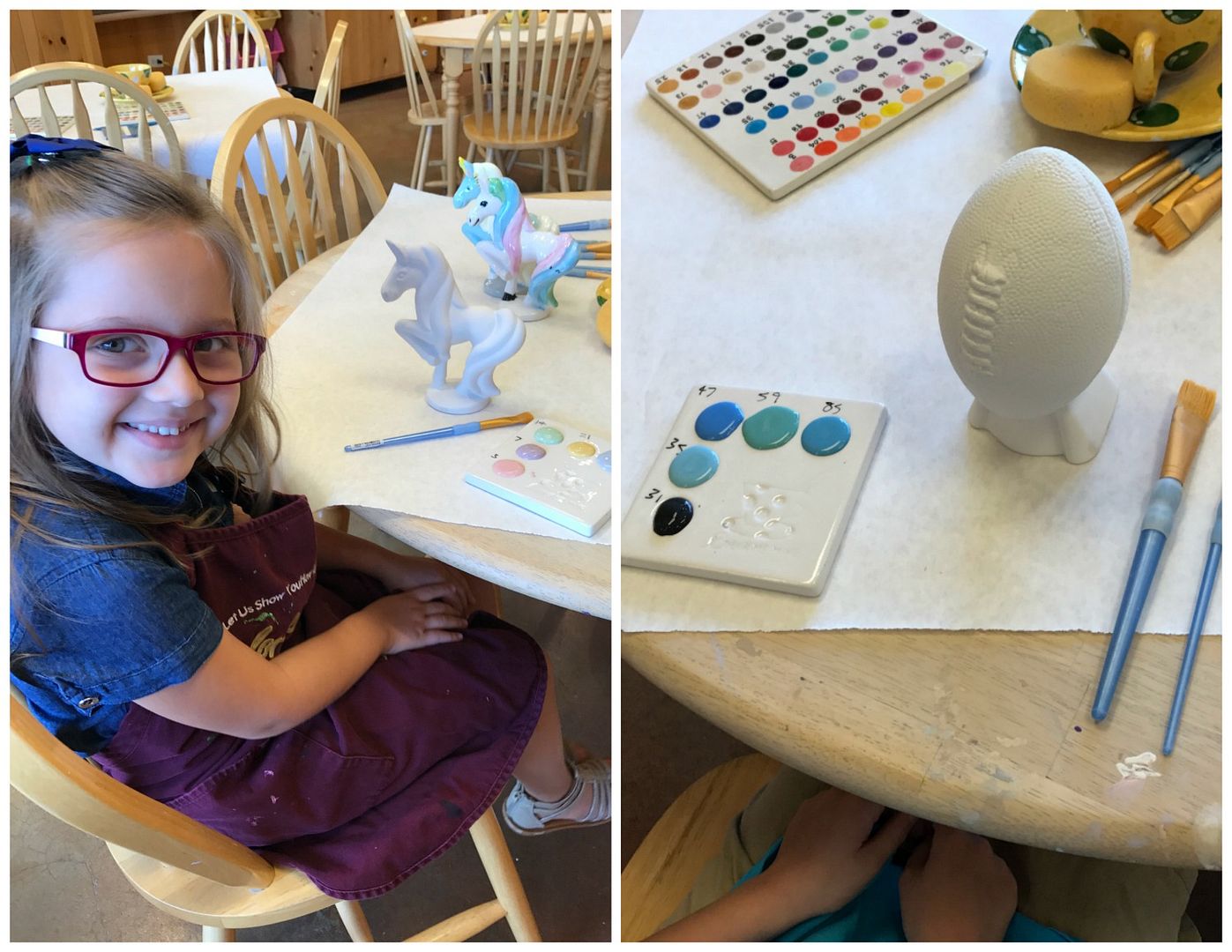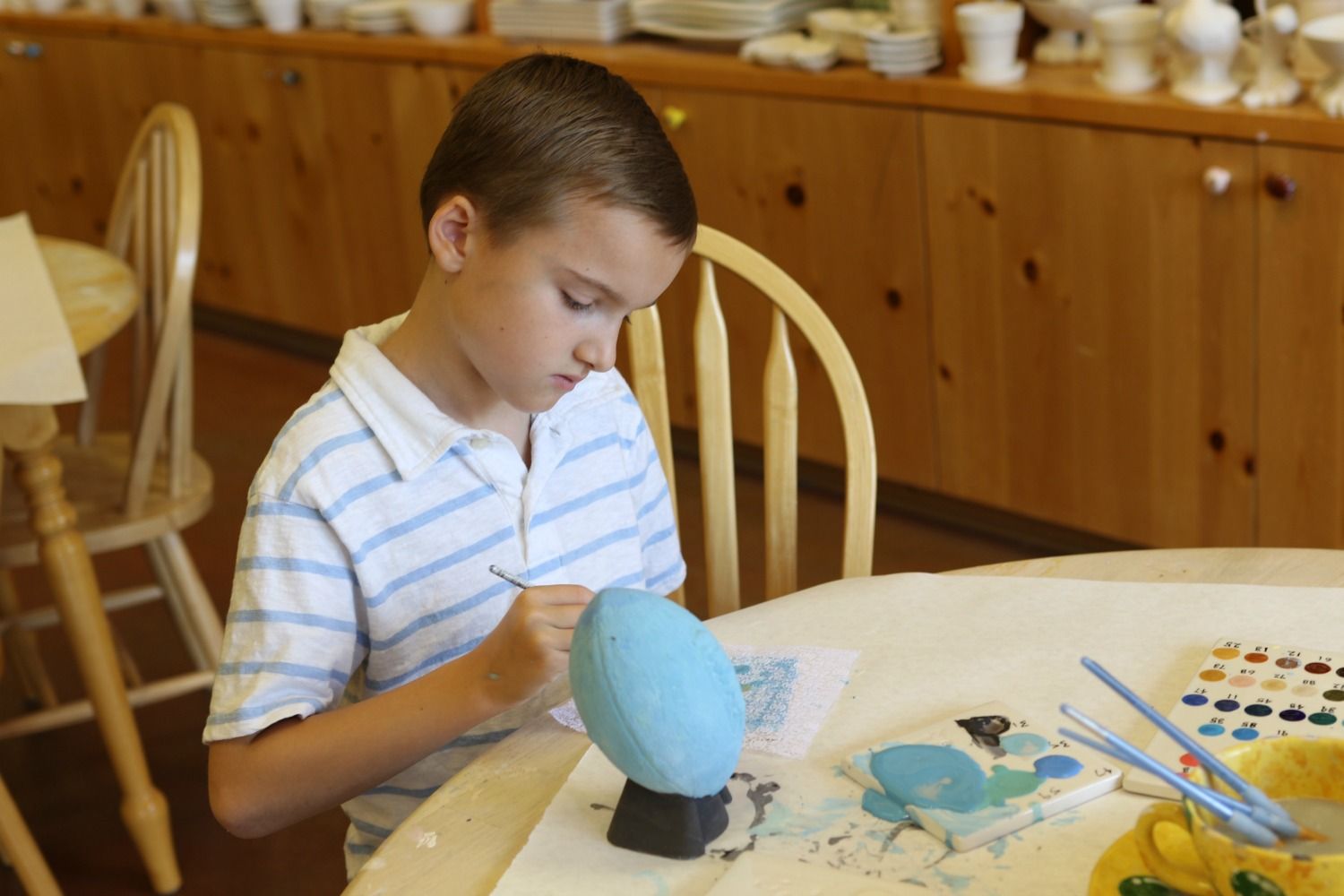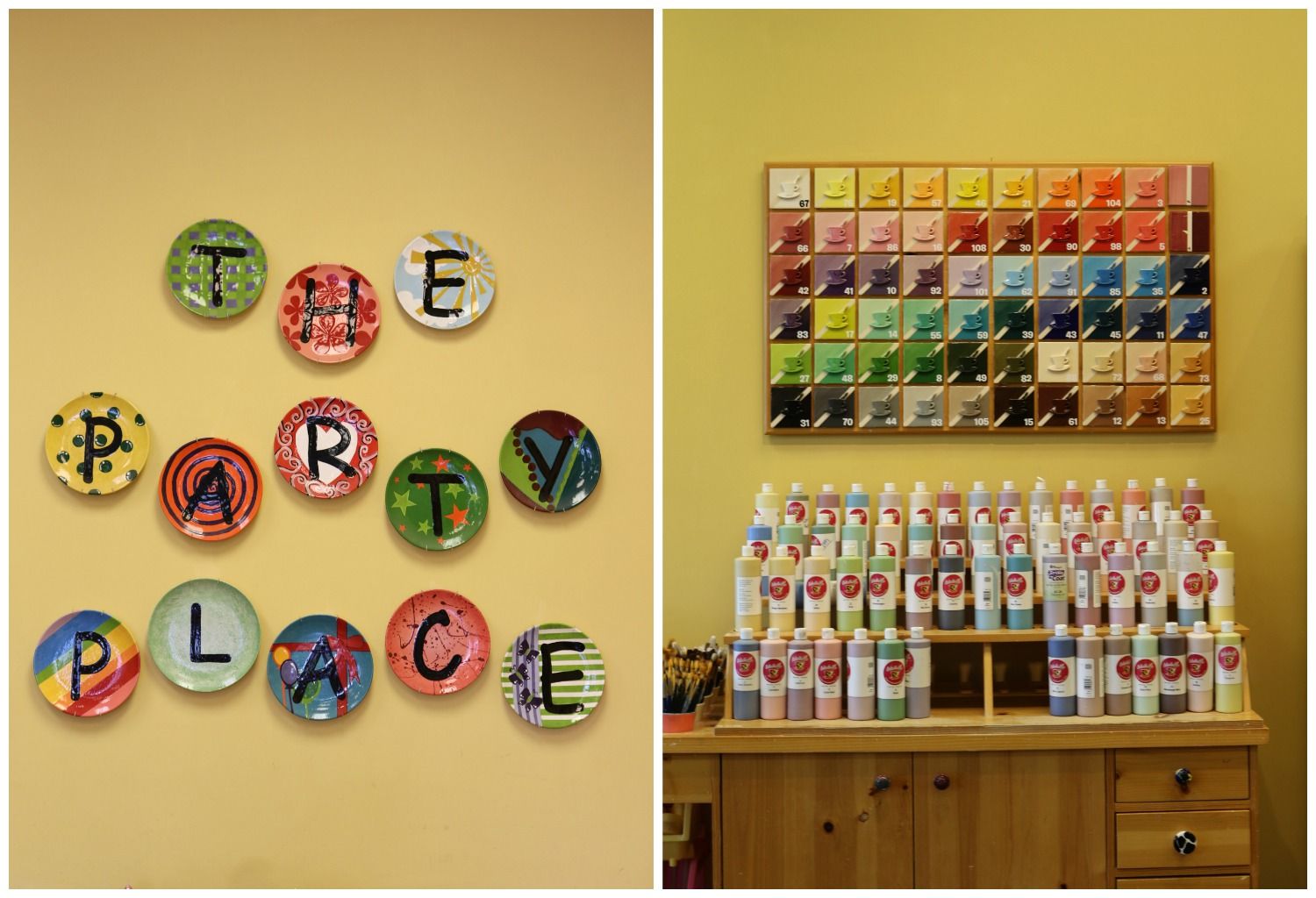 In the end, my family had a wonderful time here. The atmosphere was relaxing yet fun with light music playing in the background. My kids can not wait for their pieces to be fired in the kiln & picked up next week. Honestly, I can't wait to see how they turned out either. Thank you for a wonderful start to our day, Color Me Mine!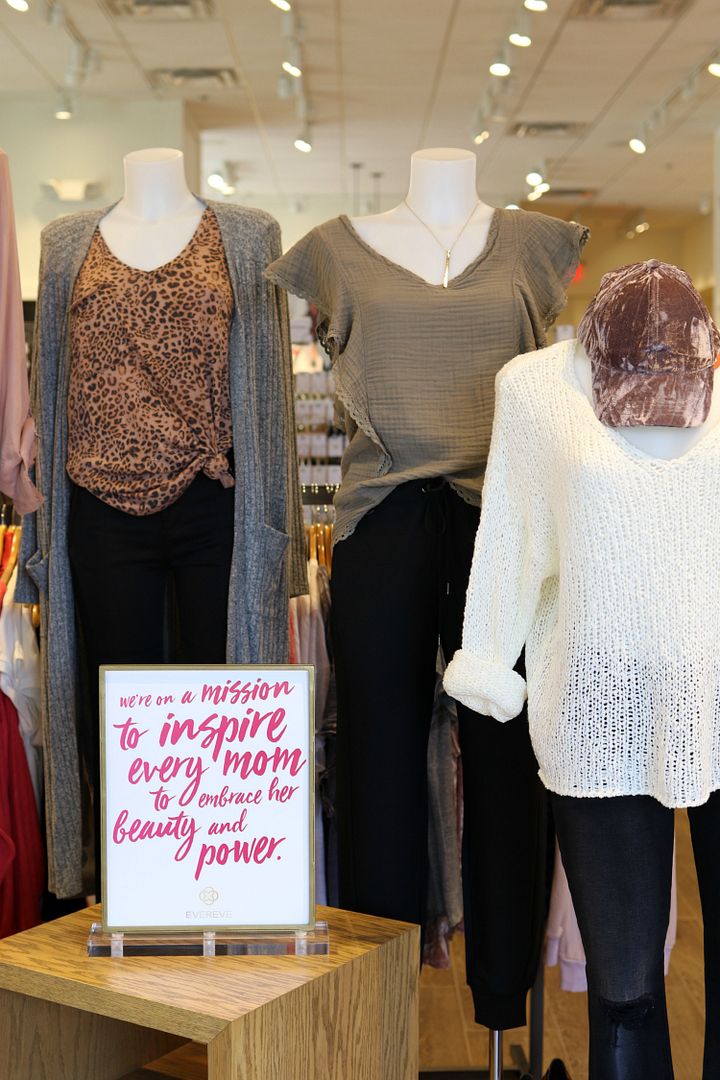 How have I gone my entire mom life never walking into an
EVEREVE
? This place was founded by a mom for moms! The door frame is XL so you can easily push your stroller in the store, the isles between all the clothing racks are extra wide (again for stroller space), the dressing rooms are extra large so you can fit yourself and your kids in there with you, and they even have couches and a lego table set up so your kids can play while you shop. Now, add in the fact that this place has
amazing
clothing for sale and it is truly a unique and outstanding shopping experience.
As soon as I started seeing my favorite brands I started pulling looks. I wanted to try on three outfits, but I ended up trying on four as I just couldn't narrow it down. Every item in this store was so soft and most importantly, flattering for the ever changing mom body. I pulled my looks and then asked one of the staff members what she would pull for me as I headed towards the changing rooms. She picked out embroidery denim, which I added a mustard peplum to. She is right, the embroidery trend is everywhere right now and the denim she pulled was absolutely beautiful!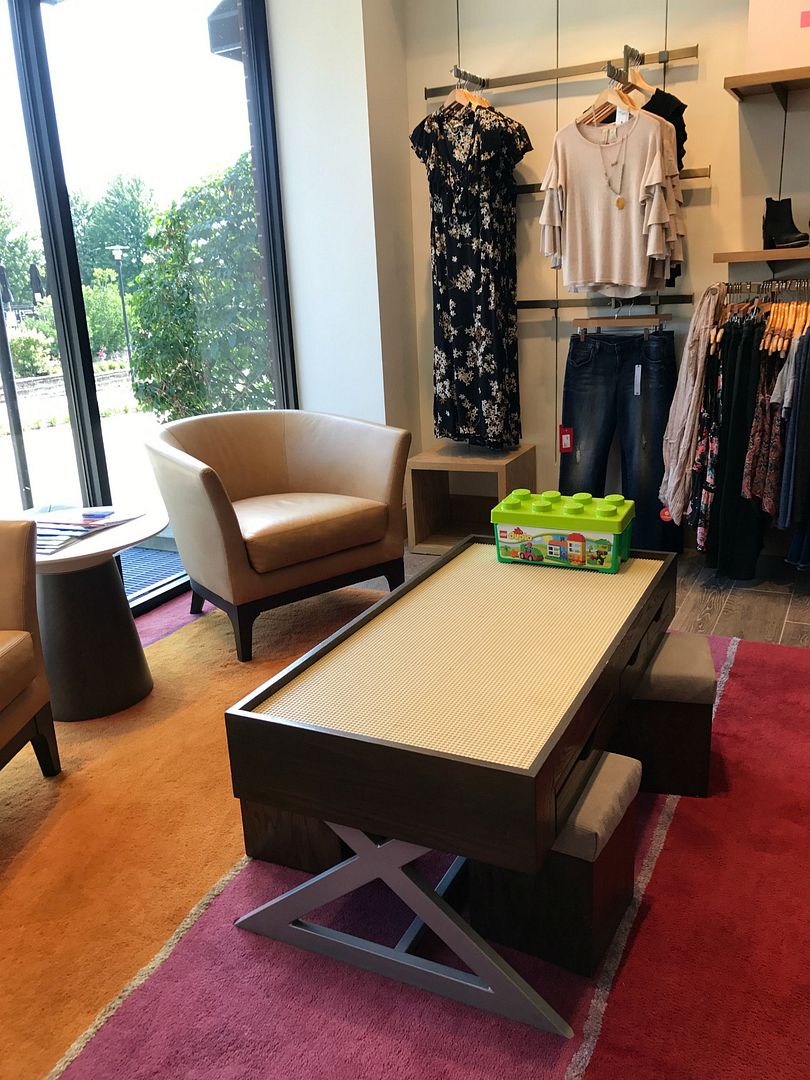 EVEREVE has stylists on hand to help you pick out pairings if you'd like. Sometimes it's fun to have someone else help you shop and get you out of your box. These ladies do not work on commission, so no one is trying to get you to buy anything you don't want to buy. I was helped when I asked and then they let me do my thing. I LOVE THAT! There is nothing worse than a pushy sales assistant or someone that hovers as you dress.
IN addition to their store at the center, that I highly recommend for Chicago-area moms, they have over 80 shops across the country. You can also shop strait from
their website
, which I personally love. I mean, who doesn't love online shopping? Let's be honest, that's how I do the majority of my shopping especially if my kids are on summer break! Now just when I think they have come up with the perfect business model, they also have
Trendsend.com
. Trendsend is a styling service where items are sent to your home and you keep what you want and ship back what you don't. Talk about helping moms out with our ever-changing bodies in every way they can. Well played EVEREVE, well played.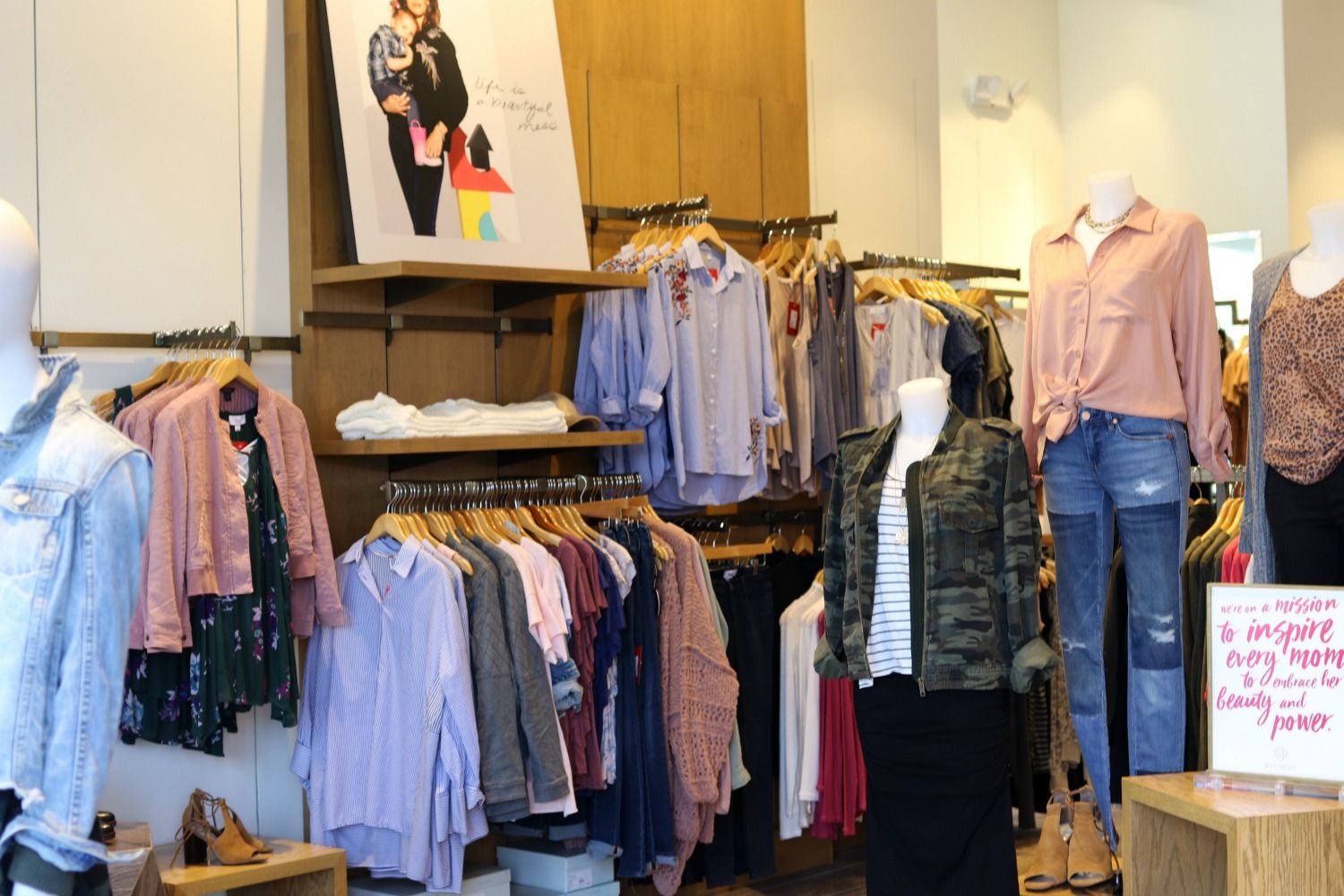 I obviously had to pick up a few of the looks I tried on. I mean...did you see the turtleneck on my IG stories? Obsessed doesn't cover it! I have linked the items I tried on that day so you can shop directly from this post. Your welcome. ;) And EVEREVE, I will be back. You have made a client out of me for sure!
SHOP THE LOOK:
Stix &
Stones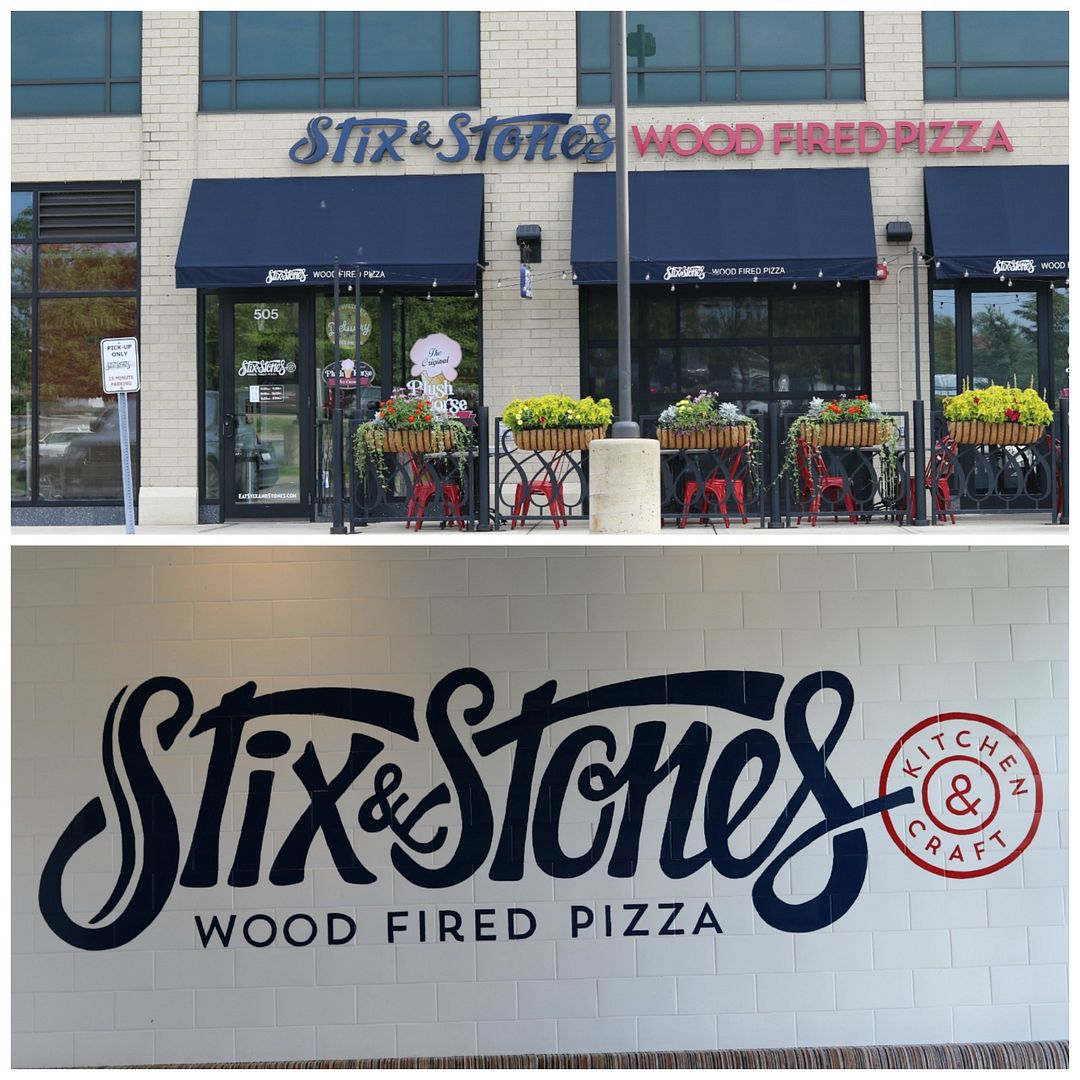 Up next, it was time for some lunch, my crew was getting hungry. In an unexpected turn of events, I found the best pizza place ever, and it's called Stix & Stones. No but seriously, this place was amazing, so much so, it actually surprised us! First off, they have red and white sauce wood fired pizzas, so it was really hard to decide what to get. My daughter went with classic cheese pizza and my son, who is gluten free, went with a turkey and bacon sandwich, minus the bread. Once I knew what the kids were getting, I asked my hubby what he was thinking & he went with a spicy red sauce choice called Chili Fresno. I wanted to mix it up so I went with a white sauce pizza, Smoked Prosciutto and Arugula.
OMG, we all kept looking at each other in disbelief when the food arrived. First impressions, the smells were so enticing, the presentation was beautiful, the portions are so generous for the price, and most importantly, the flavors blew us away. My hubby and I kept saying to each other, "Is yours like the best ever? Because mine is probably the best pizza I have ever eaten." Seriously. If you fancy yourself a food buff (or a pizza buff), I couldn't give a higher recommendation to go check out Stix & Stones. Your tastes buds will thank me and then thank you!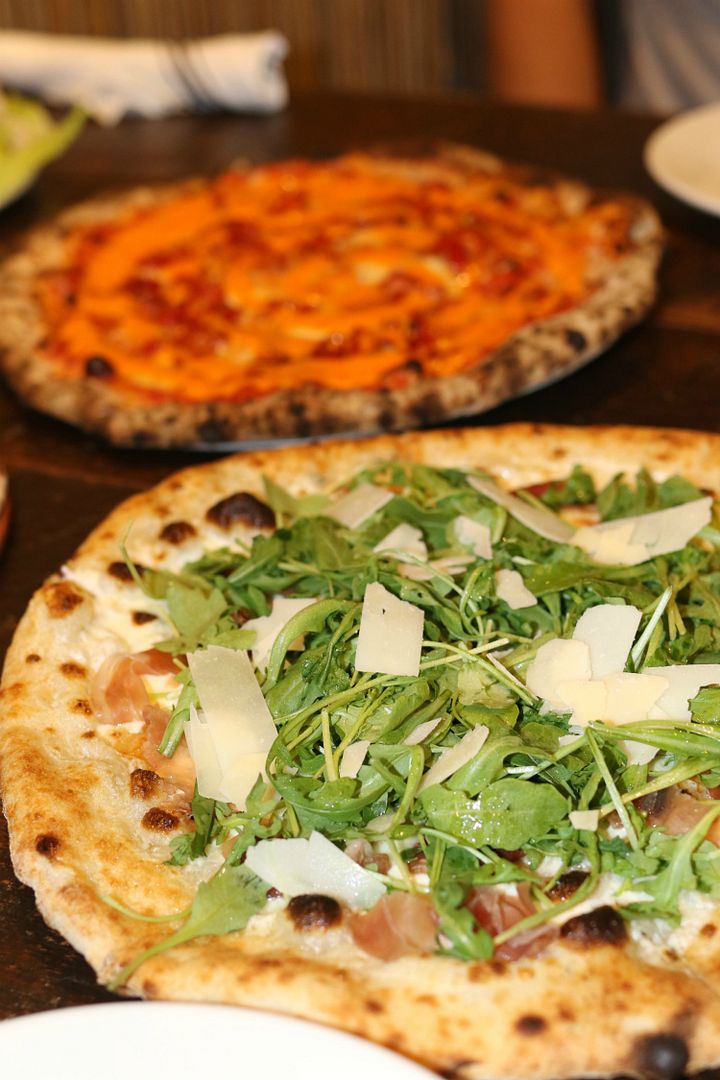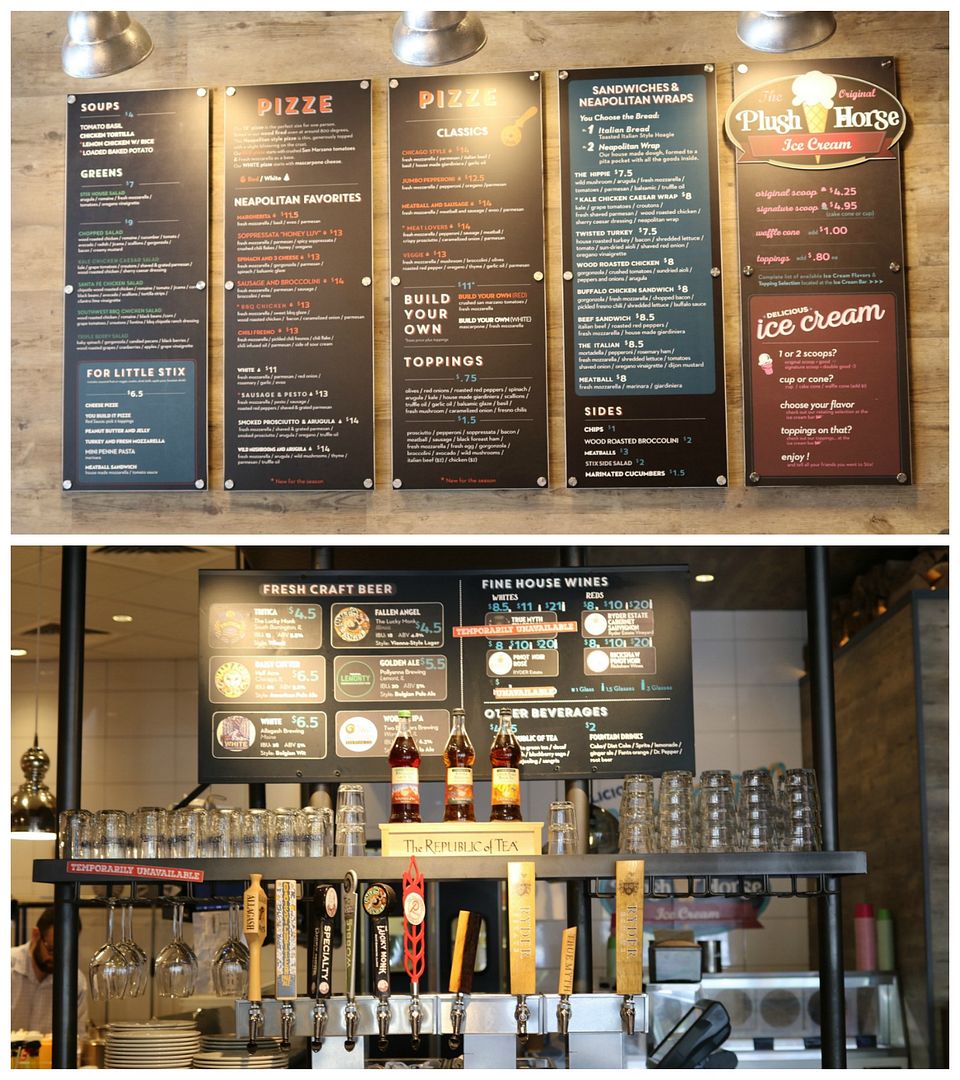 At Stix & Stones, you will also find a great selection of craft beers and house wines. Add in the outstanding food, knowledgeable and friendly staff, and a super cute outdoor dining area, and you have found a family friendly spot that can also be a great place for a GNO or even a date night. I mean, who wouldn't want to eat yummy wood fired pizza and then go shopping at all of the surrounding places? I know that's what we like to do!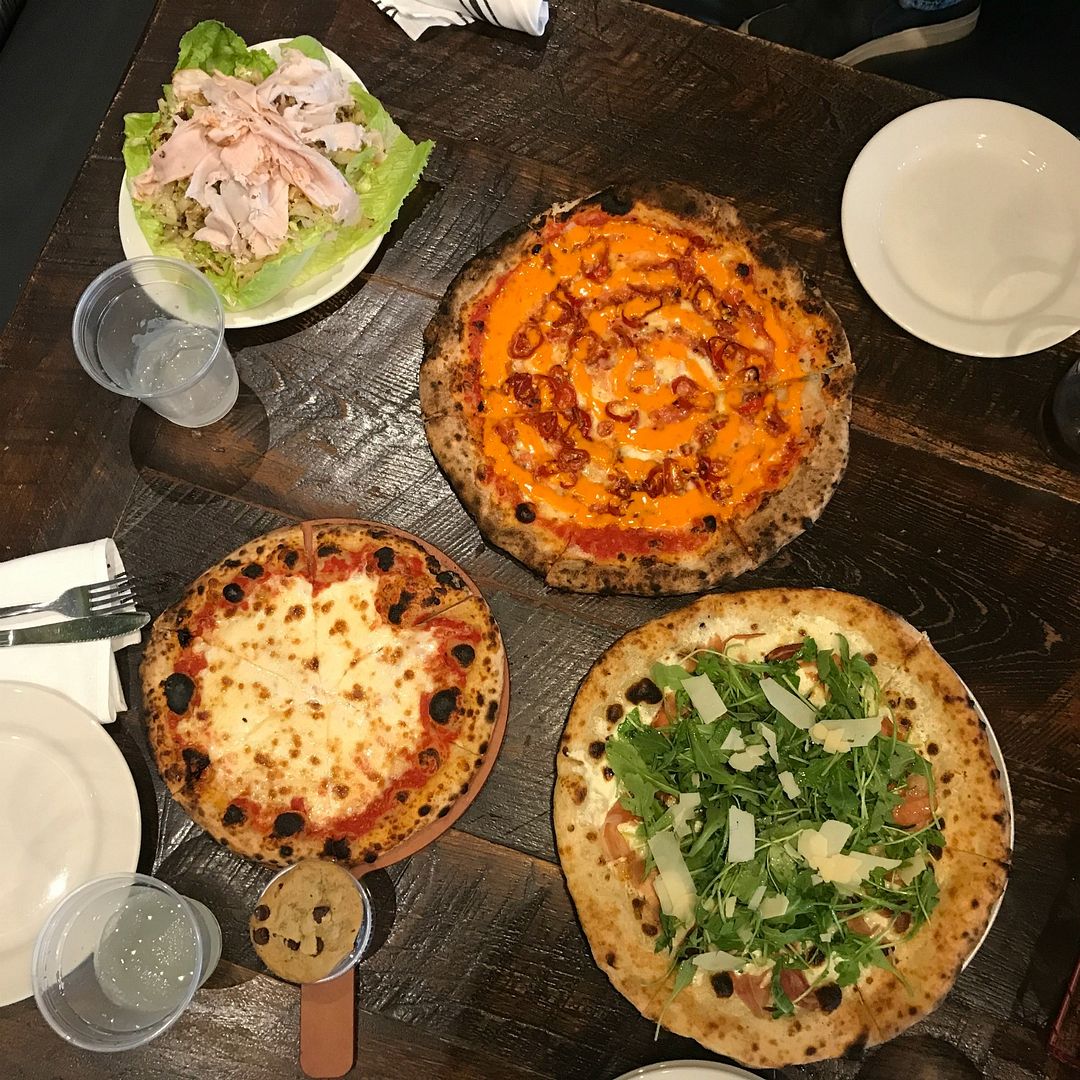 Did I mention they have The Original Plush Horse Ice Cream there too? My kids were so excited. They had some great gluten free options for my son like peanut butter chocolate. Any fellow gluten free moms out there know it's hard to find ice cream that doesn't have gluten cookies mixed into it, so this made all of us super happy. My daughter wanted to try a fruity sorbet and they had that too. As I said previously, there really is something for everyone here.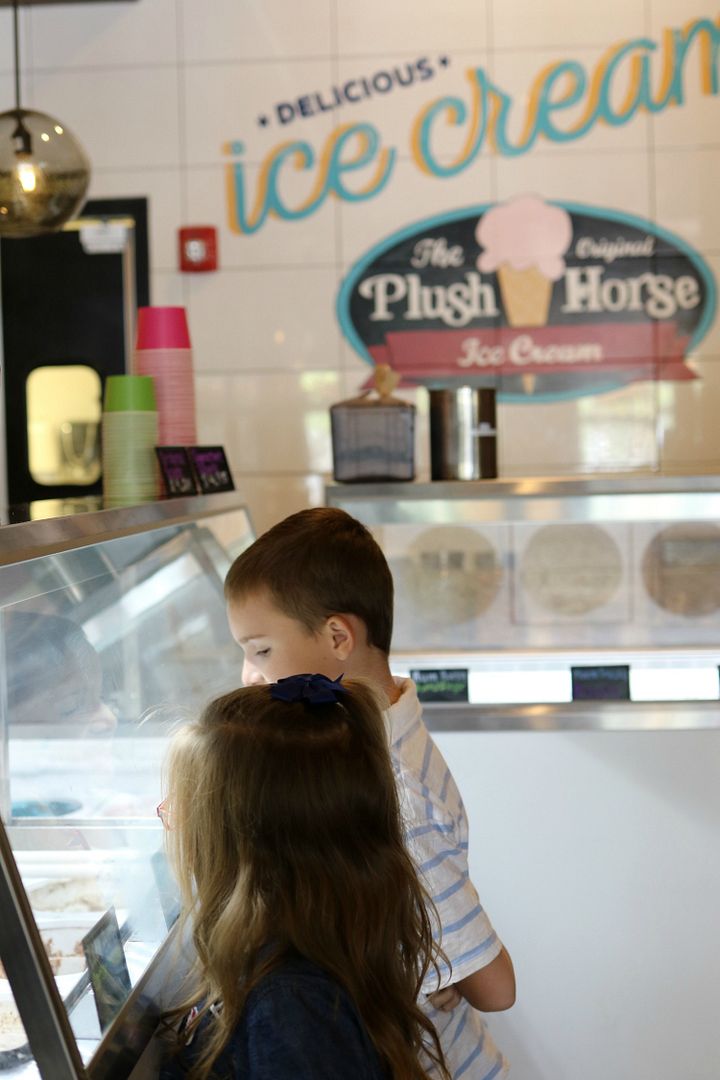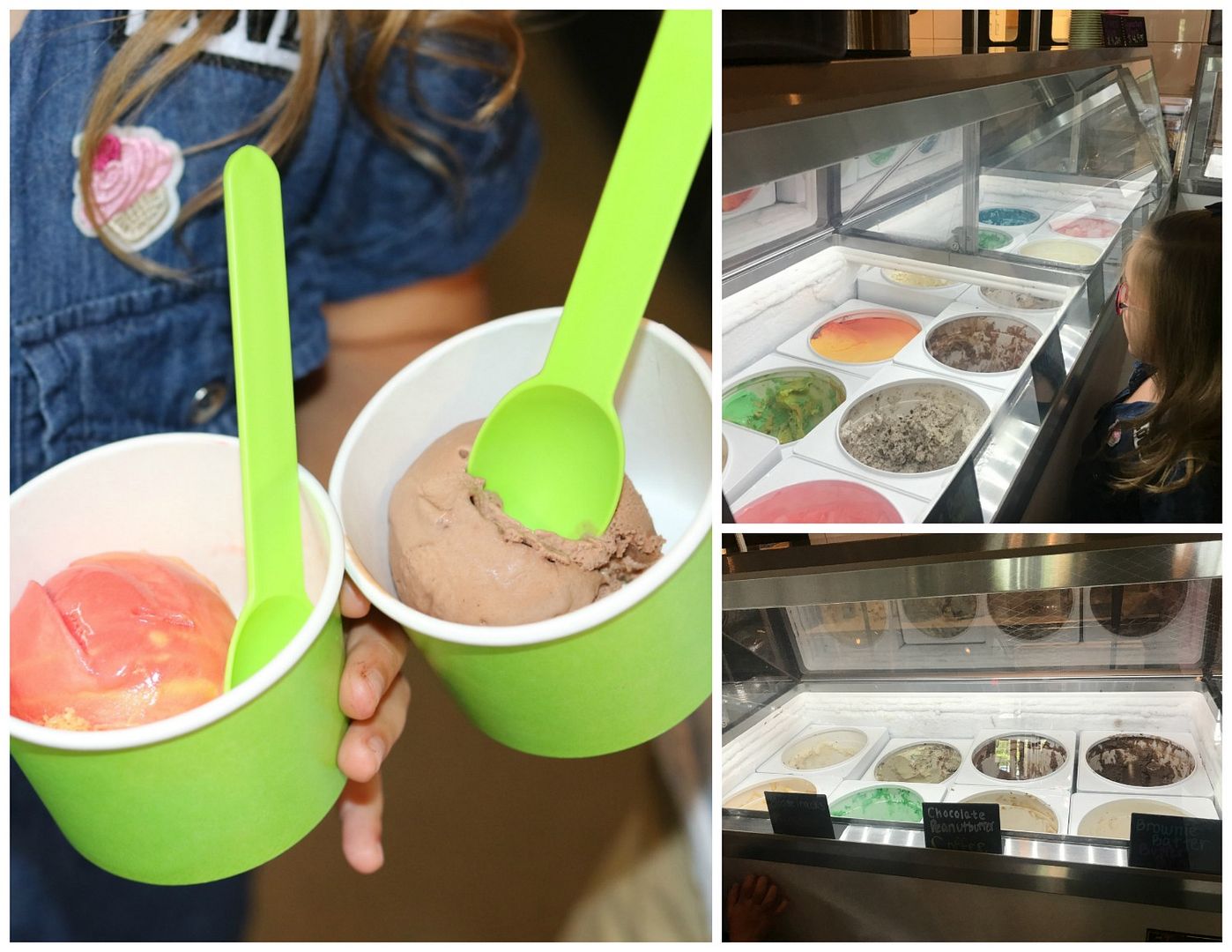 This restaurant was about an hour from our house, but there is no way we are not going back. It was just that good and that is my honest opinion! If you are in the area you have to go check it out and let me know what you think. Totally get the

Smoked Prosciutto and Arugula white sauce pizza, I have been having food dreams of it ever since!
Gymboree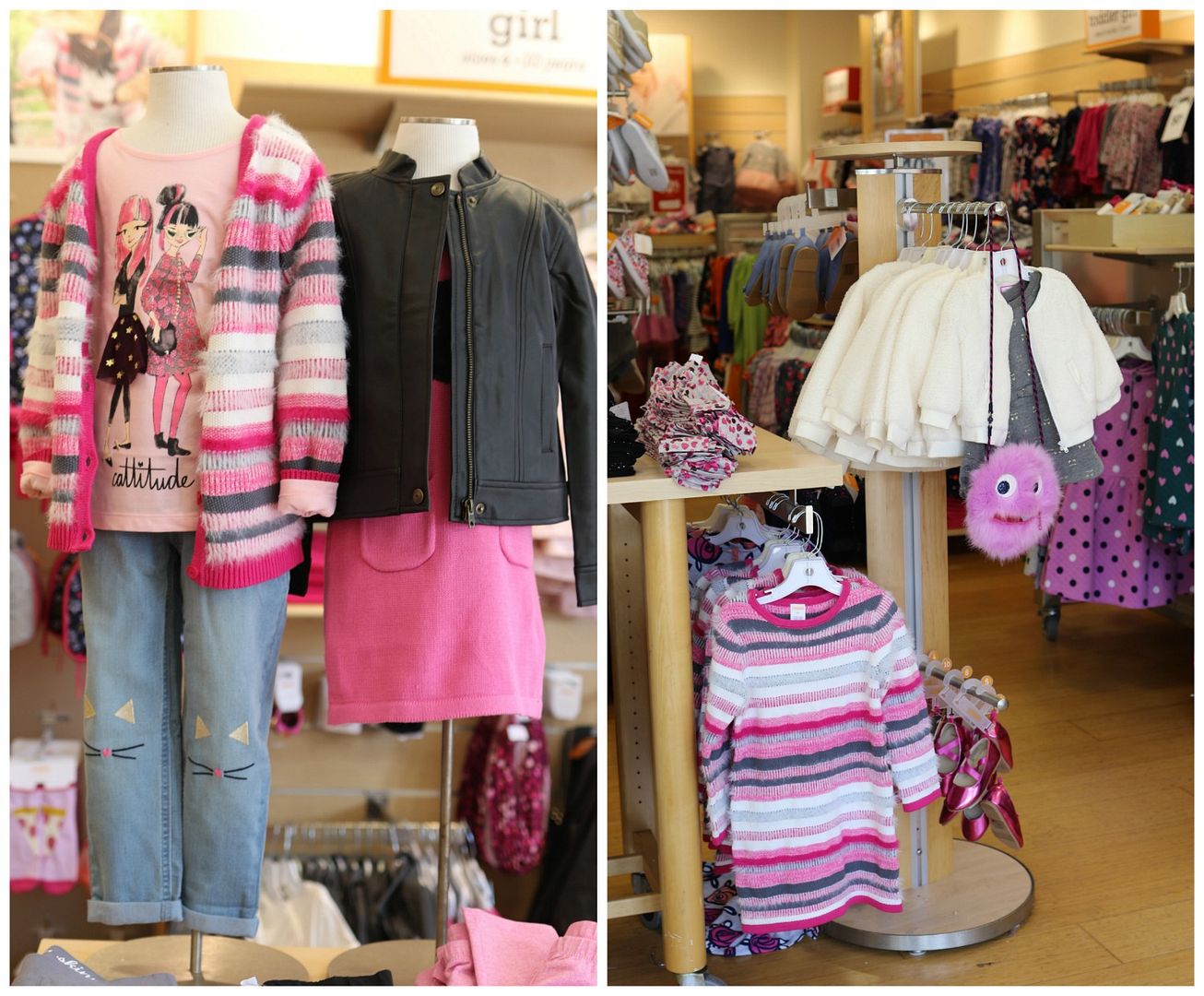 It's time to do some major back-to-school shopping and Gymboree is always on the lists of stops we make. I was so excited to find out that they recently extended their sizes from infant to children of 14 years of age! I mean...thank you for more years of extra cute fashion for both of my kiddos. Seriously though, I was pretty pouty last year when I thought my son only had one year left of fitting into their clothing, they always have the cutest items here. This news obviously made my already great day.
As soon as we walked in, we did a lap to see what stole our attention and then let each kid pick out an outfit to try on. We like styling our own looks, not necessarily wearing what the mannequins are styled in, so my daughter pulled the purse and jacket and I found the skirt and top. Same thing happened with my son, he loved the jacket and "cozy pants" and my hubby styled the rest. I think they look adorable and super ready to rock these looks at school. We obviously had to leave with the top and purse for her and the jacket and a different pair of "cozy" pants for him. They know what they like and they are very vocal about it! ;)
At Gymboree, you can find everything from outerwear and shoes to pajamas and everyday wear. They even have more dressy items for special occasions plus even backpacks and lunch boxes. Yes, this can totally be your one-stop-shop for all things back-to-school. And as an added bonus, select items are currently up to 50% off! I love that about this place. I feel like they always have some promotion or sale going on which makes me feel like I'm getting for bang for my buck. Very important in this day and age!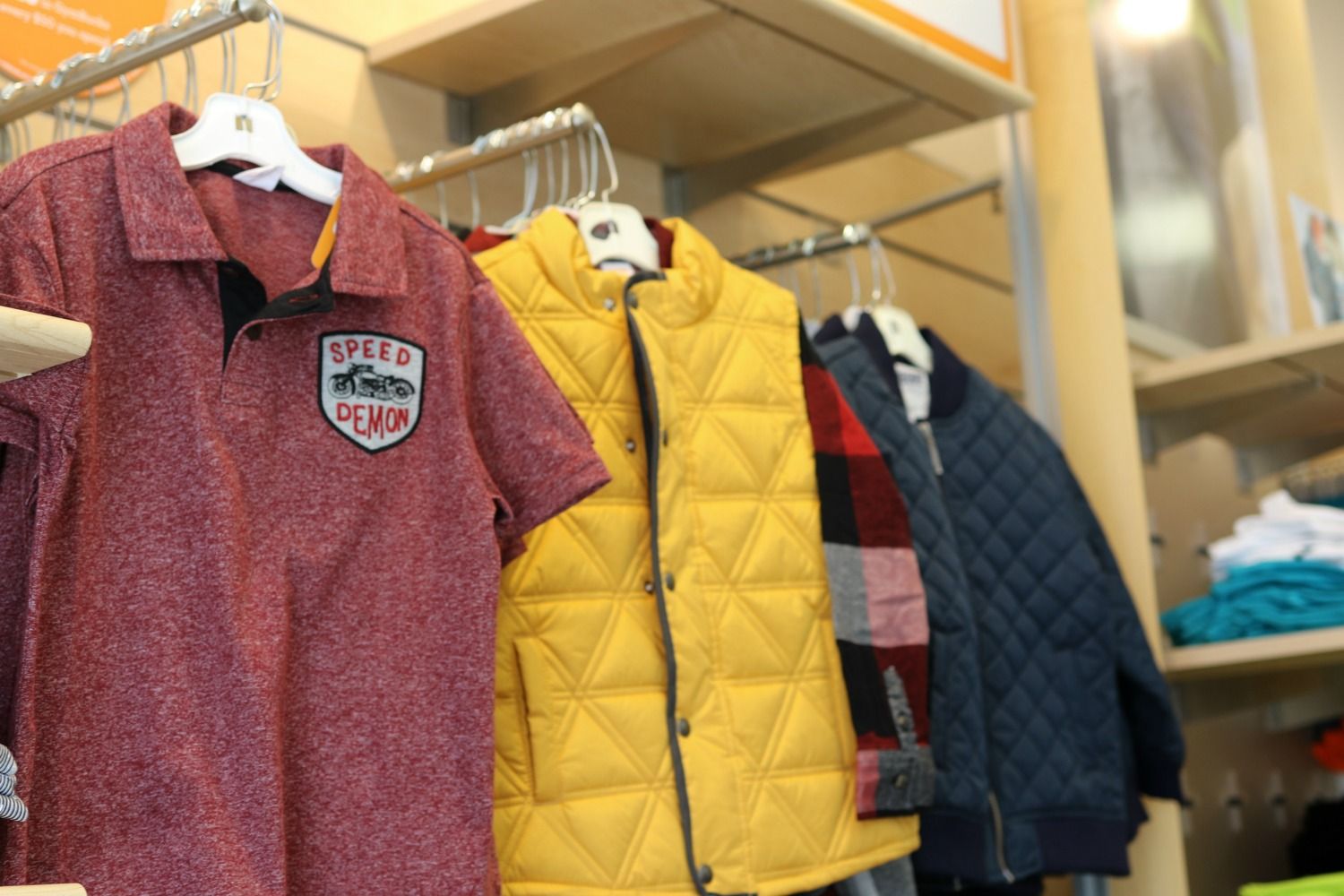 Thank you Gymboree, my kids are now going to head back to school next week with a bit more style. They love their new items!
Barbara's Bookstore
Our final stop of the day was Barbara's Bookstore. As we walked up, my son saw a book in the window that I use to read to him when he was younger and next to it was the sequel. If we weren't already going into this store, we were now. They had us at the window display!
For those of you that have never been, Barbara's Bookstore is such a beautiful place. The decor is so serene, I could see myself spending hours in this place if my children would have allowed it, or if they were at school while I was doing my shopping. :) Like every store we went into this day, the staff members were beyond friendly, making my kids feel so comfortable and answering any questions we (my hubby and myself) or the kids may have had. They asked each of my kids what types of books they enjoy reading and showed them where those books could be found.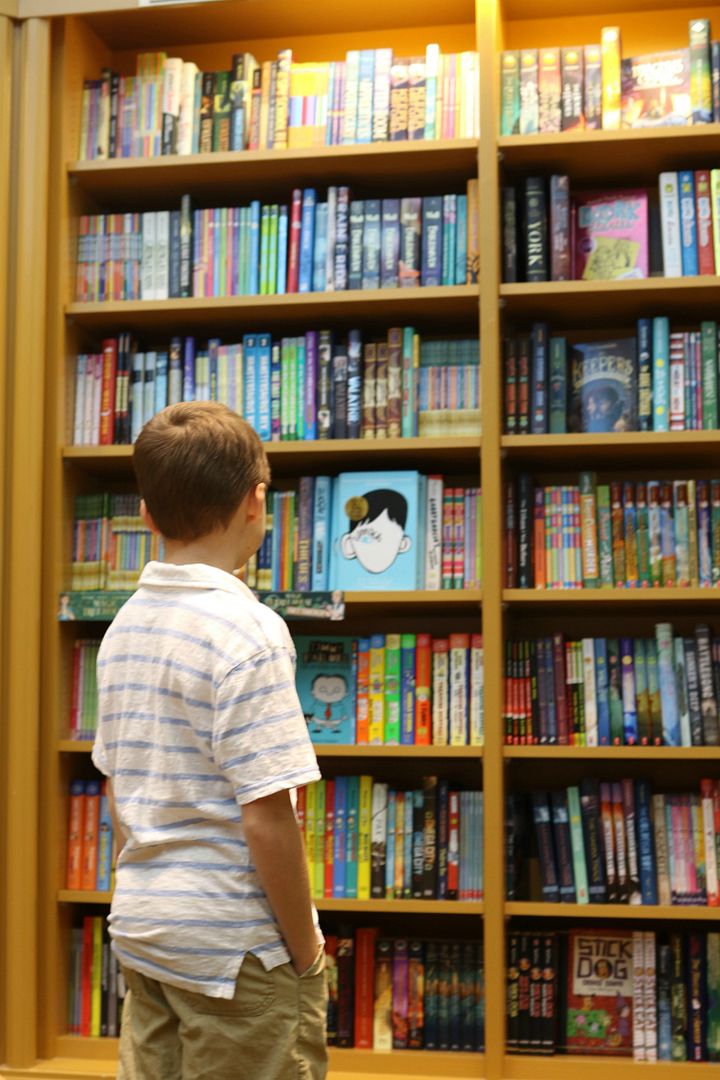 There is the most beautiful children's nook with a hand painted mural overhead that makes you feel like you have been whisked away to an enchanted area. My kids quickly made themselves at home, flipping through the books and lounging in the bean bag chairs. Below is a photo of a seating area in the center of the store which my hubby actually took advantage of. There was no sense of urgency here...no hustle and bustle of the real world, which was a nice feeling. You are not rushed out or bothered by anyone, it's a great place to come and sit down and pick out some great new books to add to your collection.
A little side story during our visit. As most of you know, my son has autism. There are many times in any given day that he has "unexpected reactions" to situations and some strangers react politely to them, and others, not so much. We are fine either way as these are always teachable moments for us, but on this day you could tell my son was over stimulated, but still excited to be here. Honestly, any parents who take their kids out for more then three hours of shopping and eating, you are going to have behavior changes! That said, upon hearing my son had recently finished the 11th book in the Diary of a Whimpy Kid series, the sweetest woman Georgette now knew he loved chapter books. She walked away for a while & came back up to us with two bags in her hand.
My son was excited as he saw her walking back & when she explained she was gifting my son a bag of books that are not even out yet, he had a reaction. To all of our surprise, he jumped into her arms and hugged her. Now Georgette is a petite woman and my son is a growing 9 year old boy, but she handled it with grace and didn't make him feel like he was wrong to have so such an emotional response. I mean, if we all went around jumping into strangers arms it might be a bit awkward, but she gave him a gift and that was the reaction.
My daughter was also given books and she too gave a little hug and said thank you. The gifted books were the talk the entire drive home. My children love reading, it's something we have done with them daily since they were babies, and now something they do on their own because they enjoy it. This was definitely a special day and a special stop. It's moments and people like that, that will keep us going back to Barbara's Bookstore! Thank you Georgette for your kindness and thoughtfulness, my kids can't wait to go back to this bookstore and hang out in the "kids nook" as they call it.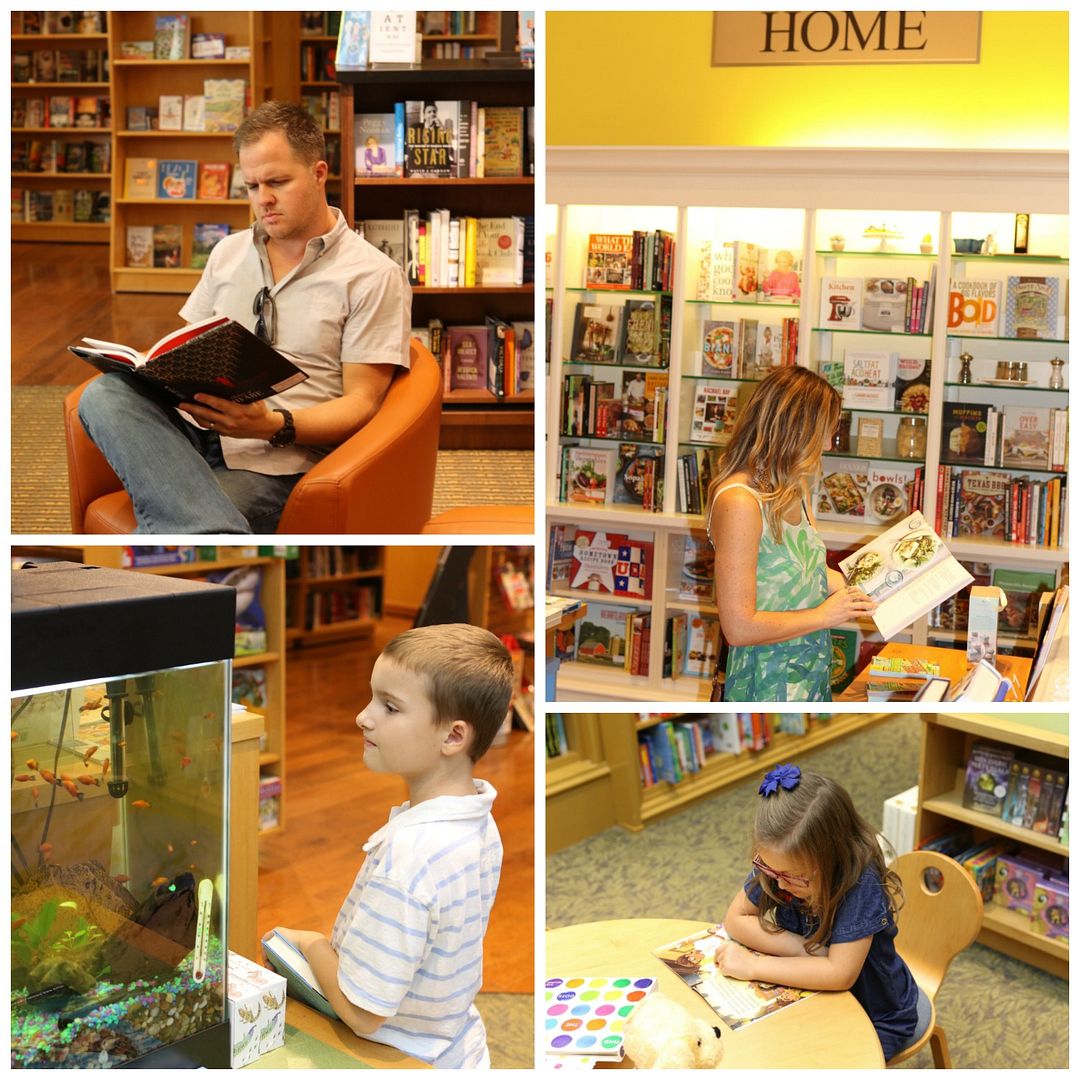 Village Green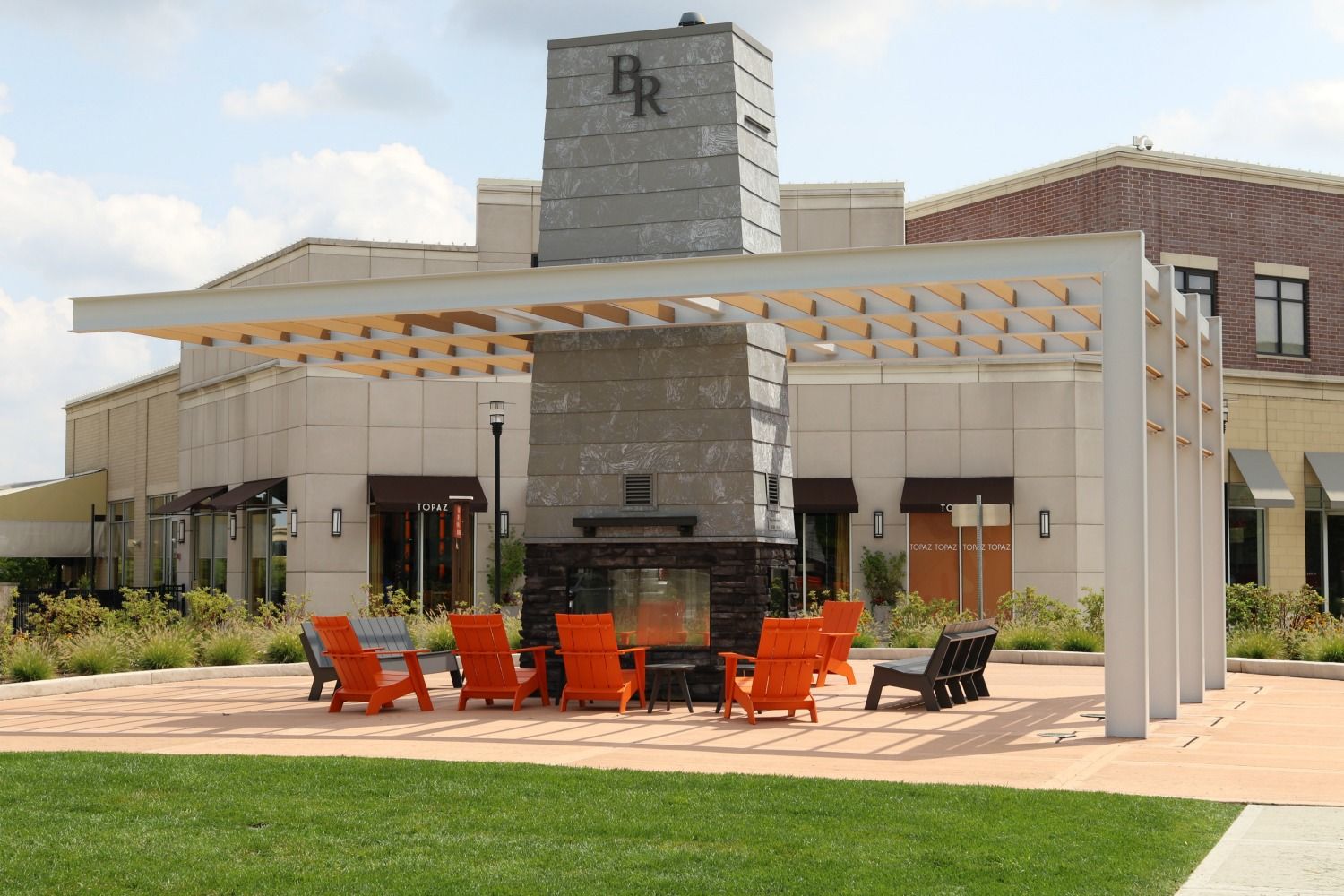 Look at how amazing this space is! I mentioned it in the opening paragraph, and if you are still with me, thank you for reading this post in it's entirety. Like I said, they have yoga here on Saturday mornings, seasonal events, and an upcoming Sip, Shop, & Give event. This was a great place for us to rest and take a break during our time here too. It's just another reason to make it out to the Burr Ridge Village Center! See what I mean about how clean and pretty it is? We just had the best experience at the Burr Ridge Village Center.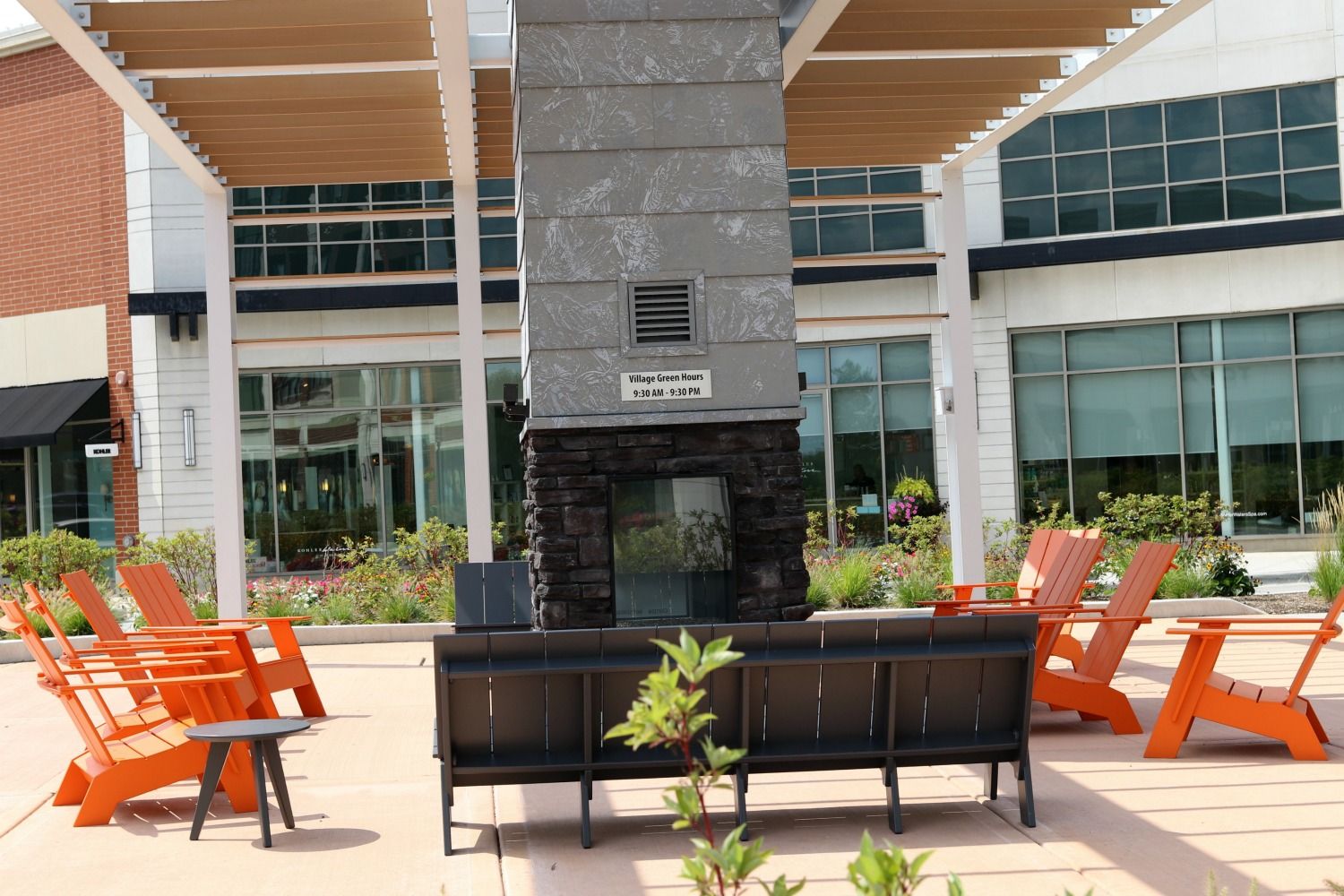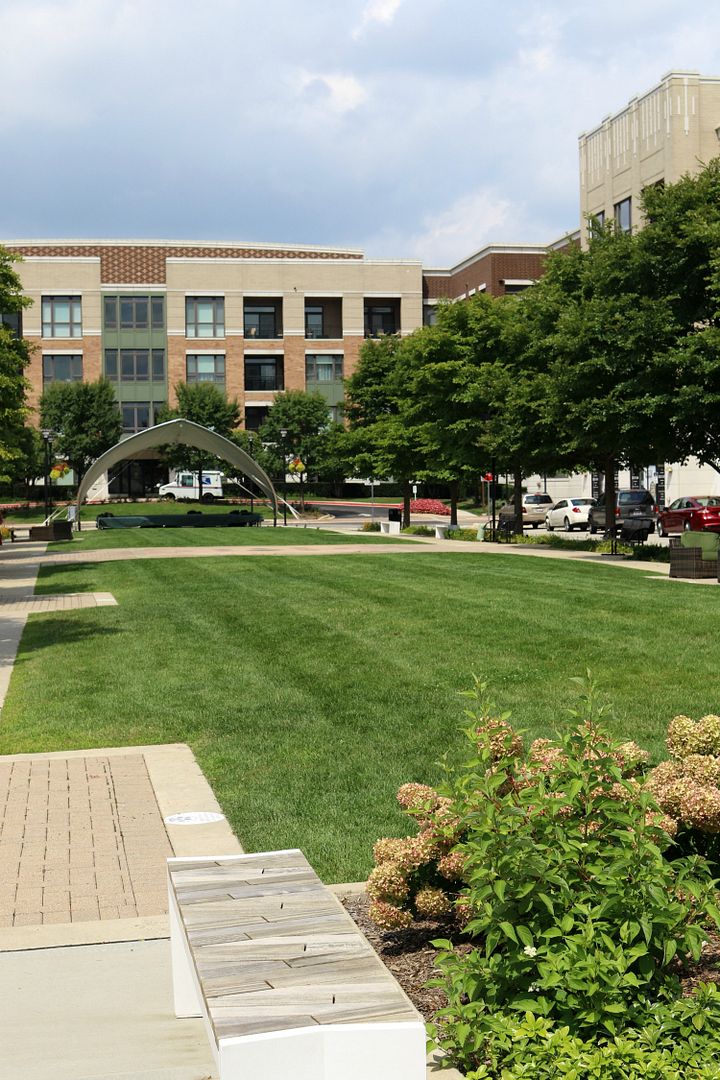 Have you ever been to any of these locations before? Do you want to go to one (or all) of them now? Thank you so much for stopping by the blog today, I hope you make it a great day! xo
*This is a sponsored post that I was compensated for writing, however all of the opinions are my own and are true.