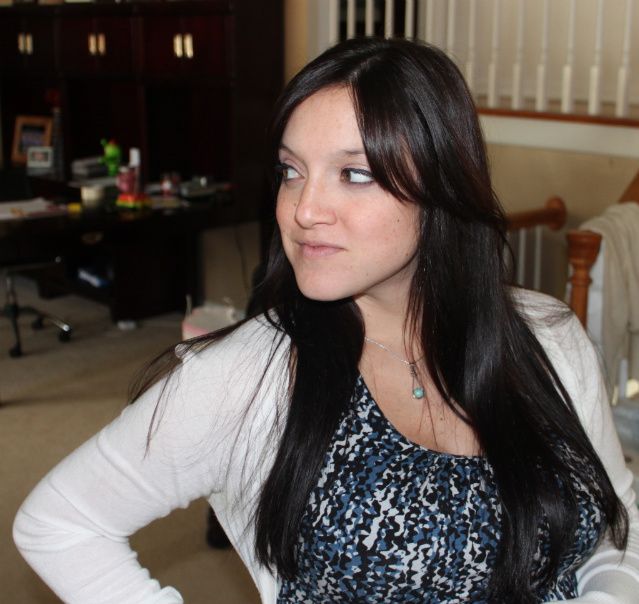 Here it is folks! I went into Mario Tricoci with an open mind and a few suggestions and they talked me out of all of them! We ended up doing a semi-permanent glaze of a rich chocolate brown to give it shine and even out the color. The girl who cuts my hair took 2 inches off the bottom, swept my bangs to the sides (giving me a very Farrah Fawcett look) and also added layers in the front and a few in the back. I'll probably go back in the new year and get a more drastic color or cut change up, but I think they were right to talk me out of some of my ideas. The maintenance alone would not have been possible!
What do you think? Better right?!
In other news, tomorrow is the official "3 weeks until my due date" mark! I'm getting so excited! I plan on running one guest blogger per week until the baby actually comes and tomorrow will be our first guest blogger post! Get excited! Everyone has been sending such great guest posts back to me and I can't wait for you guys to read them all!
If you would have asked me last month when I thought this baby was coming out I would have said last month! It was hands down the most stressful month of my life to date! (that's saying a lot considering last time I was pregnant I planned my wedding in 3 months!) Some of these stresses were expected and some unexpected, but I got through it the best I could. And hey, she's still in the belly so I think that's a job well done! ;)
I'm so much more relaxed these days! The house is ready for the baby, my son is almost fully recovered from his surgery, my Christmas shopping is about half done (and wrapped! yeah, hate me all you want!), the kids have holiday clothes, all November B-day gifts and cards have been purchased, my bag for the hospital is packed and by the door, and the infant car seat is installed and good to go! I am ready! Oh, and my blog drafts is full of guest posts and other fun stuff for you guys. Okay, now I'm bored....I might be a little too on the ball! ;)