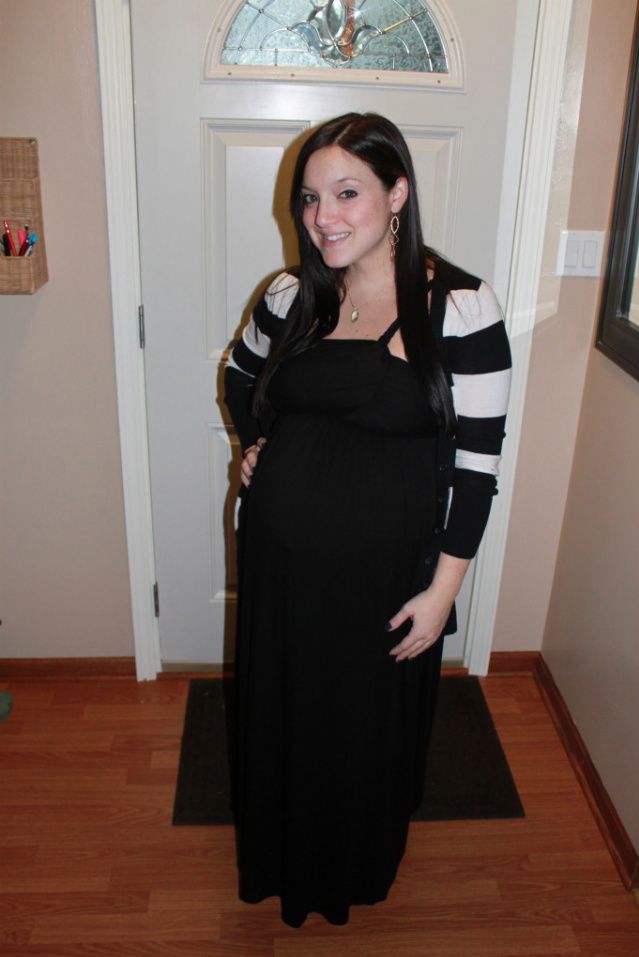 Dress: Pea in the Pod
Cardigan: Forever 21
Shoes: Payless
Necklace: self made
Earrings:
Erin Gallagher Jewelry
(a few years ago)
Well I did it! I took photos of myself all the way up to the end of my pregnancy! I'm actually very proud of myself. I have very few pictures of my first pregnancy so I promised myself that I would document this one no matter how ugly it got! ;)
I was heading out for my in-laws 36th anniversary dinner this night. I love the combination of black and gold so I went with this black dress and some beautiful gold jewelry. I made the necklace, but the earrings I got a few years ago when I was working at a booth at an antique show down town. I couldn't find this style on Erin's website, but I'm sure she still carries it in the store if you want to snatch up your own pair!
It was a bit chilly so I threw on this stripped cardigan at the last minute. Good thing it wasn't super cold out, this cardigan would have never buttoned up in the front of me if I needed it too. It was, however, a great arm warmer for the night!
By the way, I do realize that the last few outfit posts I was wearing almost all black. Not really sure why, but all of my end of pregnancy clothes are in the color. Well, black and white.
I can't wait to go back to my regular clothes and show you all my beautiful color and pattern looks! Soon.....