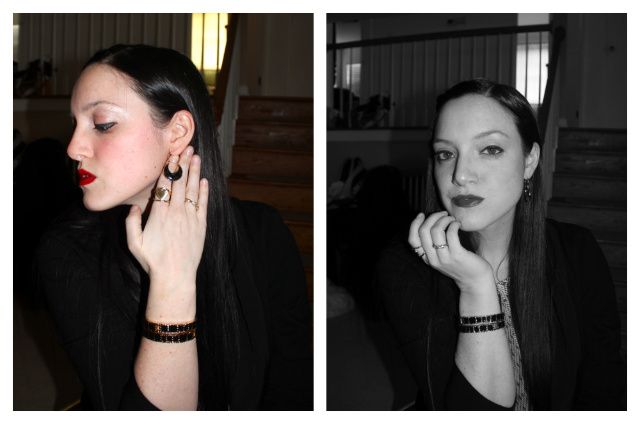 Blazer: Urban Outfitters
Top: Gap
Jean Leggings: Target
Shoes: Forever 21
Heart Ring:
Jewelmint
Ring:
Baublebar
Earrings: House of Harlow
Bangles:
Baublebar
I love this look, but I really love my jewelry here! I'm so into gold right now, and I love the gold jewelry I have recently added to my collection. I got these earrings for my B-day and am obsessed with them. I also really love my Baublebar finds! I got 4 new pieces from them and they are some of my favorites right now! (you'll see the other 2 soon...promise!)
I was all set and then I decided that the red lip was a bit much for a 5:00pm meeting so I went with a simple gloss instead! Better, right?!
Here's a picture of me and my sister-in-law/business partner. We had a very big week last week! We officially became a LLC., filed for a federal trademark, opened our business banking accounts, hired our web host, and interviewed web designers! It's all happening!!! Announcement on our venture coming very soon! As soon as we have a launch date, we will be spilling the beans on our baby!!!