Sometimes when me and Ryan go out I see our reflection and realize how much of a rock couple we really are. I hope that does not come off as I think we are cool, we are just a family that is very centered around music.
Ryan has been a drummer for 15 & 1/2 years now and I did work for bands/a radio station/ and rock bars for MANY years of my life.
The only difference is now our daily rock shows are dance parties with the kiddos and exposing the kids about different types of music. My son is a singer...he will be playing with his cars and I'll hear him making up songs as he plays!
Not to mention our daughter got the drummer talent...we are in trouble or we'll start a family band! lol
Here is what we wore for an afternoon out on the town:

My hubby is the best and at 11:00am the day of, he pulled off getting a sitter for 3 hours! We got ready and ran at the chance to grab a quick bite and just laugh together.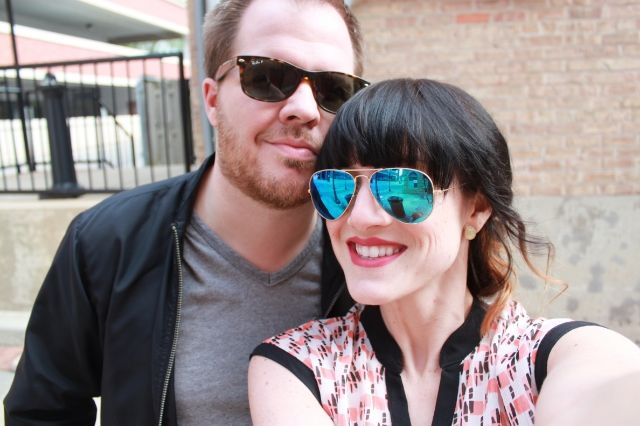 You can find us both on Instagram at SADBblog and Thefergusclan.
We also both have Vine accounts and I think we are darn funny! (Same names as the instagram accounts.)