Let me start by saying I am the WORST at keeping surprises a secret.
In the past 5 and 1/2 years that myself and Ryan have been married I have never pulled off a surprise date night.
It was AWESOME! Plus I didn't spill the beans so it's was another first. ;)
Four weeks ago I asked my in-laws if they could take the kids off our hands 1 day the following month so I could take my man out (we are so lucky they were excited to take them for the night!).
After I knew the date would be the 13th, I rented a dress from Rent the Runway.
Three weeks before our date I bought a gift card to the restaurant (as a single income family you never know when you'll have extra funds so I bought right after a payday) and made reservations requesting a booth and saying it was our anniversary. It's never good to lie, but I wanted to be treated extra special on our night out so I felt a small fib was OK. ;)
Two weeks before I told Ryan I had an networking event and he HAD to get home from work on time so I could get to my event.
One week before I confirmed with everyone (in-laws, dress rental, restaurant, and hubby being home on time that day) to make sure all systems were a go.
The day of: The kids had been picked up prior to him getting home, so as Ryan pulled in the driveway I was standing outside with a rose in my hands. I felt a little cheesy and I think he thought something was wrong at first, but I'm so glad I did this!
Here is what I wore: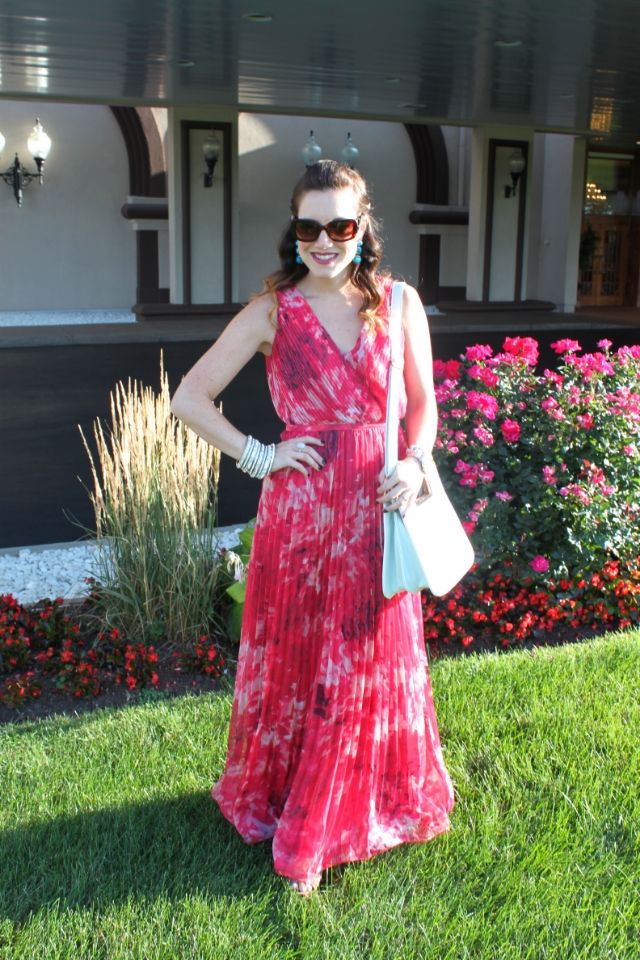 Dress: Halston Heritage via Rent the Runway, Shoes & Chain Bracelet: c/o Sole Society, Earrings: Badgley Mischka via Rent the Runway, Stackable Bracelet: Chamak by Pirya via Rent the Runway, Watch: Fossil, Bag: c/o Just Fab, Sunnies: Prada, Opal Ring: Pandora Collection via Jared
It took him a few minutes to figure it all out. He was for sure shocked. I told him he had one hour to get dressed and ready and this was all for him.
So often I get all dolled up then dash out the door for blog/networking/work events and I forget to do things for him when it's not our anniversary/b-day/etc. I decided that needed to change. By the look on his face and how romantic the night ended up being, we will be doing this sort of thing more often.
As spontaneous as it seemed to him, it did take a lot of planning. I guess that's what spontaneous looks like for parents! ;)
As we were driving to dinner he took what I thought was a wrong turn. When I asked where we were going he said "you want to take blog photos, right?"
Where did we go? To the place we got married! We took some photos outside and then went to dinner. I truly have the best hubby ever. My plan takes four weeks, he surprises me in 30 seconds! ;)
Here is a shot of the two of us: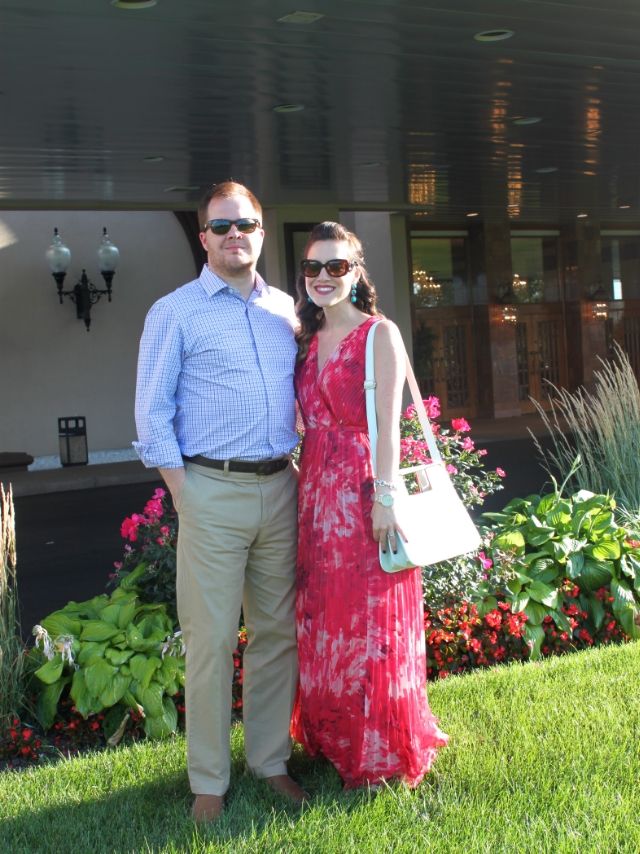 Do you ever plan special nights with your spouse?
It does get hard when you have small children to get nights like this, but it is possible if you both want to (and of course if you have great family that loves to help you out!)!