"The Reason I Jump is a wise, beautiful, intimate, and courageous explanation of autism as it is lived every day by one remarkable boy. Naoki Higashida's testimony should be read by parents, teachers, siblings, friends, and anybody who knows and loves an autistic person." -Tim Page, author of Parallel Play
That pretty much sums up how I feel about this book. Thank you to my mother-in-law (Lake House Lyn) for giving me this amazing read!
It's written by a non-verbal, autistic, 13 year old boy who lives in Japan (he is now 21, but it was written when he was 13).
He was asked a series of questions and using an alphabet grid he constructed words and sentences to answer the questions. It took me a little over an hour to read so there are no excuses that you don't have time. ;)
I realize there are over 100 types of autism. I realize that just because Naoki says he feels a certain way, that is NOT mean my son/ your son/nephew/grandson/friends kid/etc feels the same, but it was so eye opening to hear his answers!
As I read I flagged pages that I felt related to things my son does/says/ or reminded me of him in some way shape or form. I also flagged pages that I LOVED.
As you can see below, I really go a LOT out of this book.
Here is a glimpse of one of the most profound answers to the question "What are your thoughts on autism itself?". How amazing is this boy?!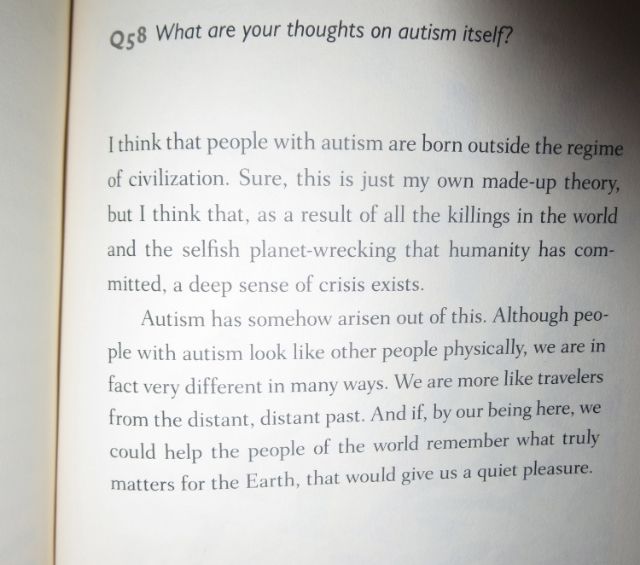 I feel like this book is a must read for everyone. Keep the tissues close (especially if you know someone autistic), but be prepared to be surprised, amazed, sad, empathetic, scared, and proud all at the same time. Naoki truly is one amazing boy!
Have you read The Reason I Jump yet?