I had bought myself the below blue rain boots three years ago and they have been my go-to's in rain and snow ever since.
To my surprise I went to put them on and my feet felt wet.
Upon further inspection I found they had a very large hole in the left boot. BOO HISS! lol
This was a sad day as I have no other rain/snow type boots. In the meantime I have been ruining my UGGS by wearing them in the snow and salt. Time was running out as more and more snow is falling daily so I had to make a decision.
What kind of new rain boots do I want?
After looking online at all the sales for Christmas, I realized it was time for an upgrade.
I have always wanted Hunter Boots and with 30% off I decided to use that and a few gift cards and get myself a pair. I think I paid $60 out of pocket when all was said and done. SCORE!
I was between red, rust, and teal but am very pleased I went with the rust colored ones.
They are the perfect color orange and will work year round for rain and snowy weather.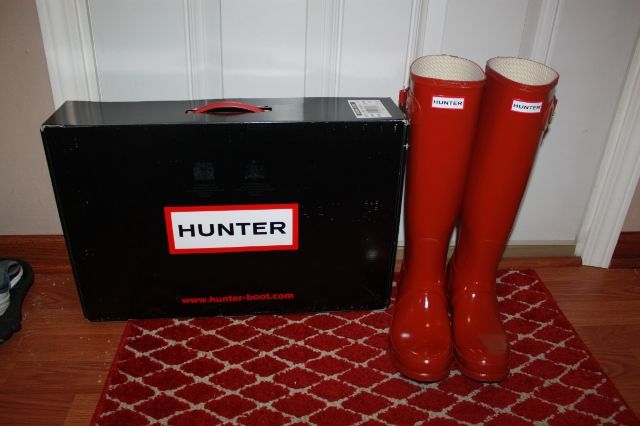 The quality is really great and I feel very certain I will get way more then three years out of this pair. ;)
Tis the season to find great deals!