This week Stilettos and Diaper Bags is being taken over by guest bloggers! It's amazing and I can't wait to introduce you to some new inspiration and great people.
Up first, Rosa!
"I have a confession to make; I'm not a big fan of jeans. There, I said it, whew... My thing is that often times I feel jeans are too casual or bummy and as I age, I tend to think that they're fashioned with the younger generation in mind. Having said that, I have to admit that I'm loving the skinny jean trend!
At first I shied away from them thinking that only skinny girls could wear them, as the name would suggest. But as I searched high and low and tried on different brands, since no two are alike, I quickly realized how many "skinny" jeans there is to choose from. I've found some great styles that complement different body types and ages. I'm happy to report that I now have several pairs I wear over and over, this being one of them.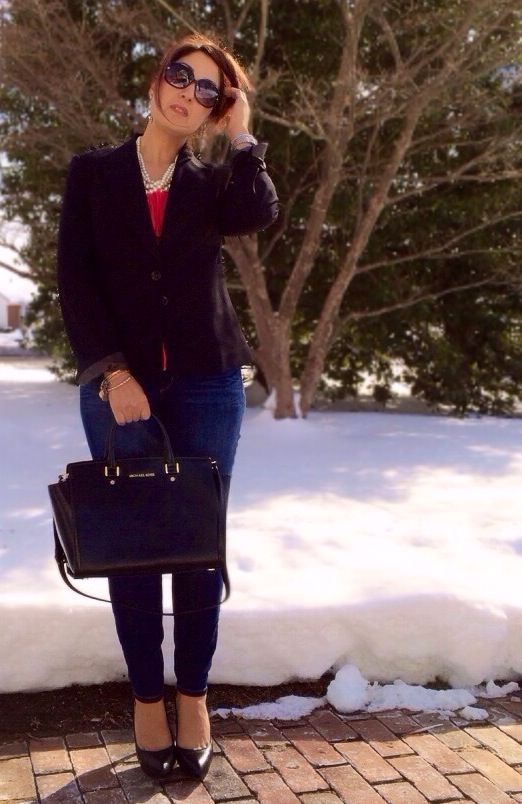 I typically reserve jeans for casual affairs, like this afternoon when I met my girlfriend for lunch. I wear them with a streamlined look. Pairing jeans with a blazer always works wonders and adding pearls to the mix completes the look with a touch of elegance.
Since I'm not a tall girl, a mere 5'4", I don' like to wear my skinnies with flats because they seem to shrink me even more. Instead, I opt for wearing heels with skinnies because I get the height I want and an overall slimmer appearance. Besides, what girl doesn't love the sexiness stilettos bestow anyway. Yup, even in the snow I wear mine...
Jacket, Ann Taylor / Jeans, Ann Taylor / Blouse, F21, similar / Pearls, J. Crew Earrings, J. Crew, similar / Shoes, Jessica Simpson / Bag, Michael Kors / Sunnies, Tom Ford
So, how did I do? Sorority girl or powerhouse mom? Inquiring minds want to know."
Thank you so much for guest blogging!!
Make sure you head over to Rosa's blog for outfit posts, home décor, beauty & makeup, weekend reads, and more!