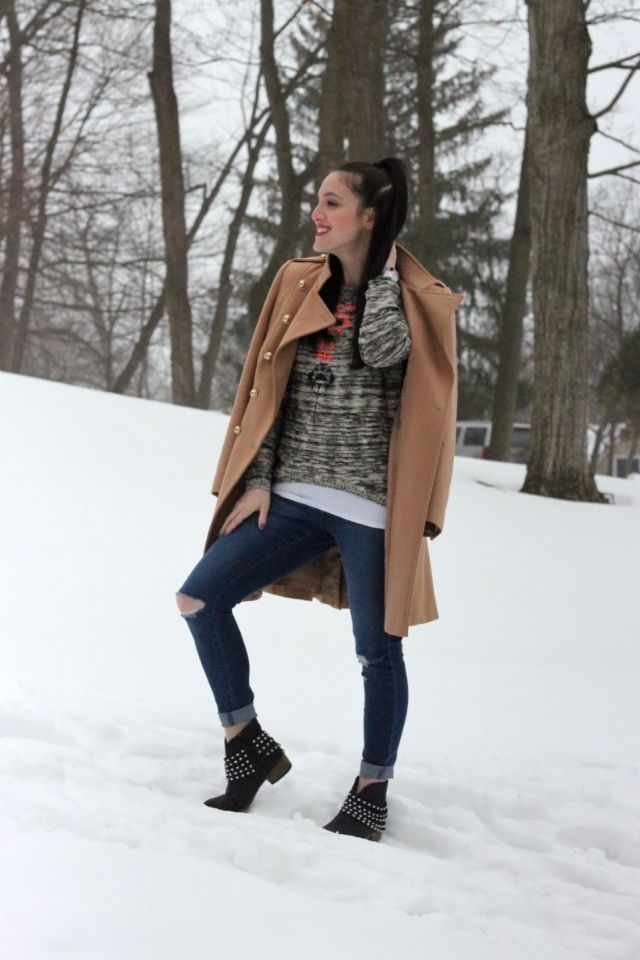 Last weekend when the family was in Wisconsin, we just had to pop in E Street Denim. Not only is it one of mine, Kaitlyn, and the hubby's favorite spots to grab denim and boutique type items (you know, the ones you won't find on EVERYONE and you feel unique), but there were running a very special deal. If you donated 3 pairs of denim you received 20% off your entire order. Needless to say between he 3 of us we donated 9 pairs and did some shopping. I mean, it was for a good cause after all!
With my in-laws, both kids, and brother-in-law waiting outside the store the shopping process had to be quick yet effective. This top was the first thing to catch my eye when I walked into the store. I ended up walking around for about 10 minutes falling in love with the necklace I picked up too, but in the end I walked out with my first instinct. I'm so glad I did! I love the tribal print and can see how it will transition well into spring.
Yes that's me taking of photo of my hubby taking photos of me. Any yes, that's me pulling my hair making him laugh as we were having a really fun day! Sometimes I feel like I can see in my photos how much I love him. I for sure see the difference between the photos I use a tripod for vs. ones he takes. And the ones Kaitlyn takes have better outtakes as she makes me laugh so much but they are also more fashion(esk). Does that make sense? Well it makes sense to me!
Do you ever buy the first item to catch your eye? Are you a fan of smaller shops that sell more unique items so your style feels your own?