I was beyond honored when asked to host the Oakbrook Fall 2015
Coach
Collection Event. When I saw their new collection I was blown away and I thought you would be too. I felt Coach was a brand I was proud to wear & promote as I have quite the growing collection going myself!
Let me start by saying I've shopped at Coach since high school, but I've always thought of them as more of my mother's store. Or a store you shop at for special occasions. To clarify, this was not because I didn't love Coach, but because it felt a bit more grown up with some of their styles.
Well, Coach still has the classic elegance I associated it having 20 years ago, but man have they branched out on their styling! Whether you are 15 or 90 there really is something for everyone.
Here is what I wore:
I had my makeup done by the very talented Evy. If you live in the Chicago land area I would high recommend
using her services
for anything from photo shoots and events to weddings! This was the first time she had ever done my makeup and I absolutely loved it. By hour six it was still flawless and I was actually sad to take it off at the end of the night. ;)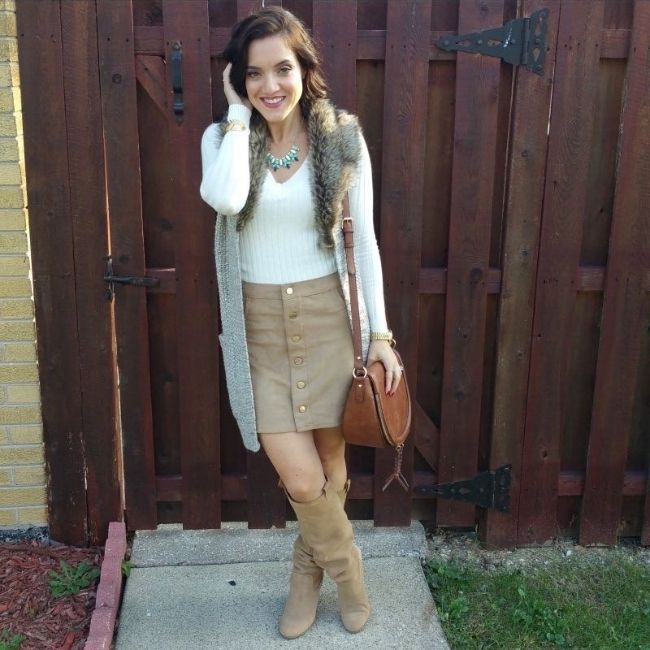 Top
//
Skirt
//
Boots
//
Bag
//
Sweater
// Cuff: Coach //
Watch
// Necklace: Rocksbox
I took a few photos before the event started and then just enjoyed myself. There was champagne, coffee, and sparkling water. On platters they served appetizers ranging from jalapanio cornbread & meatballs to key lime pie bites and peanut butter cup cupcakes. It really was set up for a night of food, fun, and shopping.
I had stopped by Coach a few times before the event so I could choose items to be put on display the day of the Fall Collection Event. Man, was it hard to narrow it down! What started as just one table quickly grew to "I'm going to need more room you guys!". ;)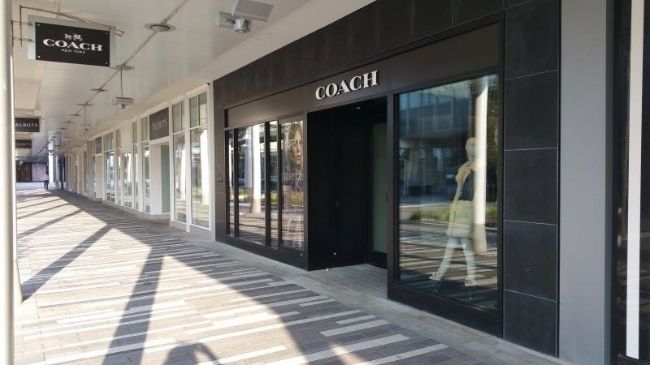 Like I said before, they have really changed the look of Coach. It's still classic and chic, but there are also items that are playful and edgy. The outerwear is gorgeous and has the quality you've come to expect and love from Coach. I am also obsessing over the ready-to-wear. Blouses, dresses, cozy knits, scarfs and more! Here are the table, bench, and rack of items I had chosen as my favorites (I told you I needed more then a table). Can we just talk about the
plaid heels
,
backpack
,
and scarf
(not pictured, but I own it & wear it often)...best plaid print I have ever seen. And I own a lot of
plaid print scarfs
!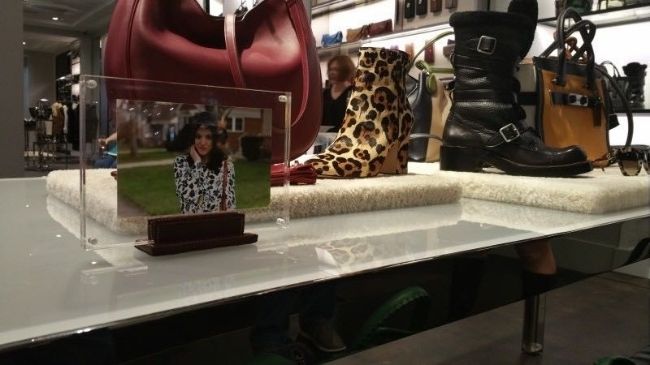 The night ended up being a total success! Thank you to all who came out and supported me. It was so wonderful to see such a great mix of readers, family, & friends. The night exceeded my expectations and Coach was blown away by how many of you shopped! I mean, how could you not. I walked out with a
few goodies myself
. Can't wait to share those with you in my coming outfit posts.
Have you shopped at Coach lately? What do you think of their new fall collection?
*Head over to the
Sisters Marie blog
today to see Kaitlyn's recap of the night (she took lots of gorgeous photos during the event).