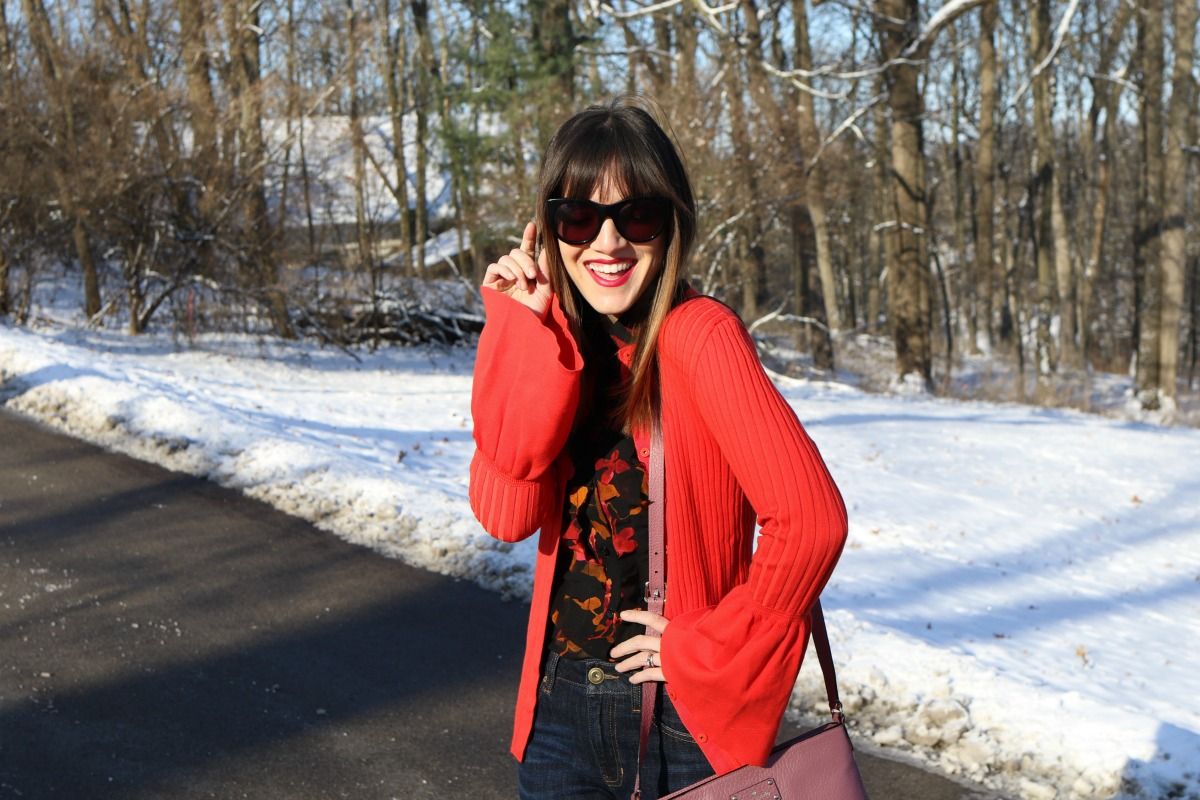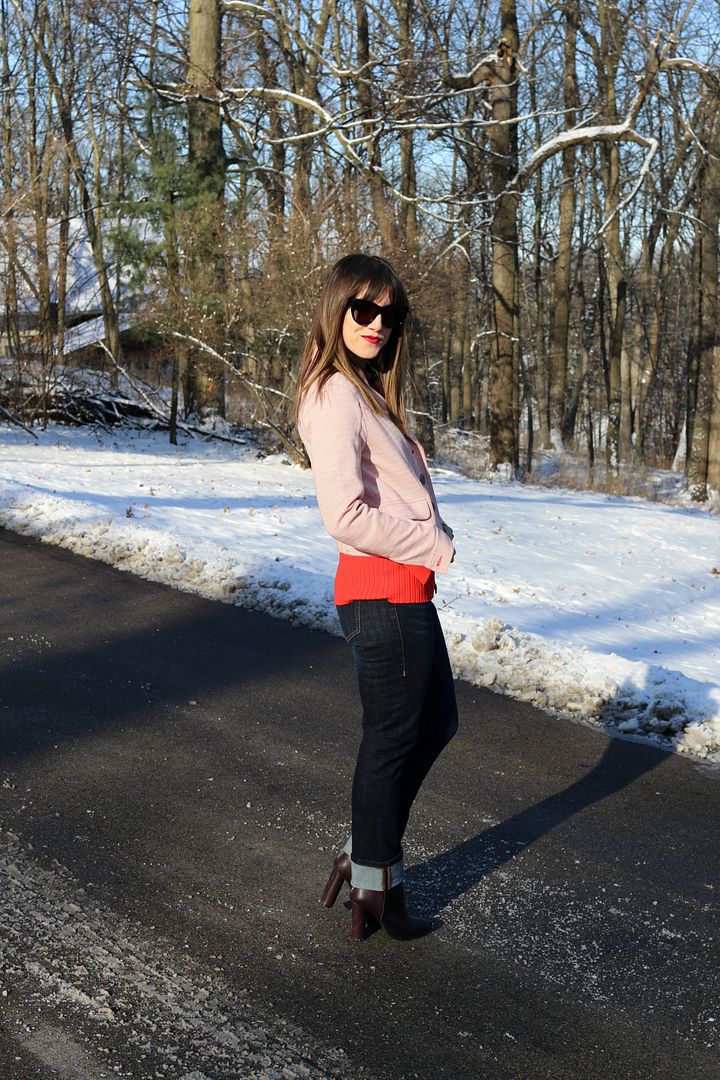 The snow on the ground might say winter, but
cabi Clothing
is already getting us prepped for spring. I am happy to introduce you to their Fashion Flash, which is an early release of five items from the 2018 cabi Clothing spring line (
available for purchase now
!). The rest of the spring collection launches later this month and OMG, I can not even wait. I am sporting two items from the early release collection, and I am already obsessed with what is to come. The Trumpet Cardigan and Amelia Jacket are both spring perfection and have the most beautiful details. Let's take a closer look, shall we?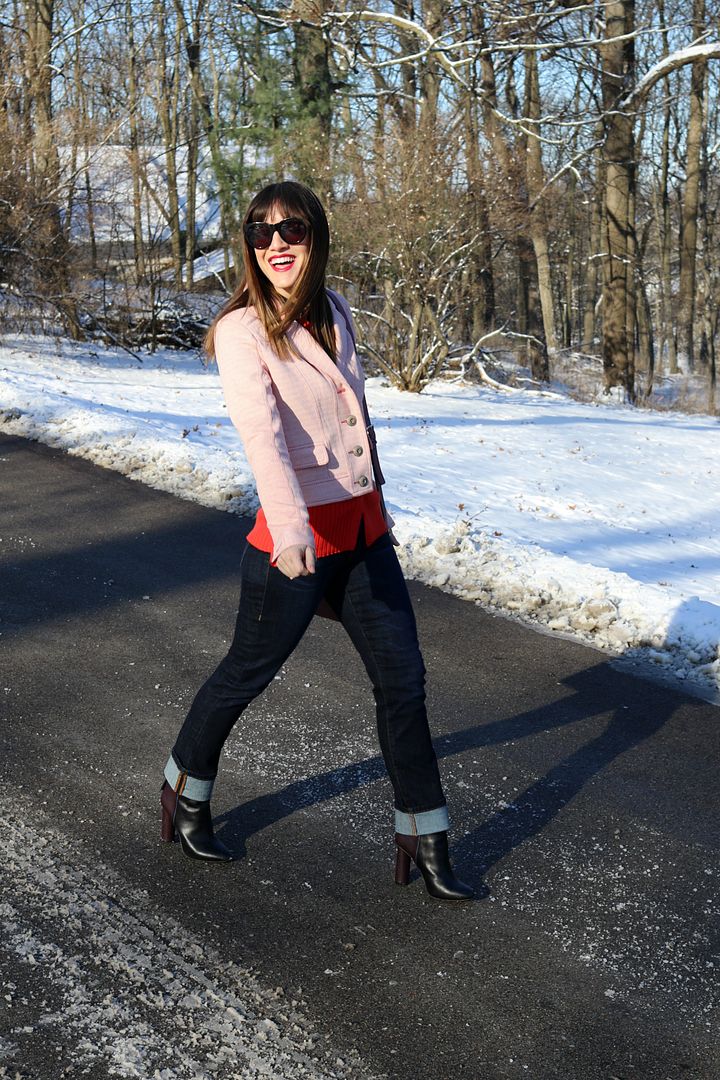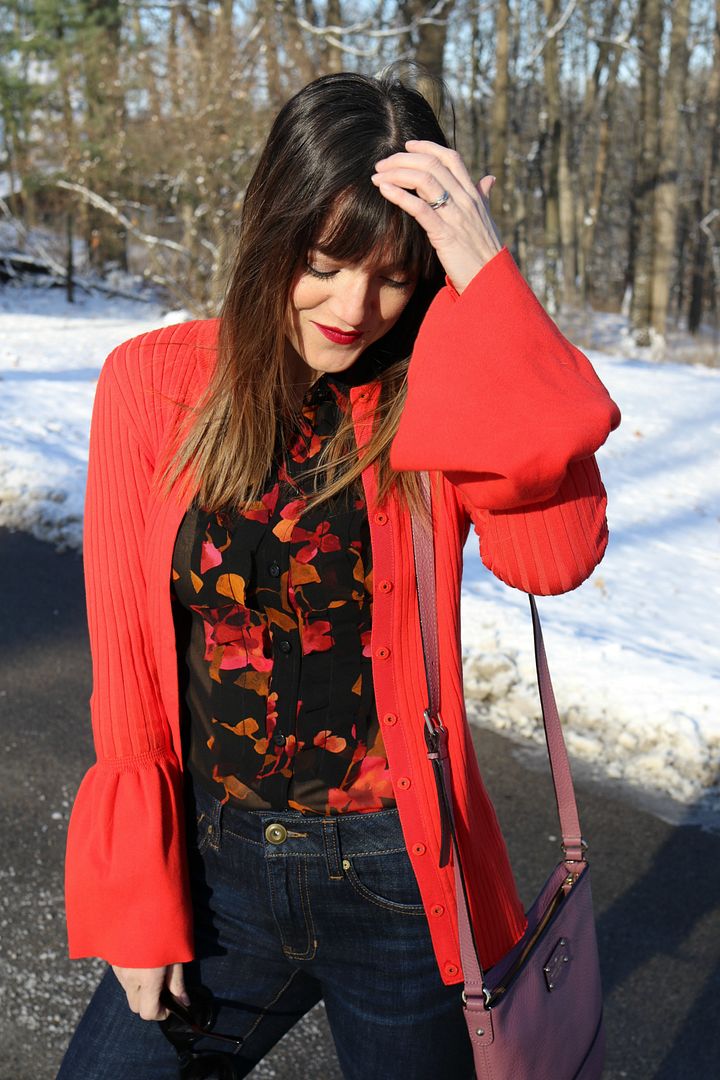 The Trumpet Cardigan is hands-down my favorite cardigan I own...yep, I said it. The bell sleeves are beyond stunning and the ribbed style fit is so flattering on all body types. You can layer it over any top and leave the buttons open, or wear it alone and button the cardigan up. How cute would it be tucked into a skirt with OTK boots? The styling options are endless and I love the vibrant red color.
Next up, the Amelia Jacket. This little pink blazer puts a contemporary feminine twist on the norm and I am so in love with this hue for spring. Well, all year really (do you see the bag I'm holding?). I love the cinched detail in the back, the beautiful button details and the length is perfect for even petite frames like mine. (Shout out to my fellow short torso girls!) ;)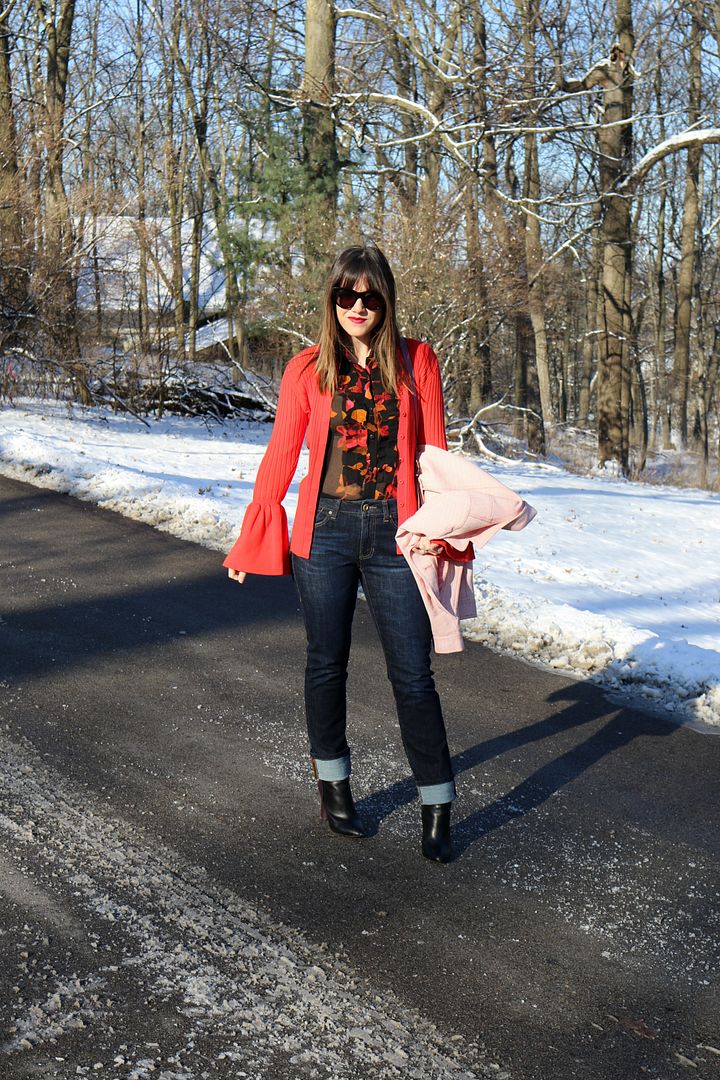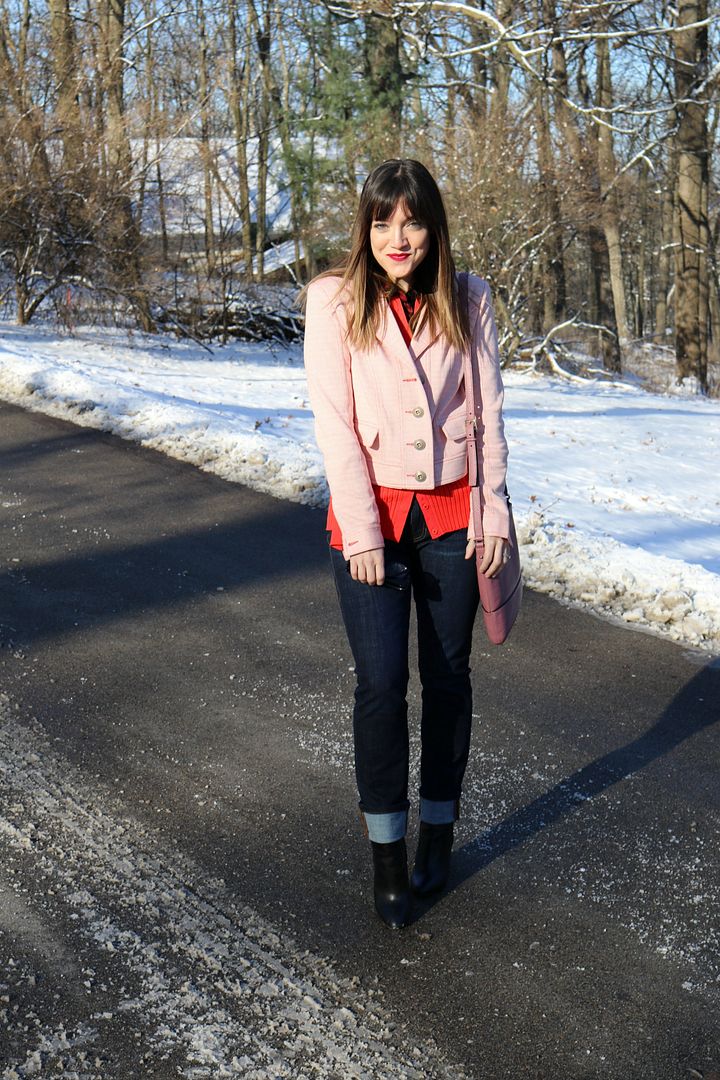 I paired my two spring items with pieces from the
fall cabi Clothing collection
. These high-waist jeans are my daily go-tos and I know you have seen the boots here on the blog non stop since late spring. The blouse is new (to me) and I am so obsessed. If you see any items you like from the fall collection, make sure you get a hold of a
cabi Stylist
soon! As soon as the full spring line comes out, the fall line goes away. Ladies, these pieces are timeless, well made, and created by a company I am proud to promote and stand behind. Check out the great things
cabi Clothing does both locally and globally
!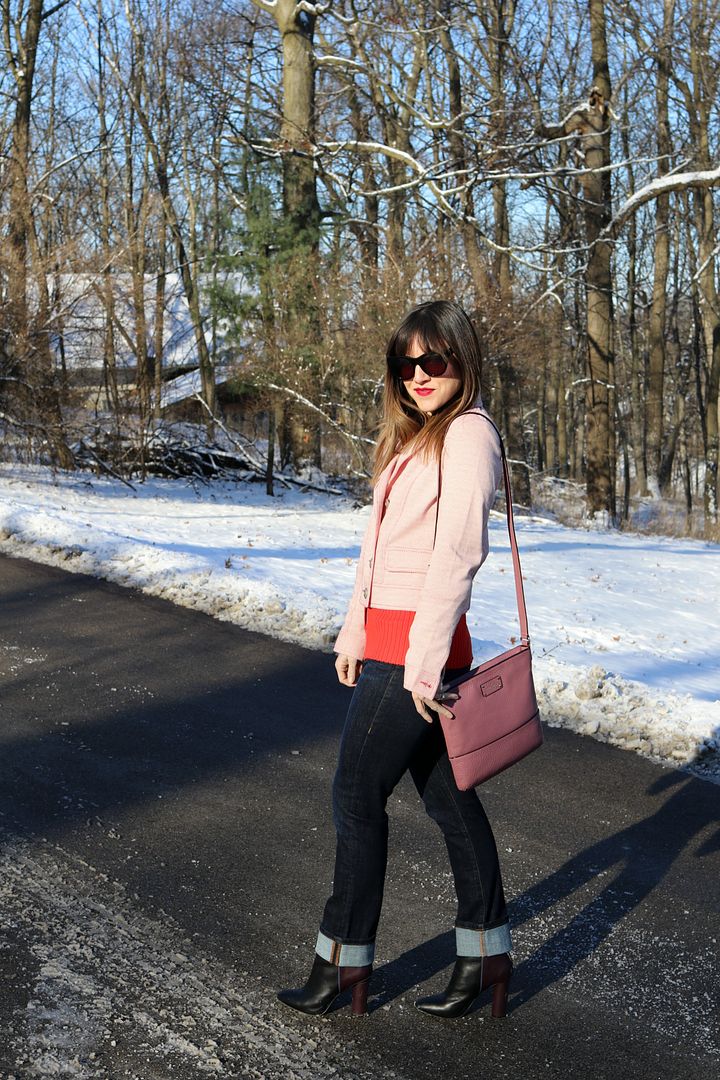 Jacket, Cardigan, Blouse, Jeans, & Boots: c/o cabi Clothing // Bag (color-block version) // Sunglasses // Lip color: c/o
What do you think of the Fashion Flash collection? Do you like how I style the two pieces I choose? I also wanted to point out that anyone who books a February Fashion Experience with a cabi Stylist will receive 50% off a Fashion Flash item (must be redeemed by 1/31)! Find a local cabi Stylist here.
Thank you so much for stopping by the blog today, I hope you make it a great day! And Happy New Year! xoxo