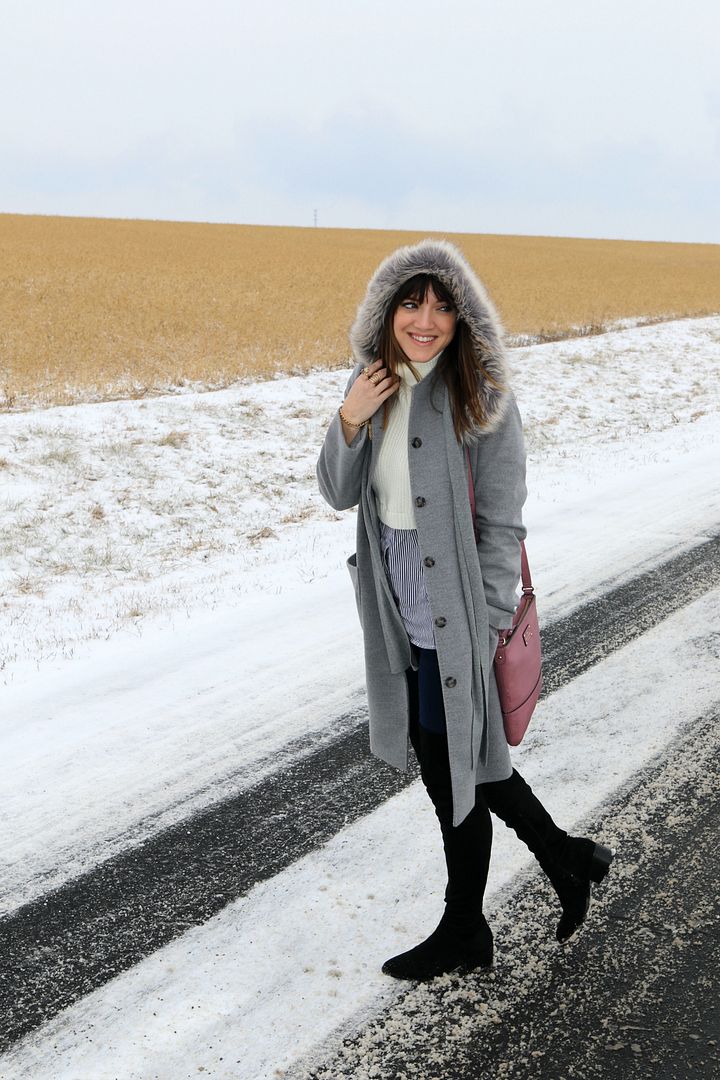 You guys, this new year is off to one cold start! It has been below zero most of the past ten days, and I am very much looking forward to the weekend where it will get up to almost 30 degrees. You know it's cold out when 30 feels warm. ;) I'm also excited about the "warmer" temps this weekend so I can get my outdoor Christmas decor down. I took my two trees down, plus all of my other indoor decor this week and it felt so good to have the home beginning to look back to normal. Has anyone else tackled the take-down yet? Honestly, I usually do it sooner, but it's been a bit more relaxed this year since the kids are still on winter break. OK, back to the cold weather...To stay warm I have been relying on layers and this super cute hooded scarf.
SHOP THE LOOK:

The sun was not out this day, but this deserted road was such a cool location, I just had to take OOTD photos. That said, you can't really tell I am wearing black OTK boots with dark denim. Oh bad lighting of winter, we meet again. ;) I was wearing a great top that my sister-in-law lent me and I added my favorite long gray coat and hooded scarf to the look. In the end, it was the perfect outfit for driving up north, relaxing for a bit, and then going out for dinner and hot chocolate with the family in Lake Geneva.
Coat: c/o // Top // Jeans // Boots (similar & under $60) // Bag // Hooded Scarf: c/o
What are your winter layers looking like? Are you wearing only rain, duck, and/or snow boots or are you daring to wear the more stylish OTK options? Honestly, I'm doing a little bit of both.
Quick side note, if you don't already, make sure you follow me over on IG. I have two pretty great giveaways happening this month (only on IG) that you won't want to miss! Thank you so much for stopping by the blog today, I hope you make it a great day. xo