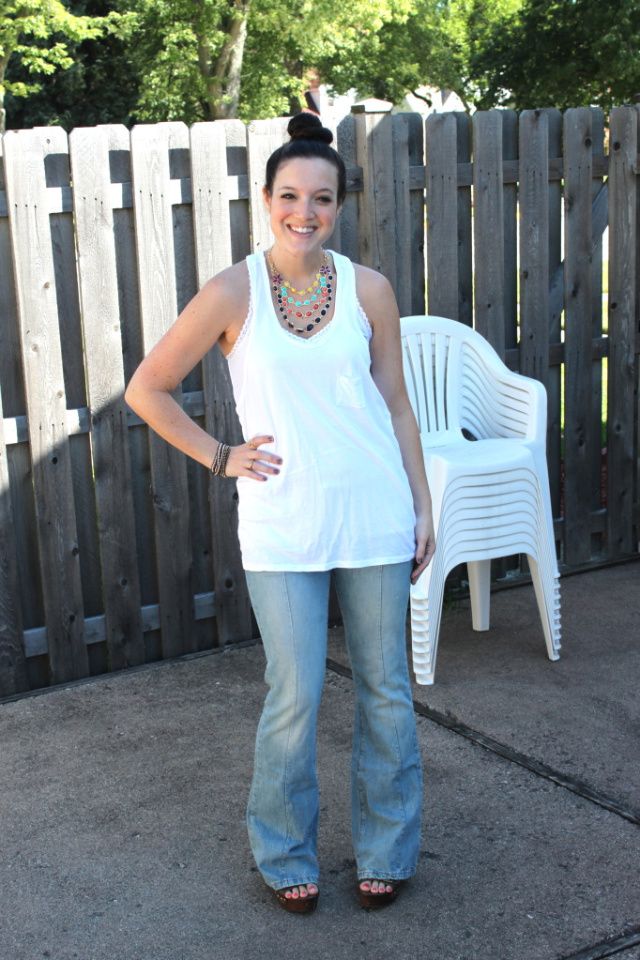 Tank: Victoria's Secret
Under tank: Target
Jeans: American Eagle
Wedges: Forever 21
Necklace:
Pree Brulee
(style sold out)
wrap bracelets:
Baublebar
Stackable ring:
Baublebar
Heart ring:
Jewelmint
I generally show you all of my "go out/event" outfits, here is an everyday one. On this day I walked and pushed the double stroller to my son's speech therapy (less then 1 mile away) and had a play date right after. I am in love with this necklace! It will for sure be seen on this blog quite a few times! ;)
Now lets talk jeans. I'm not bragging, okay maybe a little, but these are my skinny jeans and I'm back in them!! No not my between kids skinny jeans, the ones that I tucked away in a drawer hoping one day I'd fit into them again....yeah, THOSE! I actually saved 4 pair for college and now they all fit. I'd say those are bragging rights! lol I'm officially back to the size I was when I met my hubby. I would like to send a special shout out to Ryan for loving me just at much at 198 pounds that he does at 130! Love you Ryan!
Okay, now onto the hair. I want to thank Kim over at
Eat Sleep Wear
for inspiring me to try out her signature bun! What do you guys think? I love it! Super easy and super quick. What's not to like?