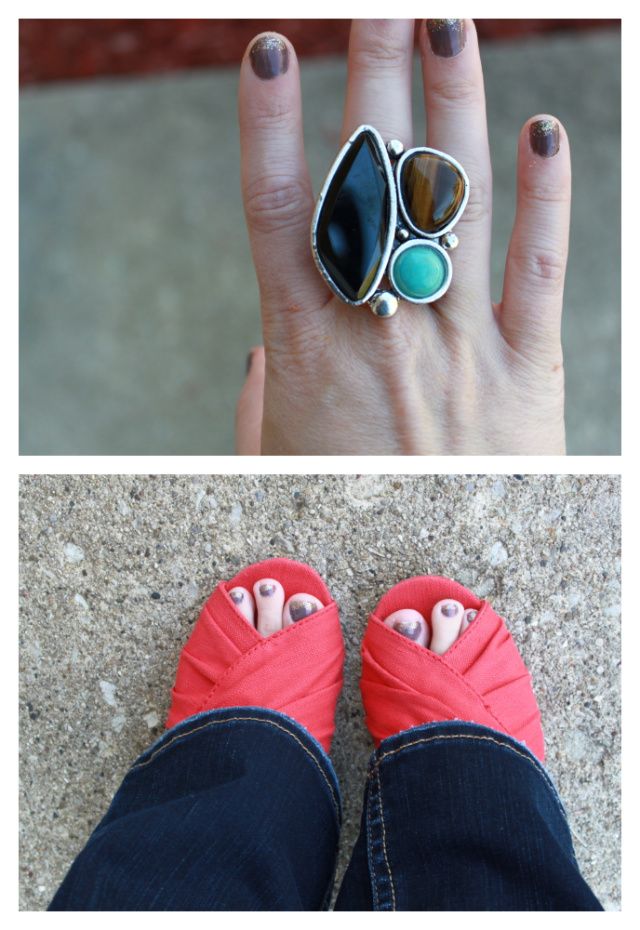 Top Stylemint, Jeans E Street Denim, Shoes Blowfish, Ring Threadsence, Sunnys Target, Nail Color Sally Hansen Commander in Chic and OPI Bring on the Bling
What a beautiful day we had this past weekend! I had a great family day filled with pumpkin carving, a walk to the park, and time outside back.
I was excited to wear my new Stylemint top. I paired it with dark wash jeans, a big ring, and for a pop of color, my blowfish canvas shoes. It took all of 5 minutes to get ready and that's just what I needed to not take any moments away from my family day!
on a different note, how amazing are the colors of fall?! I seriously wish I could live somewhere where it was fall year round! Which obviously is not possible because if the leafs were falling year round we'd have a lot of bare trees! ;) So maybe I'd settle for a place that has LOTS of multi colored trees! Something about the greens, oranges, reds, and yellows...they just put me in a good mood! OK, who knows were that might be? ;)